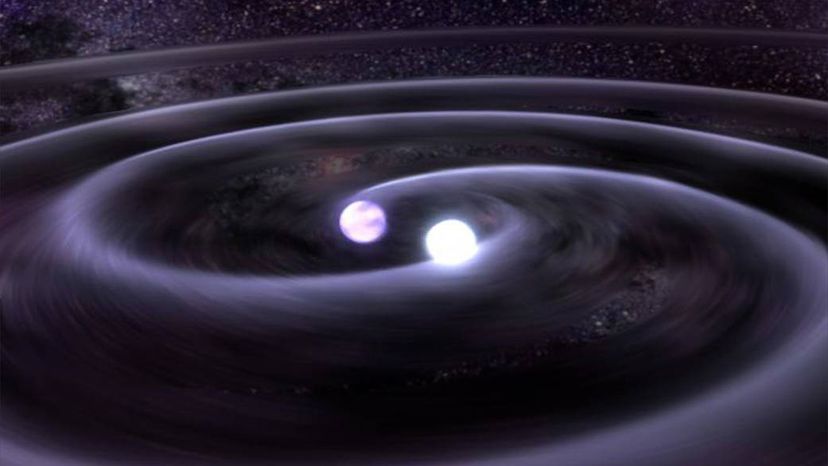 Humanity is experiencing a revolution in astronomy. Until recently, we've depended on the electromagnetic spectrum (i.e. light) to make discoveries from our solar system's backyard to the furthest-most reaches of the cosmos by using telescopes. Now, with the first historic detection of gravitational waves on Sept. 14, 2015, a whole new universe awaits us, one in which we can analyze the spacetime ripples washing over us from black hole collisions and, possibly, alien worlds as they orbit their distant stars.
In a study published July 8, 2019, in Nature Astronomy, a group of researchers have explored the latter possibility to reveal extrasolar planets, or exoplanets, that would otherwise remain invisible to traditional astronomical techniques.
"We propose a method which uses gravitational waves to find exoplanets that orbit binary white dwarf stars," Nicola Tamanini, of the Max Planck Institute for Gravitational Physics (Albert Einstein Institute/AEI) in Potsdam, Germany, said in a statement.
So far, the gravitational waves generated by massive collisions in the deep cosmos have been detected by two observatories, the U.S.-based Laser Interferometer Gravitational-wave Observatory (LIGO) that uses two detectors in Washington and Louisiana, and the Virgo interferometer near Pisa, Italy. Both projects use L-shaped buildings that house advanced laser interferometers that can detect the minute fluctuations in distance as gravitational waves wash through our planet. LIGO was the first to detect the gravitational waves that were theorized by Einstein more than a century ago and now both LIGO and Virgo work in concert to make regular detections of black hole and neutron star collisions.
In 2017, another historic milestone was reached when both the gravitational waves and gamma-ray radiation were detected at the same time when two neutron stars collided in a galaxy 130 light-years away. This event launched a new era of "multimessenger astronomy" that enabled astronomers to pinpoint the location of the event, understand the physical mechanisms behind short gamma-ray bursts, confirm that colliding neutron stars are the culprit, and provide an intimate look at the nuclear processes that manufacture heavy elements (such as gold and platinum) in the cosmos.