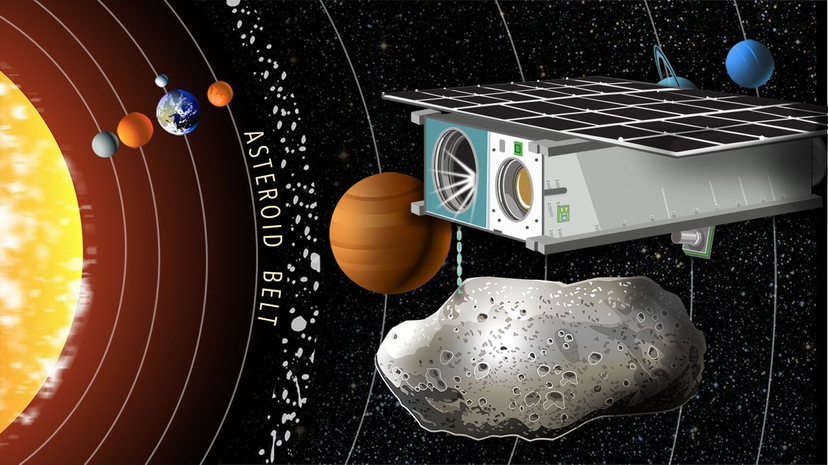 Flush from the successful launch of its first prototype spacecraft, a startup space mining company says it's on track to send robotic prospectors to near-Earth asteroids in as soon as three years.
"This is something that's unfolding quickly, and it's happening faster than people realize," says Chris Lewicki, a former NASA engineer who's currently president and chief engineer of Redmond, Washington-based Planetary Resources. "Most people assume this is something that's 20 to 30 years away that their grandchildren might see. But assuming that everything is successful, we're on a roadmap that could see us exploring our first asteroids by the end of 2018 or 2019."
If the robotic probes are able to find valuable minerals or other resources on the asteroids that they explore, the first test extractions could take place by 2025, Lewicki says.
The six-year-old company is backed by an array of big-name investors that includes Virgin Group chairman Sir Richard Branson and Google execs Eric E. Schmidt and Larry Page. Planetary Resources created a sensation in April 2012 when it revealed its ambitions to build and operate a fleet of robotic mining spacecraft. It was a business plan that seemed like something out of a science fiction movie, as dazzling as the potential of finding a 500-meter hunk of rock that might contain a lode of platinum equal to the entire amount mined in human history.
But in the three-and-a-half years since then, Planetary Resources has made significant progress towards developing and testing the technology needed to make its dream become a reality, according to Lewicki, who served as flight director for NASA's Spirit and Opportunity Mars rovers, and surface mission manager for the Phoenix Mars Lander.
That hasn't been without some bumps. In October 2014, Planetary Resources' initial attempt to put its Arkyd 3 probe into space failed when the Orbital Science Corp.'s Antares rocket that was transporting it exploded, seconds after launch. Undaunted, the company launched a second copy of the prototype into space in April aboard a SpaceX rocket, and in July successfully deployed it from the International Space Station. The experimental probe, which weighs just 10 pounds, was designed to test the avionics, control systems and software that are being developed for future generations of robotic mining spacecraft.
In December, Planetary Resources will launch the Arkyd 6, which will provide the first demonstration of the sensing technology that the company plans to use to detect resources on asteroids.