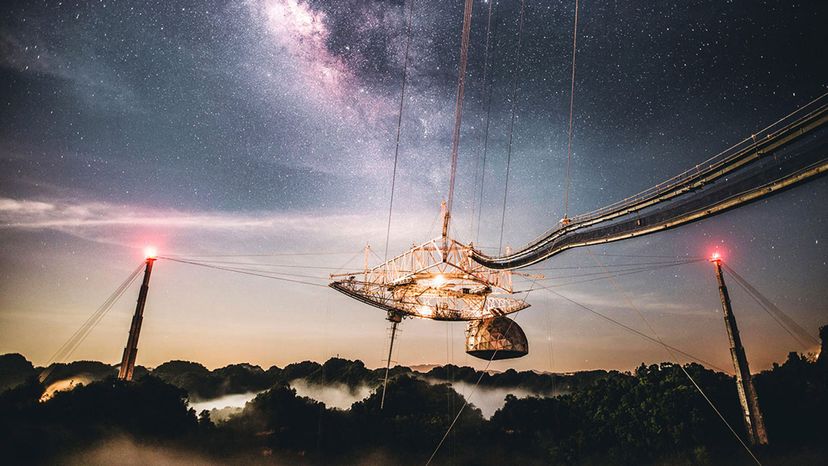 For 57 years, the Arecibo Observatory, a radio/radar telescope facility located about 12 miles (19 kilometers) south of the city of Arecibo in Puerto Rico, was one of astronomy's great treasures.
Until recently, Arecibo had the biggest radio telescope in the world, and its ability to detect distant signals made it one of the world's most powerful tools for studying both planets and moons in our own solar system and mysterious objects in distant regions of the universe. Over the years, scientists used it to determine Mercury's rotation rate and map the surface of Venus, to discover the first binary pulsar and the first known exoplanet. Arecibo's researchers also made important findings about the properties and orbits of asteroids that are potentially hazardous to Earth.
Back in 1974, Arecibo was even used to broadcast a radio message toward the globular star cluster M13, 21,000 light years from Earth, filled with data that could have been deciphered by extraterrestrials to produce a simple illustration depicting a stick-figure human, our solar system, and DNA and some of the biochemicals of early life. (The message was designed by astronomer Frank Drake with the help of Carl Sagan and other scientists.)
The telescope's deterioration became evident back in August, when a support cable failed and slipped out of its dish, leaving a 100-foot (30-meter) gash in the dish, according to a National Science Foundation (NSF) media release. Engineers worked to try to figure out how to repair the damage and determine the integrity of the structure. But then, on Nov. 6, a main cable on the same tower broke as well — a hint that other cables might be weaker than initially believed.
At that point, an engineering evaluation determined that it would be too risky even to do more repair work on the telescope. On Nov. 19, NSF announced that the observatory's radio telescope would be decommissioned and dismantled.
But before that could happen, on Dec. 1, the instrument platform collapsed. The facility's 900-ton (816-metric ton) instrument platform, which was suspended by cables attached to three towers at a height of 450 feet (137 meters) above the telescope's massive 1,000-foot (350-meter) diameter radio telescope dish, suddenly broke away from its supports and fell, according to an account of the mishap from the NSF.
NSF has authorized repairs to Arecibo's LIDAR instrument and a smaller telescope used for atmospheric science. But rebuilding Arecibo's radio telescope would cost an estimated $350 million, the Associated Press reported. An NSF official indicated at a Dec. 3 press conference that it could take years for the federal government to make a decision about whether to do that, according to SpaceNews. The NSF said the observatory would not close completely — in addition to operating a 39-foot (12-meter) dish and the LIDAR instrument, the visitors center would remain open.