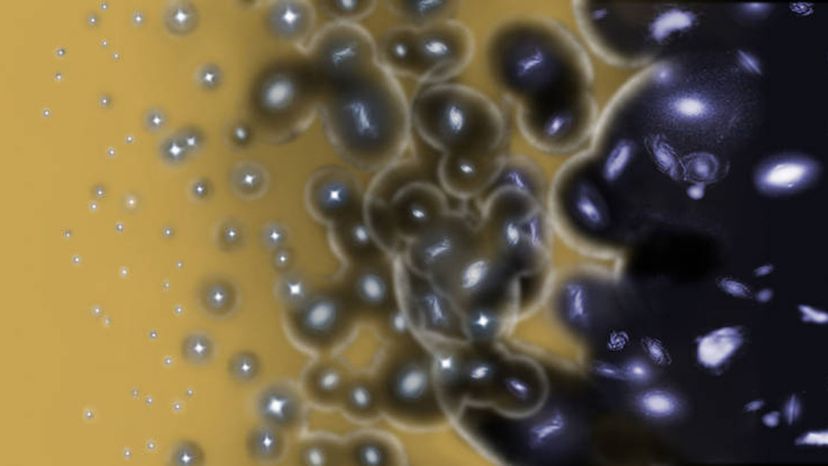 Astronomers have uncovered a cosmic relic from the beginning of time that reveals when the first stars sparked to life. In doing so, they may have revealed a tantalizing clue as to how dark matter influenced our early universe.
Before we dive into what this relic is, we need to journey back to a time just after the Big Bang, which occurred 13.8 billion years ago. Back then, the universe was a swirling hot mess of plasma, a dense collection of highly charged (or ionized) particles. As the plasma cooled and the universe expanded, neutral hydrogen (the most basic atom consisting of a proton and an electron) started to form approximately 370,000 years after our universe sparked to life. Eventually, this neutral hydrogen gas clumped together under gravity, triggering the formation of the first stars that erupted with powerful X-rays.
Exactly when "cosmic dawn" occurred, however, has been open to debate. It happened so long ago, and that first light from those ancient baby stars is far too weak for even the most advanced observatory to detect.
A refrigerator-sized radio antenna located in Western Australia has helped to settle the debate though. It's part of the Experiment to Detect the Global Epoch of Reionization Signature, or EDGES. In their cosmic dawn quest, the project's researchers have been busy probing another source of ancient radiation called the cosmic microwave background, or the CMB. Often called the Big Bang's afterglow, this radiation fills the universe and can be detected, so it's handy for investigating the earliest epoch of our universe's existence.