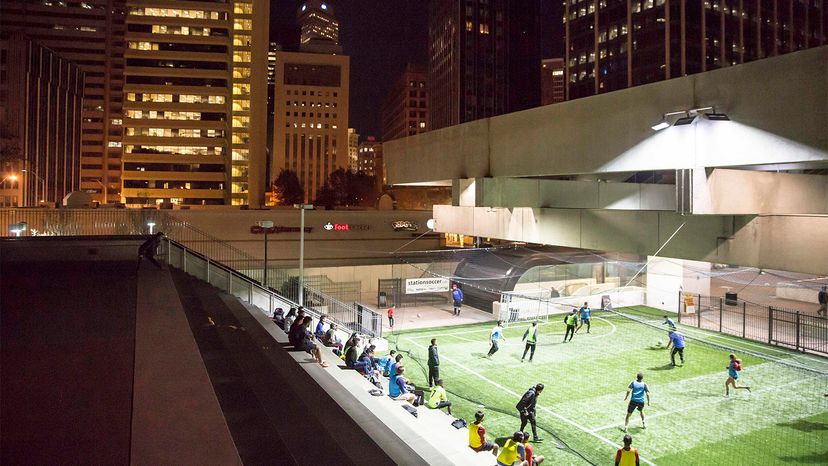 It used to be that the local transit station was the place you went to get somewhere else. But these days, increasingly, transit hubs are turning into destinations in their own right.
In Atlanta, for example, empty space around two MARTA stations has been converted into community soccer fields where teams of local kids get to play for free, in addition to hosting adult amateurs who pay to compete there. In Montgomery County, Maryland, the Washington Metropolitan Area Transit Authority teamed up with an area real estate developer in summer 2017 to experiment with pop-up flower, clothing and food shops set up in old railcars at a station. In Miami, a transit station is being expanded to include a common area that will serve as a future venue for yoga classes, food trucks and a farmers market, and to anchor a retail, office and residential complex. And in San Diego, the local Metropolitan Transit System is looking to turn under-utilized parking areas at local transit stops into affordable housing.
It's all part of a growing movement to transform transit stations into places that can host a wide range of activities and fill numerous needs for local residents, in addition to helping them get to where they need to go.
"I think we can say that transit hubs are now community hubs," explains Darnell Grisby, director of policy development and research for the American Public Transportation Association.
One thing that's driving the evolution, according to Grisby, is that transportation itself is changing. In addition to serving as stops for buses and trains, transit hubs also increasingly offer bike lockers and scooter rentals, or serve as the terminus for pedestrian pathways. Users often make use of these other transportation modes, as well as ride services such as Uber, to cover the so-called last-first mile between transit stops and their homes or workplaces. That mix is bringing residents — particularly millennials with an aversion to cars — together in a new way.
"We're seeing a lot of different types of innovation at these hubs," Grisby says. That spirit is encouraging communities to take advantage of the stations and unused space around them to meet other local needs.
The idea of a transit hub serving as a community gathering place isn't entirely new. In Washington, D.C., massive Union Station, an early 20th-century Beaux-Arts architectural masterpiece that fell into ruin before being renovated in the 1980s, has long been a place where people came to dine at restaurants, shop in clothing stores or see movies. But increasingly, it's also become a nexus for the fast-growing, trendy NoMa neighborhood nearby. "Union Station provides a great place for people to go and do some shopping and grab a meal, and not necessarily ever step on a train," explains Barbara Anne Spignardo, a Washington-based real estate attorney. More restaurants have sprung up in the neighborhood nearby, she says.