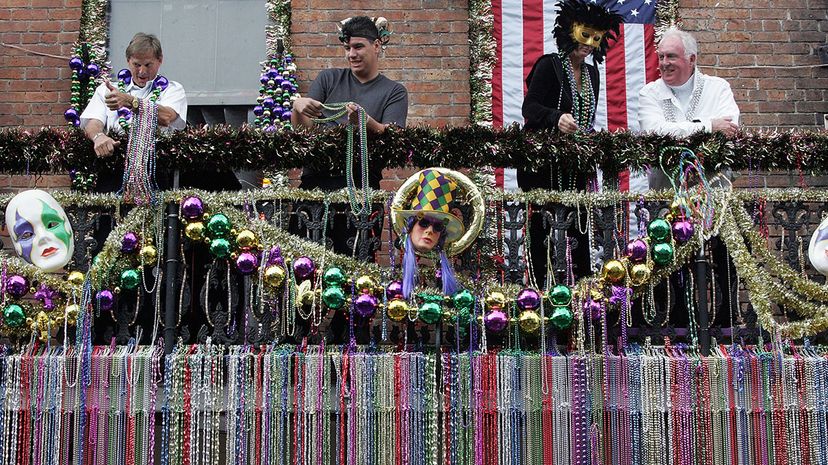 Visiting New Orleans during Mardi Gras should be on everyone's bucket list. The food is amazing; the costumes colorful; the people exciting and the music phenomenal. And of course, there are those colorful beads. Tons and tons of them. People throw them at one another, put them around their necks and toss them from those elaborate parade floats.
Although the festive beads are as much a hallmark of Mardi Gras as the King Cake, they've caused quite a severe headache for the city's public works department. Since September 2017, workers have been painstakingly cleaning tons of discarded Mardi Gras beads from the city's catch basins. In fact, they've sucked out some 93,000 pounds — or 46 tons (42 metric tons) — along on a five-block stretch of the popular downtown parade route on St. Charles Avenue.
"Once you hear a number like that, there's no going back," Dani Galloway, interim director of the city's Department of Public Works, said during a news conference according to NOLA.com. "So, we've got to do better."
Private contractors working under a $7 million grant have collected nearly 7.2 million pounds (3,265 metric tons) of debris from 15,000 of the city's 68,000 catch basins. The money is part of a $22 million emergency project designed not only to clean, but also fix the city's damaged basins. Nearly 24 vacuum trucks started cleaning them after widespread flooding last summer.
Mardi Gras will be in full swing in the weeks leading up to Fat Tuesday, which falls on Feb. 13, 2018, and the city is hoping residents and visitors will help prevent beads and other debris from clogging the drains. To that end, the city has been teaching people how to clean the catch basins in their own neighborhoods. In addition, city workers are also considering covering the basins with so called "gutter buddies," at least until Mardi Gras is over.
So as they say in NOLA, "laissez le bon temps rouler!" or let the good times roll, just don't let those Mardi Gras beads roll down the city's drains.