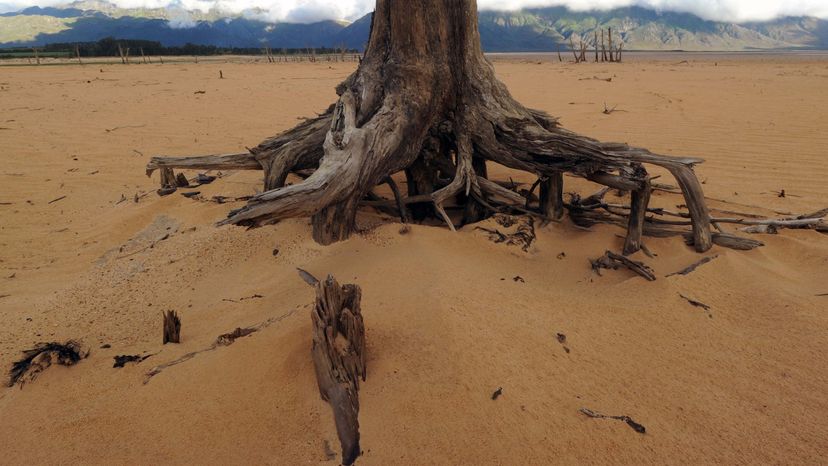 Theewaterskloof Dam, the largest dam in the Western Cape Water Supply System, on Jan. 25, 2018 in Villiersdorp, South Africa. The City of Cape Town has said that all taps will be turned off on or before April 12, 2018.
Gallo Images/Getty Images
Several years into a punishing drought, the reservoirs that provide water to Cape Town are nearly three-quarters empty, and the South African city of 3.7 million inhabitants has grown so parched that residents are being advised to turn off the water valves feeding their toilets, and instead fill the tanks with soapy water from their washing. Cape Town Premier Helen Zille, who has revealed that she showers only every third day to do her part, posted a video on Facebook, imploring them to consume just 50 liters — 13 gallons — of fresh water each day, about a fifth of what South Africans typically use.
"As I record this message, the projection is that Cape Town will run out of water sometime early in April," Zille warned in the video.
If that happens, the South African metropolis could become the first major city on the planet to run out of water. But experts say that it may not be the last. Climate change, which is altering precipitation patterns and causing droughts to become more frequent and more severe in many places, will threaten the water supply of many of the world's cities in years to come.
A study published in July 2014 in Global Environmental Change found that a quarter of the world's 500 largest cities are under water stress, where demand for water exceeds the supply. The Brazilian city of São Paulo and its population of 12 million came perilously close to going dry several years ago, and 21 Indian cities are in danger of running out of water by 2030, the Indian publication Businessworld has reported.
Worldwide Water Stress
But water stress isn't limited to developing countries, as Californians, who suffered through that state's recent punishing multi-year drought, would attest. "However, wealthier countries usually have the ability to invest in diversification of water sources," David Sedlak, a University of California, Berkeley engineering professor and co-director of the Berkeley Water Center, explains in an email. "When things get really bad they also have the ability to finance seawater desalination plants and other expensive solutions. Cities in wealthier countries typically have a larger buffer than those in developing countries. In other words, they may have adequate storage to get through a longer period of severe drought, which should give them time to build new infrastructure to deal with the problem."
In contrast, Sedlak says, "cities in developing countries often fail to have a diversified water portfolio or a lot of storage, so they have to act before the public and politicians come to terms with the severity of the problem."
Cape Town's water predicament, though, is especially worrisome, because it's a place with a sophisticated water management program over the past couple of decades, according Kevin Winter, a lecturer and head of the Urban Water Management Group at the University of Cape Town.
"We've managed to flat-line water demand for the city," Winter explains in an email. The problem is that even conservation can only go so far, when rainfall drops off for several years in a row, as it has in the Cape Town area; 2017 turned out to be the driest year on record.
Worse yet, droughts are coming more often. In the 1900s, the Cape Town region sometimes went several decades between dry periods. In the 2000s, there already have been two major droughts — one in 2004-2005, and the present one which began in 2015 and continues. "The gap now is shorter, and we're not recovering fast enough," Winter explains. And predictions call for the area to be "warmer, drier and more drought-prone in the future."
That's a forecast that haunts water-management officials in other parts of the world as well. "The significance is that Cape Town is a relatively wealthy city in a middle-income country," Giulio Boccaletti, the head of the Nature Conservancy's global water program, explains in an email. "We have not had many cases of cities of that stature actually running out of water, as Cape Town is predicted to do in April. Cape Town has experienced a unique confluence of factors which have led to this situation, but it is an important reminder of just how vulnerable cities can be to failure in water systems and management — if drought strikes, many other cities could find themselves in a similar position."
Planning For Drought Is Tricky
But planning to stave off future shortages isn't a simple matter. "Preparing for drought is a very risky long-term gamble," Boccaletti says. "If you are planning 20-30 years ahead there's a risk of over-investing in infrastructure like reservoirs and desalination plants. If the drought doesn't happen, much of that investment will have been wasted."
Conversely, if a city doesn't invest enough, it could be left vulnerable to a water crisis, Boccaletti says. In Cape Town, local officials have complained that the national government failed to build needed infrastructure and provide emergency drought relief, according to the Los Angeles Times.
But in Cape Town, the crisis already is approaching. If residential water taps run dry in April as expected, residents will go to 200 distribution points throughout the city, where they'll line up and present coupons to receive their daily allotment of up to 25 liters (6.5 gallons) per person, according to the Daily Maverick, a South African news website. Prior to filling their containers, they'll be given a dose of hand sanitizer to prevent contamination.