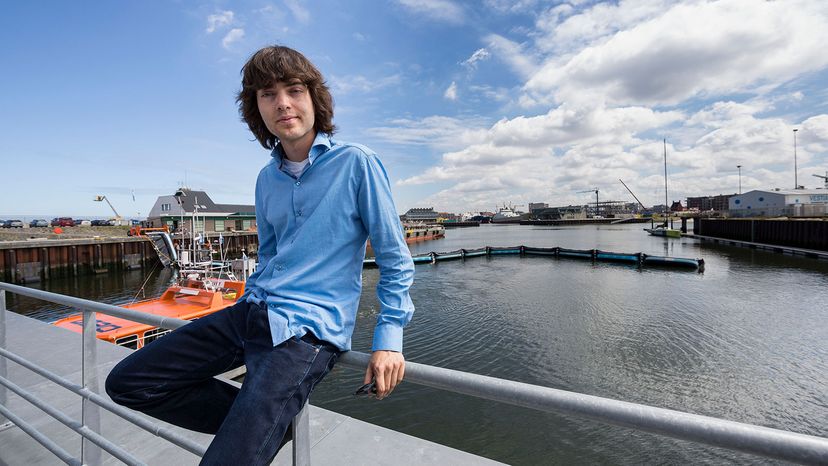 In 2012, Boyan Slat was only 18 years old when he took the TEDx stage in his native Netherlands and presented an outrageously ambitious plan to clean up all the floating plastic debris in the Great Pacific Garbage Patch in just five years. He was inspired by a diving trip in Greece where he saw more garbage bags than fish in the ocean. Now 24, Slat is the founder and CEO of The Ocean Cleanup, an environmental startup that's attracted more than $40 million to make Slat's teenage dream a reality.
On Sept. 8, 2018, The Ocean Cleanup will launch the first beta test of its plastic-collecting technology, a nearly 2,000-foot (600-meter) floating tube that functions as an artificial coastline, slowly accumulating plastic surface debris that will be carried away by boats for sorting and recycling. In a year, if all goes well, that first massive floating array will be joined by a fleet of 60 more.
Reached at The Ocean Cleanup headquarters in Rotterdam, Slat says that his team of more than 70 engineers, researchers and scientists are busily preparing for the maiden voyage.
"It's definitely exciting after five years of testing and expeditions that we finally get to launch the first system and put it to the test," says Slat.
But as the clock ticks down to launch date, not everyone is thrilled that so much money has been sunk into Slat's scheme to clean up the Great Pacific Garbage Patch, which is not a large solid island of plastic, as many of us believe, but rather a swirling concentration of microscopic plastic debris covering an area twice the size of Texas. There are five such garbage patches worldwide, each situated in oceanic gyres, massive systems of circulating currents.