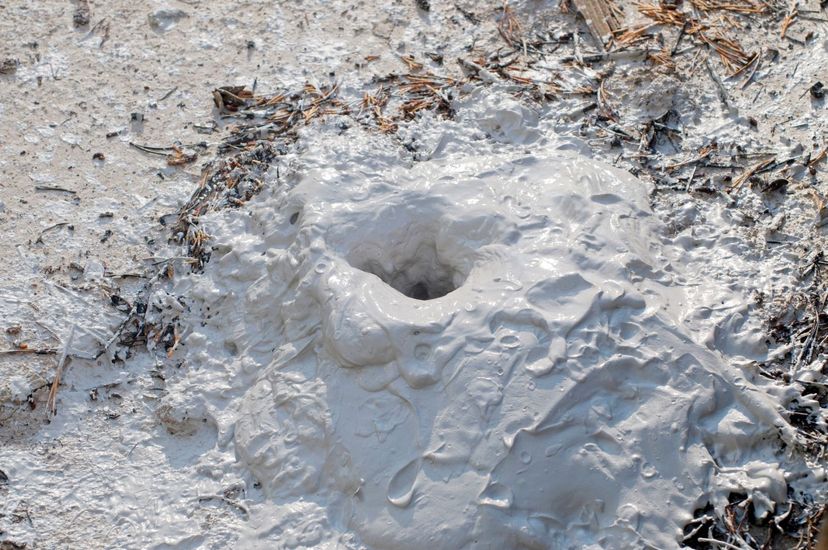 A bubbly mass of carbon dioxide, like an underground soda dispenser, has created a migrating mud pool in Southern California. Located along the San Andreas Fault near the small town of Niland, the bubbling mud smells faintly of rotten eggs due to its hydrogen sulfide content, and is officially known as the Niland Geyser.
It's also known as the Slow One — in contrast to the Big One, the major earthquake that is one day expected to occur at the fault lines where the North American and Pacific tectonic plates meet.
The Niland Geyser first appeared in 1953 and stayed where it was, without incident, for decades. Then, around 11 years ago, things began to shift. The flow of gases through underground cracks and crevices caused the mud pool to begin moving and, in the last few months, the pace has picked up considerably, bringing it closer to Union Pacific railway tracks and state Highway 111. Its movement across the desert has increased from 60 feet (18.3 meters) in a few months to as much as 60 feet (18.3 meters) in a single day. Overall, the Slow One has moved 240 feet (73 meters) from where it was a decade ago.
The big mud puddle is also coming uncomfortably close to a petroleum pipeline and fiber optic telecommunications cables. "It's a slow-moving disaster," Alfredo Estrada, Imperial County's fire chief and emergency services coordinator, told the Los Angeles Times.
But the movement is not seismic activity, said U.S. Geological Survey geophysicist Ken Hudnut. It's simply occurring in an earthquake prone area, where long-ago tremors created underground gaps that allow gas and liquid to move under the surface. In doing so, the mud pool has flowed under a wall next to the Union Pacific railroad. Imperial County has declared an emergency and is working on plans to reroute traffic if Highway 111 is affected.
However, geophysicist David Lynch said Union Pacific and California transportation officials have time to prepare. He has studied mud springs in the desert for years. "If there was no railroad nearby, you wouldn't even know about it. This would just be something out there chewing out the desert," he said.