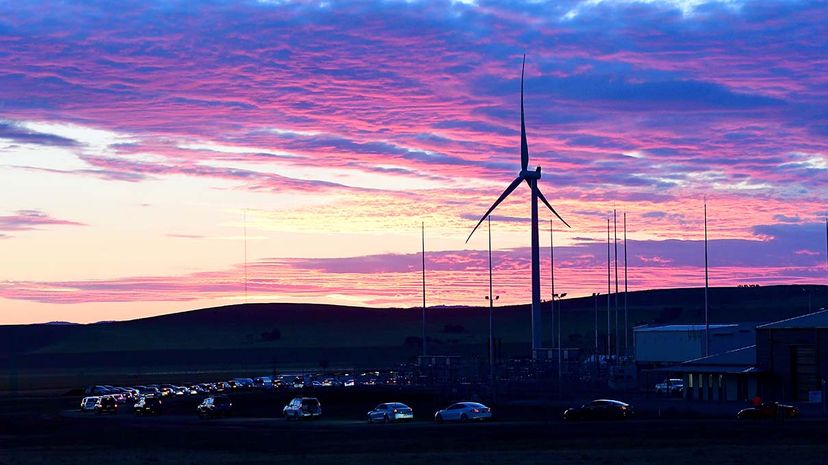 Tesla has built the world's largest battery storage system at Hornsdale Wind Farm, near Jamestown in South Australia.
Mark Brake/Getty Images
Tesla co-founder, chief executive and product architect Elon Musk apparently isn't one to turn down a Twitter challenge. Another company official said publicly in March that Tesla could solve the blackout-plagued Australian state of South Australia's energy woes by installing a massive battery storage system in under 100 days. In response, Australian billionaire Mike Cannon-Brookes tweeted back, asking Musk how serious he was about the offer, and whether he could guarantee that it could be accomplished in that time.
Musk's reply was to promise that Tesla would get the system installed and working 100 days from the signing of a contract, or else provide it for free. "Is that serious enough for you?" he asked.
Blowin' in the Wind
After a competitive bidding process that ended in July, the Australians agreed to the deal, and in late September, Tesla formally signed up to build a 100-megawatt storage system — essentially, the world's biggest lithium-ion battery — and connect it to the Hornsdale Wind Farm, an array of 99 wind turbines north of Jamestown in South Australia.
Sure enough, Musk didn't have to pick up the cost of the project, reportedly $50 million in U.S. dollars. Last week, South Australian Premier Jay Weatherill announced that the storage system had been fully installed, more than a month ahead of the deadline, and would be energized within days for testing.
But this is a bigger deal than just a successful wager. As Musk explained in a video in October, the system installed in South Australia is three times bigger than the previous record-holder, a 30 MW battery system unveiled back in February at a utility substation in Escondido, California.
The advent of large-scale battery storage has the potential to solve a problem that hinders the advance of renewable energy sources such as wind and solar, because it can help to smooth out dips in supply that occur when the wind dies down or the weather turns cloudy. (Here's a 2010 report from the National Renewable Energy Laboratory on the importance of storage capacity.) And having battery storage also could help to prevent blackouts such as the massive outage that hit South Australia in September 2016, after tornadoes damaged power lines and caused the grid to malfunction.
The Tesla Powerpack
When contacted by email, Tesla's media operation declined to answer a list of questions or make any on-the-record statements. But the company did confirm some information about the battery project.
While everyone is calling it a big battery, the 100 MW Tesla storage system — which can provide 129 megawatt-hours of electricity, enough electricity to temporarily power 30,000 homes — actually isn't a single unit.
Instead, it's composed of hundreds of connected, modular Tesla Powerpacks, built at Tesla's factory in Sparks, Nevada, which stand 7 feet (2.1 meters) tall and weigh 3,575 pounds (1,622 kilograms) each. The Powerpacks contain smaller battery pods, based upon the same technology used in Tesla's Model S electric car, as well as a thermal control system and hundreds of sensors that monitor performance, according to Tesla's website. There's also an integrated inverter, to convert the direct current stored in the batteries to the alternating current that goes into the utility system. Each Powerpack can supply 210 kilowatt hours of electricity.
Tesla's Powerpack system is designed to be flexible and scalable, so that the same units can be used to provide power for a few small businesses or, in larger configurations, serve as a backup system for a public utility, according to the website.
As for the newly installed Tesla system in South Australia, the most important innovation is the sheer scale of the project, according to Tony Wood, a former Clinton Administration energy official who now is director of the energy program at the Grattan Institute, an Australian public policy think-tank.
"We will learn a lot over the coming Australian summer as to what role battery technology can play in the accelerating transition from thermal power plants to wind and solar," Wood writes in an email.
The long-term practical potential for battery storage — whether it can help drive a transition to renewable energy, or whether it mostly will be useful for blackout prevention — still remains to be explored. "I don't think anyone really knows as yet," Wood says who notes that battery storage currently remains more expensive than pumped hydro, which uses reservoirs of water as a storage medium. "Economics of scale and other cost-reducing elements are still unclear. That is one reason why this project and others like it are so important and exciting."
Jason Burwen, policy and advocacy director of the Energy Storage Association, says:
"Tesla's project demonstrates three key things. First, battery storage can be deployed on the grid at large scales in very short timeframes that no other resource can match — and this 'just-in-time' capacity provides enormous flexibility in grid planning. While Tesla did this in record time in Australia, it comes on the heels of similar battery projects in California that took only four to six months from contract approval to in service — so this isn't just a one-off. Second, battery storage is here and ready for grid service today. This is not some 'technology of the future,' but rather a current grid solution whose costs are declining rapidly and whose performance is increasing steadily. Third, battery storage is something that everyone gets excited by, regardless of political affiliation. There are few things that unite folks in energy, but it seems clear to me that storage does."