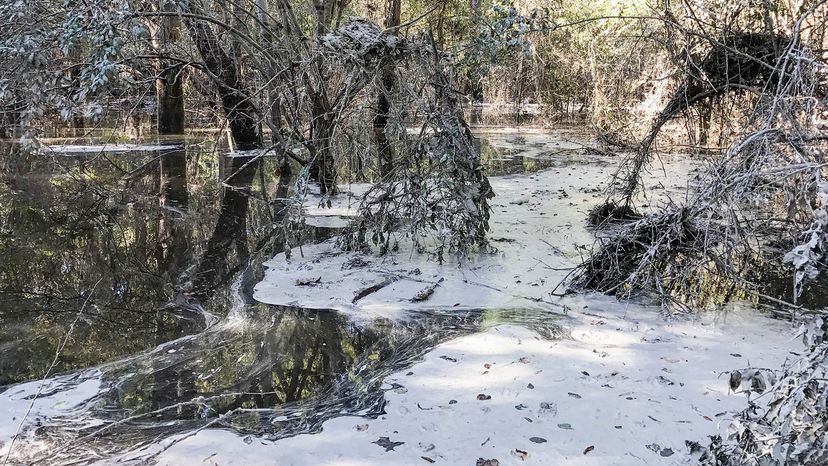 Shortly after Hurricane Matthew pounded North Carolina in October 2016, swelling the Neuse River to a level never seen before, Matthew Starr ventured out on the river to see some of the damage himself. It was almost otherworldly.
"When the flood water receded, I was out on the boat, doing a patrol on one of the inactive ash ponds, and it really looked like a winter wonderland," says Starr, the Upper Neuse Riverkeeper for Sound Rivers, a nonprofit that monitors and protects the Neuse and Tar-Pamlico River basins. "Here was this white, very fine ash up in the trees, on the water, on the trunks, on the leaves. It was just everywhere. If you just slightly bumped a tree, it would just rain down this very fine ash.
"Fast forward two years later ... not a single shovel of ash has been removed."
The ash Starr talks about is coal ash, an ecological can that the state — and the whole country — has been kicking down the road for decades. In 2014, more than 30,000 tons (27,215 metric tons) of coal ash spilled into the Dan River near Eden, North Carolina in something the locals came to call "The Heartbreak on the Dan." Brian Williams, the Virginia program manager for the Dan River Basin Association — the 214-mile (344-kilometer) river that crosses the Virginia-North Carolina line eight times — was one of the first on the scene.
"The river ran gray for weeks after that," Williams says now. "People still ask me, 'Is it safe to go wading in the river?' ... I don't know. I can't say the same thing about it that I used to be able to."