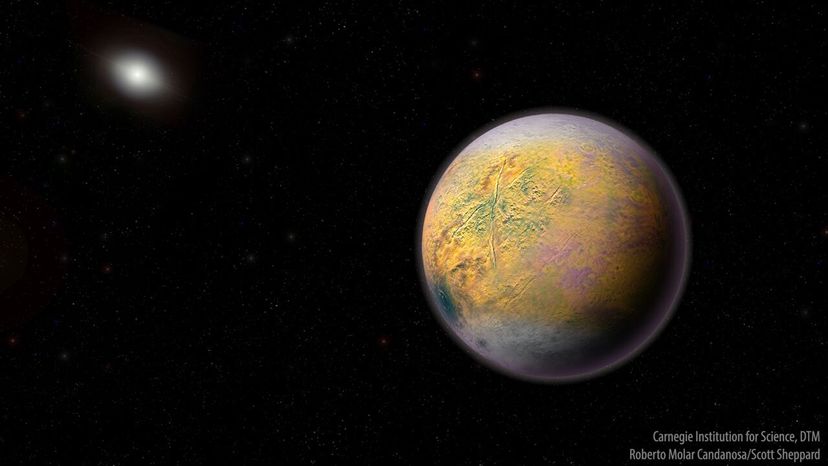 Deep in the most distant reaches of the solar system, astronomers have discovered a small world with an astonishingly long orbit around our sun. The world has been nicknamed "The Goblin," and its discovery could lead us to find another, more monstrous world that's steeped in mystery and intrigue: the fabled Planet X.
The discovery of The Goblin, a small dwarf planet officially called 2015 TG387, has been tracked by telescopes since 2015, and astronomers have now determined just how extreme its orbit is. It's currently located about 80 AU from the sun (where one AU, or astronomical unit, is the average distance at which Earth orbits the sun) — or nearly 2.5 times farther away than Pluto. At the farthest point in its highly elongated 40,000-year orbit, TG387 reaches a whopping 2,300 AU (over 200 billion miles or over 340 billion kilometers) away.
"We think there could be thousands of small bodies like 2015 TG387 out on the solar system's fringes, but their distance makes finding them very difficult," said David Tholen, of the University of Hawaii and co-investigator of the new study submitted for publication in The Astronomical Journal. "Currently we would only detect 2015 TG387 when it is near its closest approach to the sun. For some 99 percent of its 40,000-year orbit, it would be too faint to see."
A handful of objects like TG387 are known, and they are thought to be a part of a population of icy worlds that populate the Inner Oort Cloud. However, TG387 has the most extreme orbit that doesn't take it anywhere near the gravities of the planets of the solar system. In other words, its orbit isn't influenced by planets like massive Jupiter.
But it appears the 300-kilometer (186-mile) wide dwarf planet isn't immune from being pushed around. Something is out there, in the dark, mysteriously shepherding The Goblin's sluggish stroll around the sun.