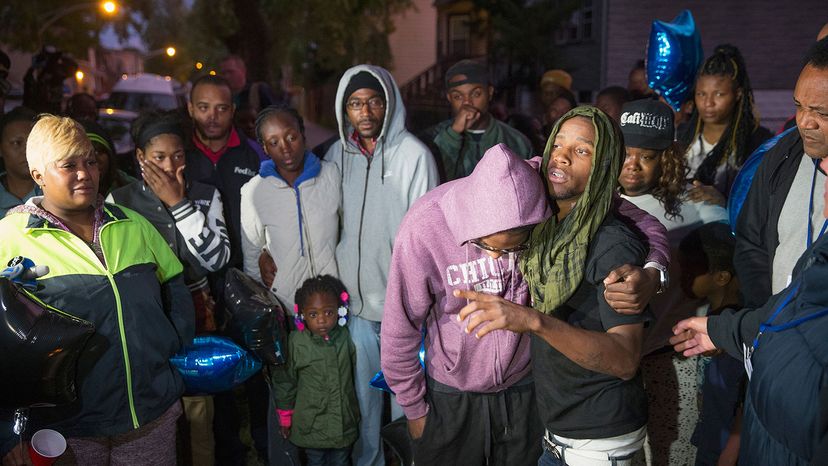 A new study tracking gun-related deaths found that just six countries, all located in the Americas, accounted for more than half of all firearm deaths worldwide in 2016. The lamentable list was topped by Brazil with 43,200 gun deaths in 2016, followed by the United States, Mexico, Colombia, Venezuela and Guatemala.
Taken together, those six nations were home to 50.5 percent of global firearm-related fatalities in 2016, a count that includes gun deaths from homicide, suicide and accidents, not war or terrorism. Interestingly, the death rate from gun-related murders, suicides and accidents significantly outpaced gun deaths from armed conflict in all but one year between 1990 and 2016, according to the Institute for Health Metrics and Evaluation (IHME) at the University of Washington, which published the new data in JAMA on Aug. 28, 2018. (That year was 1994, when the Rwandan genocide was going on.)
The full top 10 list of gun-related deaths is as follows:
Brazil: 43,200 deaths
United States: 37,200 deaths
India: 26,500
Mexico: 15,400
Colombia: 13,300
Venezuela: 12,800
Philippines: 8,020
Guatemala: 5,090
Russia: 4,380
Afghanistan: 4,050
"This study confirms what many have been claiming for years – that gun violence is one of the greatest public health crises of our time," said Dr. Mohsen Naghavi, a professor of global health at IHME, in a statement. "There are no simple antidotes to address this health problem. The tragedy of each firearm-related death will continue until reasonable and reasoned leaders come together to address the issue."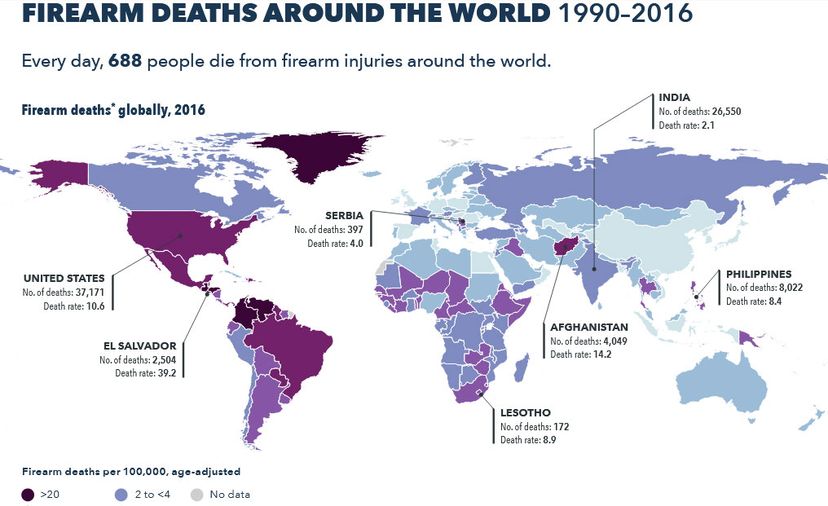 Although more people died in the U.S. from guns in 2016 than almost any other country in the world, several other nations had far higher death rates, calculated as the number of firearm-related deaths per 100,000 people. El Salvador recorded the highest gun-related death rate in the world at 39.2 deaths per 100,000, followed by Venezuela (38.7), Guatemala (32.3), and Greenland (25.9). The U.S. was not in the top 10.
The study authors found that the leading cause of firearm death varied significantly by country. In El Salvador, for example, homicide accounted for nearly all gun deaths in the country, which has been ravaged by gang violence. In the U.S. however, there were nearly twice as many suicides (23,800 deaths) by firearm in 2016 as murders (12,400 deaths).
In wealthier countries as a whole, suicide accounted for 64.1 percent of all gun-related deaths in 2016, although the highest per-capita suicide rate by firearm was recorded by Greenland at 22 deaths per 100,000. As terrible as that sounds, Greenland's suicide rate by firearm was as high as 101 per 100,000 in 1990. For comparison, the gun-related suicide rate in the U.S. was 6.4 deaths per 100,000 in 2016, which was the second-highest in the world.
The study's authors hope that their detailed analysis, which spans 26 years and includes mortality data from 195 countries, will convince policymakers of the critical importance of expanding gun safety and education efforts worldwide.