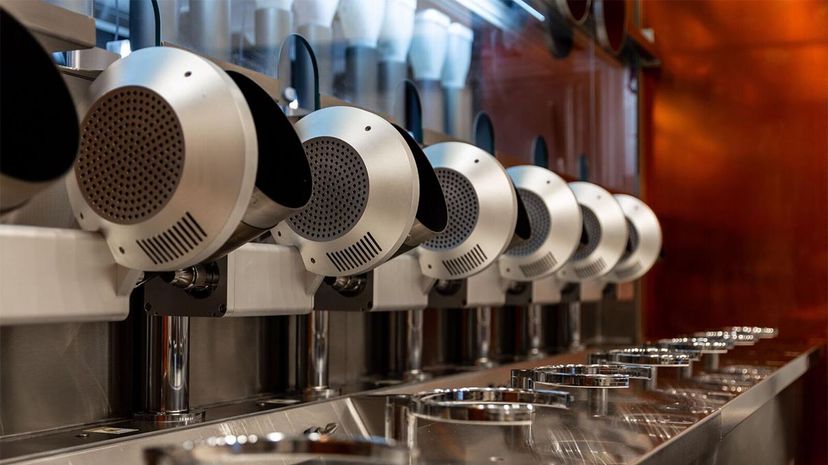 At Spyce, a recently-opened restaurant in Boston, diners can choose from a menu of meals-in-a-bowl that draws upon international influences ranging from Thai to Moroccan cuisine, which they can have customized to their individual tastes with vegetarian, pescatarian, gluten-free and vegan options. But it's not just the quality of the food and the relatively low price — bowls start at $7.50 — that's creating a buzz about the eatery.
At Spyce, diners also can watch as their meals are cooked by a robotic kitchen designed by Massachusetts Institute of Technology graduates. (Here's an article from MIT's website about the restaurant.) After a customer orders a meal via one of the touchscreens mounted on the restaurant tables, the information is relayed to a 14-foot-long (4.27meters), nine-foot-tall (2.74 meters) machine, which retrieves the ingredients for that meal from a refrigerated compartment, feeds them into one of its array of woks, and cooks the mixture for several minutes. Then, a human worker adds cold garnishes such as crumbled goat cheese or pumpkin seeds, and the bowl is handed to the customer.
Here's a video they created that shows how it all works.
Spyce may be at the forefront of a technological revolution that could transform the restaurant business. A 2017 study by the McKinsey Global Institute identified accommodation and food services — that is, hotels and restaurants — as a sector where almost half of the labor time is spent either in operating machinery or performing predictable tasks, the sort of work that robots can do. This 2017 Wall Street Journal article mentions efforts to develop everything from robotic pizza makers and dishwashers to baristas.