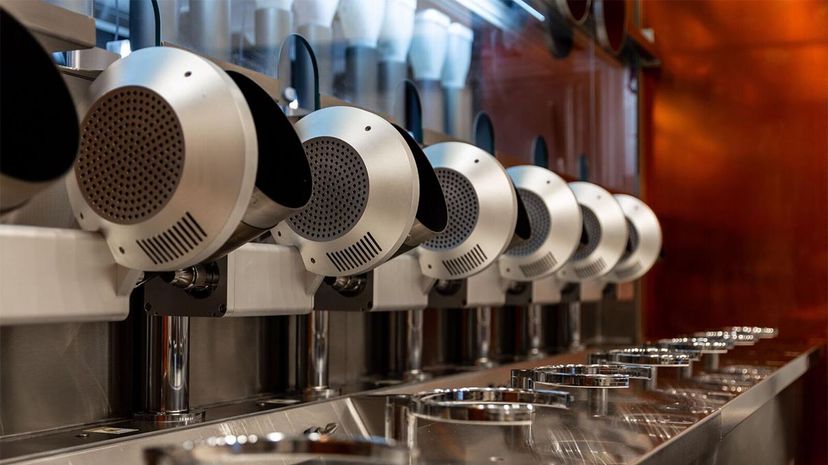 A close up of the woks in the robotic kitchen at Spyce in Boston, Massachusetts.
Grace Uvezian/Spyce Food Co.
At Spyce, a recently-opened restaurant in Boston, diners can choose from a menu of meals-in-a-bowl that draws upon international influences ranging from Thai to Moroccan cuisine, which they can have customized to their individual tastes with vegetarian, pescatarian, gluten-free and vegan options. But it's not just the quality of the food and the relatively low price — bowls start at $7.50 — that's creating a buzz about the eatery.
At Spyce, diners also can watch as their meals are cooked by a robotic kitchen designed by Massachusetts Institute of Technology graduates. (Here's an article from MIT's website about the restaurant.) After a customer orders a meal via one of the touchscreens mounted on the restaurant tables, the information is relayed to a 14-foot-long (4.27meters), nine-foot-tall (2.74 meters) machine, which retrieves the ingredients for that meal from a refrigerated compartment, feeds them into one of its array of woks, and cooks the mixture for several minutes. Then, a human worker adds cold garnishes such as crumbled goat cheese or pumpkin seeds, and the bowl is handed to the customer.
Here's a video they created that shows how it all works.
Spyce may be at the forefront of a technological revolution that could transform the restaurant business. A 2017 study by the McKinsey Global Institute identified accommodation and food services — that is, hotels and restaurants — as a sector where almost half of the labor time is spent either in operating machinery or performing predictable tasks, the sort of work that robots can do. This 2017 Wall Street Journal article mentions efforts to develop everything from robotic pizza makers and dishwashers to baristas.
Quality and Affordability
But the MIT entrepreneurs behind Spyce weren't focused on transforming the business, so much as they were on finding a way to produce restaurant meals that they and fellow students could afford. "When we were in school, we were looking for a food option that was healthy and delicious but also affordable," explains Spyce co-founder and chief executive Michael Farid. "But we couldn't find anything for less than $10 to $12."
Farid, who earned a master's degree in mechanical engineering in 2016, got the inspiration of using a robot to make the kitchen operation more efficient, and got several other MIT students on board. "The key was whether we could make a robot that makes good food," he explains. "We recognized that quality was the most important thing."
Developing a robot capable of making complex meals was a challenging task, says Braden Knight, the company's chief electrical engineer. Unlike, say, a robot working on an automobile assembly line, a cooking robot has to be able to handle a range of raw materials of varying characteristics and consistency, and do it gently enough so that they don't deteriorate. "Food isn't an easy medium to work with," Knight says. "Every potato is a different size. Kale is particularly tough to work with, because it likes to cling to itself."
Robot-Human Teamwork
The technology is sophisticated enough that each wok is washed robotically after a meal is prepared. But the restaurant also employs a human staff — as many as four workers during lunchtime hours — and they're an essential part of the operation. "The robotic kitchen streamlines our process, and does the repetitive tasks that aren't fun for people to do," Farid says. But he sees the restaurant business as being half about the food, and half about hospitality. "The staff is there to greet customers and help them through the ordering, to put the finishing touches on the food, and hand it to the guest with a smile," he says.
On the opposite coast, a Silicon Valley-based outfit called Bear Robotics has developed a robotic assistant named Penny, which navigates restaurant aisles to deliver food to diners, eliminating the need for waiters and waitresses to balance unwieldy trays. The human staffers still actually lift the menu items from the robot's tray and place them on the table. In this video, Penny manages to bring a bowl of soup without spilling a drop.
Bear Robotics co-founder and chief executive John Ha initially introduced the robot food runner at a Milpitas, Calif. restaurant that he operated until recently, where it served an estimated total 10,000 customers. The technology is now being used at a Mountain View, Calif. pizzeria, and the company is hoping to get it into several more restaurants this year.
Ha says that Penny could help alleviate labor shortages in the restaurant industry, but he emphasizes that it could improve workers' lives by eliminating a grueling, repetitive task and allowing them to concentrate on their interaction with customers. "The hard part of the front side of the restaurant is the food running," he says. "It's really tough work." If waiters and waitresses don't have to rush back and forth between the kitchen and the dining room continually, he says, they're going to be "less tired and more enthusiastic."
Bear Robotics co-founder and chief operating officer Juan Higueros says that such robots could help make restaurants — an industry long plagued by stress, burnout and high turnover — into more humane environments for workers. "Under the current system, the human server has no time to spend with you," he says. "It actually reduces the human touch. But if a robot can take on the monotonous, routine things they have to do, that gives them a lot more time for customers. It amplifies their value."
Ha says that the food-running robot offers another plus for human wait staff. They don't have to split their tips with the machine. In addition, at his restaurant, he observed that customers actually left bigger tips as well. "The reason is not the novelty of the robot," he explains. "It's because the human interaction got better."