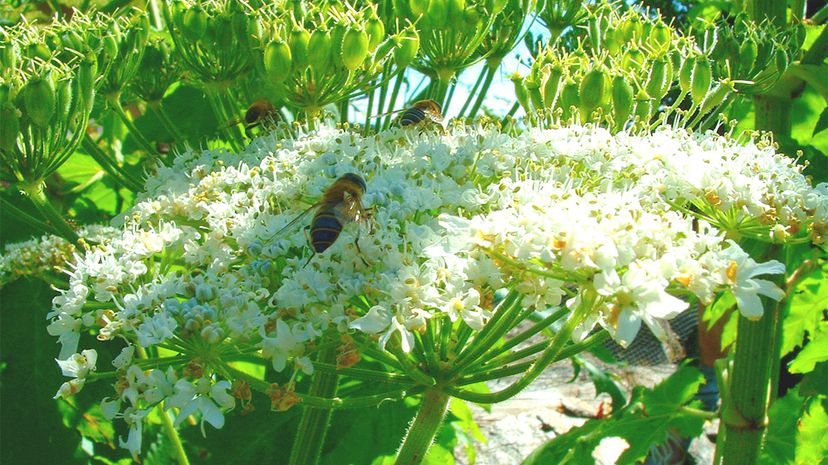 Some plants didn't come here to make friends. They may be attractive, but they're ruthless. In the reality show of the plant kingdom, giant hogweed (Heracleum mantegazzianum) is a villian not to be trifled with.
Native to central Asia, this perennial member of the carrot family was introduced in the U.K. in the early 19th century because the humongous plant with white, umbrella-sized inflorescences looked beautiful, towering 14 feet (4.3 meters) over a pretty English garden. But what the original western champions of this sinister plant didn't know was how little interest it would have in staying within the confines of garden walls. And, of course, the whole thing with the photosensitizing furanocoumarins.
The what now?
Photosensitizing furanocoumarins: They're a special compound in giant hogweed sap that, if touched, renders your skin temporarily unable to protect itself from UV radiation from the sun. Moisture like sweat or humidity only amplifies the effect of the toxin... which is not inconsequential.
The sap from the giant hogweed causes a type of sunburn called phytophotodermatitis, which is much worse than a normal sunburn, causing huge blisters, scarring and long-term sensitivity to sunlight. Some who come in contact with giant hogweed sap suffer third degree burns. In addition, anecdotal reports suggest that hogweed sap in the eyes can lead to permanent blindness, but no research has substantiated the claim. It's probably better to err on the side of caution with that one, though.
Giant hogweed has recently been identified in the state of Virginia, which isn't a first for the U.S. — it has established itself in states all along the east coast. However, it's a big deal when an invasive weed that requires a doctor's visit if touched shows up in your state. Although it doesn't appear to be spreading quickly or widely, Virginia officials are asking residents to familiarize themselves with the plant and report it to the authorities if spotted.
The people in goggles and Tyvek suits will be out to deal with it post haste.