June 21, 2006 | Post Archive
Stem cell research has taken a new turn: scientists around the globe are using stem cells to grow edible meat in the lab. They're not anywhere near developing a synthetically-grown steak just yet, but Dutch professor Henk Haagsman and his associates think mass-produced, lab-cultured ground meat could be in stores as soon as 2009.
Haagsman is a professor of meat sciences at Utrecht University. At the moment, they're only capable of producing very small masses of meat. The nutrient solutions used to create the lab-bred meat can cost up to $10,000 per pound. But according to Jason Matheny of the University of Maryland, the cost could go down to $1 per pound if the certain plants and fungal sources can be utilized for the process.
The world of food is one polarized by greed and ideals. Corporations and corporate-run farms stand in opposition to "greener," smaller parties, like organic farms and non-profit organizations bolstered by activists and films like Super Size Me." In the film, director Morgan Spurlock travels through 20 cities interviewing food experts of various kinds on the issue of America's obesity. For 30 days, Spurlock eats nothing but McDonalds menu items for every meal. He keeps regular appointments with physicians and sees a nutritionist to monitor the effects of his diet, which, as you might guess, proves to be harmful.
"The Corporation" is a film that portrays a problem with traditional, mass-market dairy farming and the alleged hormones injected into dairy cows. It alleges that this results in infection of the udders, stiffening of joints and nutritionally bankrupt milk. Films like these give a voice to the minority of people fighting against industrialized food, including scientifically modified, or GM (genetically modified) foods.
GM fruits and vegetables, for example, are created when a foreign gene is introduced to a plant for its betterment. Scientists used the process to create produce such as corn that is no longer susceptible to the pests that naturally plague it. Those in favor of GM foods say it produces better produce and is better for the environment. But of course there are others that believe the complete opposite.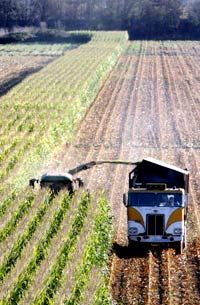 A harvester collects from a field of genetically modified corn.
(AP Photo/Rich Pedroncelli)
According to a recent study done by the PEW Research Center, the majority of people surveyed around the world take great issue with the idea of scientifically modified or cultured foods, though Americans are the least disturbed. But where does cultured meat fall in to the mix? In a culture where "going green" is becoming more prominent, and the popularity of organic farming is on the rise, will consumer really take to test tube meat?
Those in favor say that, if implemented, cultured meats could be both more economical and healthier. They'd be more economical because it would save the amount of feed and other resources needed to raise healthy animals. Most of the feed an animal consumes is burned up by metabolism. With cultured meats, it would mean only growing the parts of the animal needed. It would do away with hatcheries and slaughterhouses, often criticized by those opposing corporate farming.
The cultured meats could be healthier because it would give scientists the opportunity to eliminate diseases caused by food. Not to mention that, theoretically, they could produce enough food for an entire country from one cell. Still, I don't know about you, but laboratory meat is too much for me to swallow.