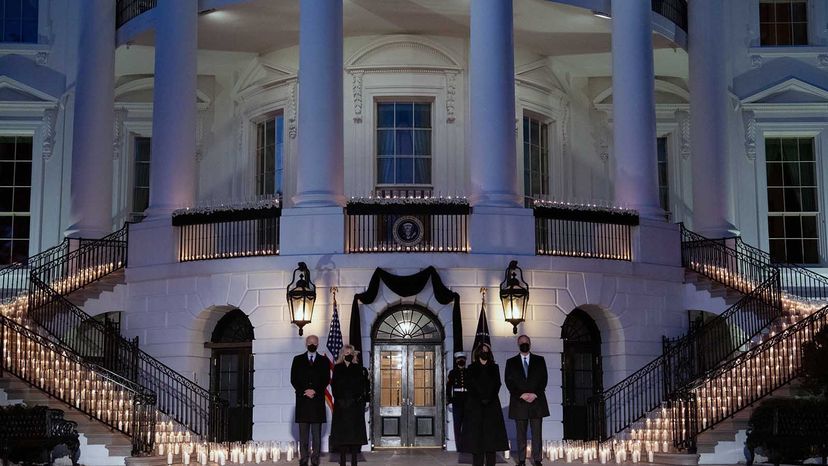 At some point in our lives — at multiple points — we all grieve. No matter how much we try to avoid losing the people we love, we can't avoid all of life's pain. And so we grieve. In ways personal and public, in ways silent and loud.
These days, though, grieving has taken on a new form. Because of the coronavirus pandemic, we can't yet safely soothe those who have lost loved ones with a hug or an arm around a shoulder. We can't yet — for fear of spreading the virus — gather safely to say goodbye. We can't be there for others, and others can't be there for us, and experts say being there is one of the most important parts of the grieving process.
It's been devastating. But, somehow, through it all, we've persevered.
"I think that I would say we're probably, on average, we're probably doing OK," says Katherine Shear, a professor of psychiatry in the Columbia School of Social Work and the founding director of the Center for Complicated Grief at Columbia University. "One of the things we're doing is acknowledging it, which is huge. Often, grief is something that we kind of half-acknowledge."
As a nation, Shear says, it took the U.S. some time to face up to the very real impact the pandemic is having. She points to memorials that Joe Biden and Kamala Harris held in Washington, D.C. — initially as president- and vice president-elect and later as president and vice president — as important, if somewhat belated, first steps.
"That kind of thing, we're not doing very well with, and we need to do better, because it's very helpful," she said. "And of course we're not doing well with the disparity issues, either. We're subjecting some of our most vulnerable populations to grief as well as death."
But the spotlight on grief, as the pandemic has worn on, has intensified. And that's good.
"There's been a massive increase in the interest in understanding grief and helping the public understand it and deal with it," Shear says. "In that way, I think we're doing very, very well. Finally, we are paying attention to something that is always important in our lives. People are so much more aware and respectful of grief than they were a year ago."