June 12, 2006 | Post Archive
Mind control comes in many different forms. Usually, we refer to it when talking about extremist groups, military torture or psychological manipulation. And what about the chosen few, those people who have an uncanny ability for encountering aliens on a regular basis? Some are glad (a la Billy Pilgrim) to be beamed up to the "mother ship" to receive some extraterrestrial enlightenment, but others find it necessary to wear special anti-mind control helmets. (For the uninitiated, tin foil reportedly works wonders.)
But when you're paralyzed and unable to speak, the idea of mind control isn't so bad. In fact, it could be essential. The scientists behind the Wadsworth System have developed a mind-reading skull cap that allows its user to control a computer. At a recent conference in France, Peter Brunner and his associates demonstrated a brain computer interface (BCI) that translates thought to text on a computer screen. Brunner, wearing the skull cap, used the technology to type the word 'bonjour' to the demonstration's audience, and he did so completely hands free. Well, everything free, really -- he didn't move a muscle.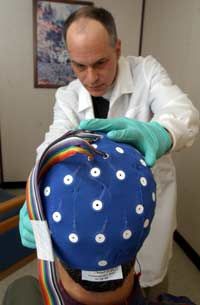 The Wadsworth brain computer interface.
(AP Photo/Jim McKnight)
The Wadsworth system relies on algorithms to analyze levels and peaks of brain activity, called electroencephalographic activity, in response to different mental processes. The computer system that reads the brain activity is adaptive and, according to its developers, gets quicker and more efficient over time. To spell out "bonjour," the computer showed a series of lines on the screen, and each time a line contained the letter 'B' it measured and recorded Brunner's brain activity. Eventually, the computer will know exactly what letter is needed quickly enough to compose entire documents (relatively speaking).
According to Mail & Guardian, there are 100 million people who could benefit from such technology. The article cites the story of Jean-Dominque Bauby, editor of the French "Elle Magazine." Bauby suffered a brain-stem stroke and found himself completely paralyzed. All but his brain and his left eye were unusable. Before his death in 1996, Bauby was able to accomplish an amazing feat: he dictated a memoir of his experience to friend Claude Mendibil by blinking his left eye. Mendibil read a letter of the alphabet one-at-a-time, and when he came to the right one, Bauby blinked. If he had a BCI skull cap, the amount of time it took to write his book would have been considerably shorter.
Wadsworth's developers are looking to reach individuals afflicted with degenerative brain disease, cerebral palsy, spinal cord injury and brain-stem strokes. Up next, the Wadsworth team hopes to move this text-based technology into the realm of physical movement, though at the moment that's something for the future. It's probably possible, but it might be unsafe.