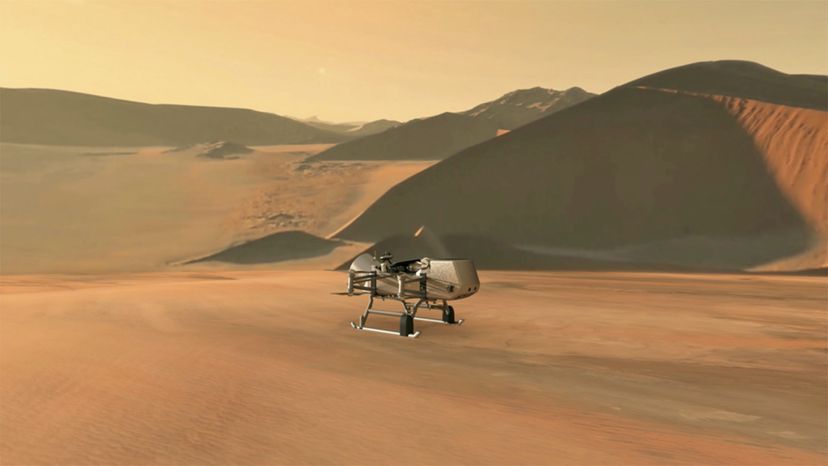 NASA has announced that it will launch a space probe called Dragonfly on an ambitious mission to Saturn's moon Titan, in which a robotic rotorcraft-lander will fly around Titan's surface and touch down in various places. As part of its exploratory mission, the Dragonfly space probe will look for traces of chemical processes similar to the ones that led to life on Earth, in addition to gathering other information about the moon's surface and atmosphere.
Dragonfly will launch in 2026 and arrive at Titan, which is 886 million miles (1.4 billion kilometers) from the sun, in 2034. Once it's there, the space probe — which is about the size of the space agency's Spirit and Opportunity Mars rovers — will turn on its eight rotors and fly through Titan's dense, hazy atmosphere, which is about four times the density of Earth's, and explore its still-mysterious surface.
Titan, the biggest of Saturn's 62 moons and a close second in size in our solar system next to Jupiter's moon Ganymede, has a radius of about 1,600 miles (2,475 kilometers), making it about 50 percent wider than Earth's moon. But it's not just Titan's size that has made it a longtime object of fascination to scientists.
Titan also is the only moon in the solar system with much of an atmosphere, and it's the only slot in the solar system besides Earth that's known to have liquid rivers, lakes and seas on its surface. Though the latter are made up of liquid hydrocarbons such as methane and ethane, Titan also is believed to have an underground ocean of water 35 to 50 miles (55 to 80 kilometers) beneath its icy surface that possibly have harbored some form of life, or may still contain it. If life exists there, it would have be extremely hardy to survive in Titan's brutally cold surface temperature of minus 290 degrees Fahrenheit (minus 179 degrees Celsius).
Titan's thick atmosphere is about 95 percent nitrogen, with the rest mostly composed of methane. That creates a thick, orange-colored haze that hangs over the moon's surface, making it difficult to observe from Earth. Much of what we do know comes from the European Space Agency's Huygens spacecraft, which landed on Titan and transmitted data for 72 minutes in 2005, and from NASA's Cassini probe, which did multiple flybys of Titan between 2005 and 2017. (Huygens actually was attached to Cassini for the seven-year trip to Titan's vicinity.)
"It is hard to imagine a more exciting scientific mission than a nuclear-powered helicopter on a voyage of up to eight years of exploration of a new world," says Dale Skran, chair of the executive committee for the National Space Society, a nonprofit organization that advocates the exploration and colonization of space.