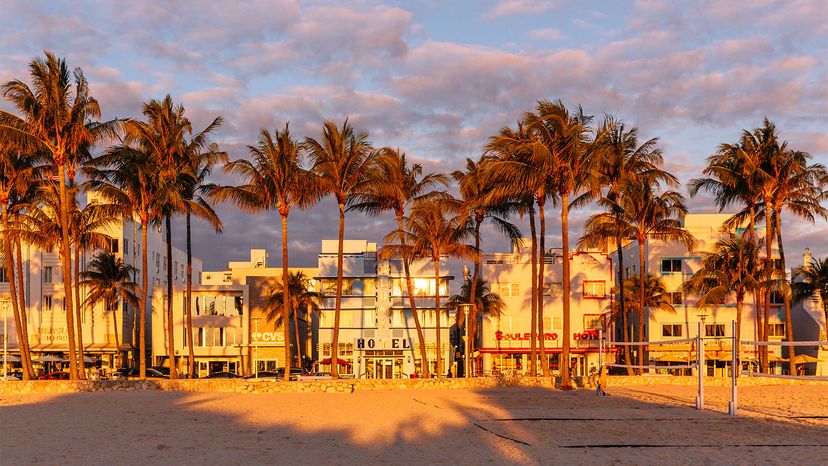 The sun rises on South Beach at Ocean Drive in Miami, where climate change is fast becoming a reality.
Alexander Spatari/Getty Images
Cities around the world — Miami, Phoenix, Athens and Freetown in Sierra Leone, among others — are appointing chief heat officers to respond to the public health impact of rising global temperatures.
Hired to address the rising impact of climate change, these chief heat officers investigate potential short- and long-term heat mitigation efforts as they study ways to reduce risks that range from psychological stress to premature death.
According to the World Health Organization, extreme temperature events are increasing in "frequency, duration and magnitude." In recent years, the number of people impacted by heat waves has risen into the hundreds of millions, with some populations being disproportionately affected because of where they live or how much they earn.
What Does a Chief Heat Officer Do?
The emergence of a chief heat officer position in Miami and other cities largely stems from an initiative of the Adrienne Arsht-Rockefeller Foundation Resilience Center and similarly minded foundation boards. The position, which these foundations not-coincidentally help fund, is designed to help local policymakers develop tools and strategies to ease the climate change burden, especially when it befalls the world's most vulnerable populations.
The overarching purpose of the position is to "expand, accelerate and coordinate our efforts to protect people from heat and save lives," said Miami Mayor Daniella Levine Cava in an April 2021 statement.
Jane Gilbert, who had previously served local government in a consulting capacity as Miami's first heat resiliency officer, was appointed as Miami's first heat officer in early 2021, serving both the municipality of Miami and Miami Dade County. It falls to her to usher local leadership, both public and private, through impending environmental changes. The goal is a big one: to mitigate the fallout of the climate crisis.
Gilbert is expected to create a public/private task force to "analyze existing conditions and vulnerabilities and identify strategies to address current and future impacts of extreme heat on human health, lives, and livelihoods," according to the Miami Foundation website. It would then be up to Gilbert, or any chief heat officer in the position, to create a plan to address these risks through government departments and the community at large.
Chief Heat Officer positions in Phoenix, Athens and Freetown are expected to be structured similarly.
Climate change is an issue plaguing governments everywhere, even municipal governments in relatively insulated cities like Beverly Hills. Because of climate change concerns, the city recently decided to take a fresh look at its sustainability initiatives, says Wendy Nystrom in an email interview. Nystrom is a Beverly Hills city commissioner and co-chair of the city's Community Advisory Committee — Climate Action and Adaptation Plan. Nystrom, who earned a master's degree in geology, earth sciences and geochemistry, works as an environmental and pollution risk management expert.
"I have definitely seen an increased interest in municipalities addressing heat equity and climate change," she says, pointing to Santa Monica, California, as an early adopter (in 2019, the city rolled out an $800 million plan to fight climate change).
The City of Beverly Hills, like many municipalities, is considering policy-led initiatives to environmental damage in small and large ways. "We recently passed a plastic utensil ordinance where plastic cutlery is no longer provided in take-away meals unless specifically requested. It is a small step, but we are progressing, and we are currently working with the Clean Power Alliance to take Beverly Hills from 50 percent renewable energy to 100 percent. It will take time, and require quite a bit of public outreach, communication and education, but we're making steady progress," Nystrom says.
Heat Is Claiming Lives
As historic heat roasts the western United States and other areas, it is claiming lives. Between the years 2010 and 2020, about 12,000 people died prematurely from heat exposure each year. By the time we usher in a new century, heat exposure is expected to claim 110,000 lives each year in the United States.
To complicate matters, it is likely that heat exposure will unequally affect people according to income. A study published in the journal Nature in May 2021 reports that a person whose income is below the poverty line experiences 50 percent more heat exposure than a person who can afford to live in a spacious neighborhood with grass and tree cover.
"It can be 30 degrees Fahrenheit (16 degrees Celsius) cooler outside under tree cover than in an open pavement area," Gilbert told Time. "But trees also sequester carbon, absorb stormwater, and have mental health benefits."
An area with densely located buildings, parking lots and roads is essentially an "urban heat island" because these construction materials absorb and retain heat. In U.S. cities, Black and Hispanic citizens are more likely to live on an "urban heat island." This disparity — the unequal distribution of risk—is known as heat equity.
And in many places, including Miami and Miami-Dade County, it is becoming undeniably prevalent. As Gilbert told Time, her role is to identify and address those inequities while marshalling municipal and county government through new policies and initiatives. For example, along with planting trees and educating at-risk populations about their rights during a heat crisis, Gilbert will help local leaders take a long view on actions that could reduce reliance on air conditioning and the greenhouse gas emissions that go with it. It's a role that's expected to become increasingly necessary in coming years.