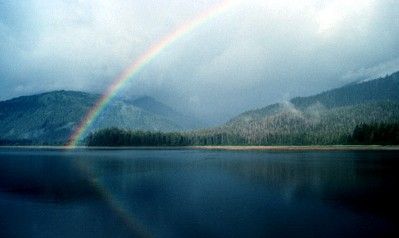 Photo courtesy National Oceanic and Atmospheric Association
Rainbows are easily one of nature's most beautiful effects. In the following collection, see pictures of stunning rainbows from around the world.
© iStockphoto.com/jbarkway
The vibrant colors of this rainbow set against lush surroundings, photographed near San Quirico d'Orcia, Tuscany, make it seem like an almost magical phenomenon. However, the science behind a rainbow is relatively simple as it's just a matter of refraction, or the bending of light.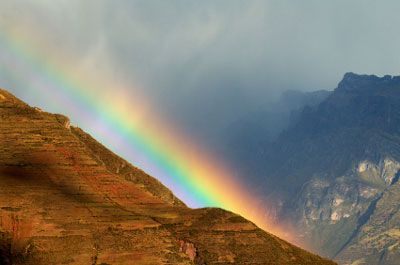 © iStockphoto.com/EBMarketa
The Andes Mountains in Peru are a remarkable vision in their own right. Yet the addition of this colorful rainbow manages to enhance the mountains' beauty.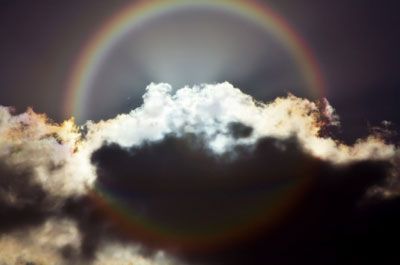 © iStockphoto.com/RapidEye
The photographer of this incredible circular rainbow insists the colors are as shot with no digital enhancement. Next up, a vibrant strip of color courtesy of Iceland.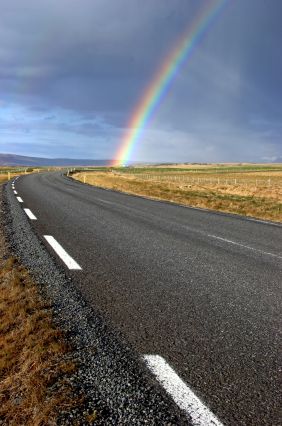 © iStockphoto.com/Saturated
The sight of this curving road leading to a brilliant rainbow could easily inspire daydreams about searching for a pot of gold. Leprechauns not included.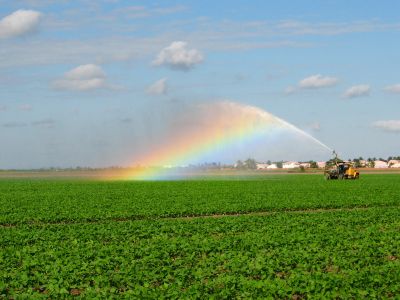 © iStockphoto.com/PedroRamos
Rainbows can be found in seemingly unlikely places -- all you really need is water and sunlight. An irrigation truck spraying water over a sun-filled bean field puts the two ingredients together with beautiful results. Up next, a colorful waterfall.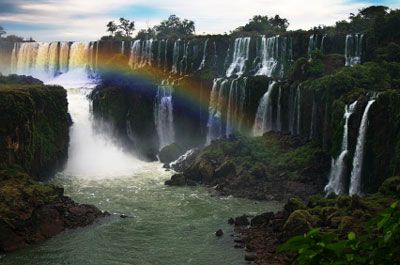 Roy G. Biv visits a new natural wonder -- the Iguazu Falls. Oh, and by the way - Roy is a mnemonic device for remembering the seven colors of the rainbow: red, orange, yellow, green, blue, indigo and violet.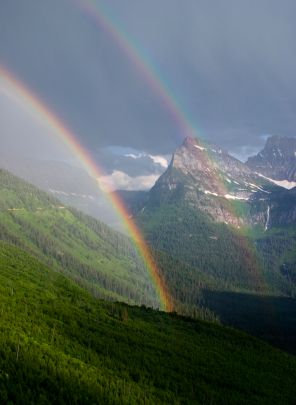 © iStockphoto.com/epicurean
If one rainbow isn't enough to inspire awe, try spying a double arc of color -- like this pair pictured over Glacier National Park. Up next, a geyser's colorful display.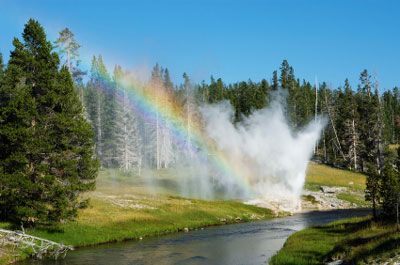 © iStockphoto.com/tmarvin
Water erupting from the Riverside Geyser at Yellowstone National Park provides onlookers with an impressive display of nature's power and beauty.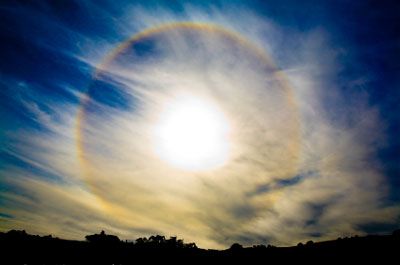 © iStockphoto.com/RapidEye
You can thank moisture in the form of tiny ice crystals for this chillingly beautiful rainbow. Up next, another vibrant rainbow courtesy of Iceland.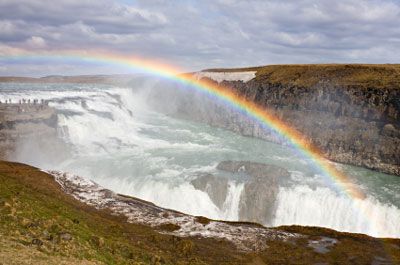 © iStockphoto.com/MichaelUtech
There truly is gold at the end of this rainbow seen at the giant Gullfoss waterfall in Iceland. Gullfoss is also known as Golden Falls.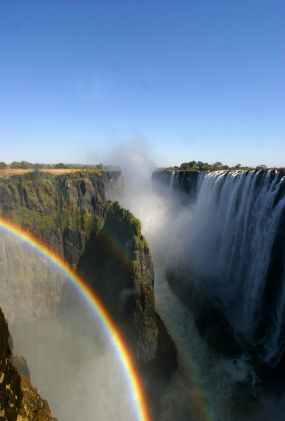 Thanks to ever-present mist, waterfalls are a rainbow roost. Victoria Falls, pictured here, is no exception to the rule.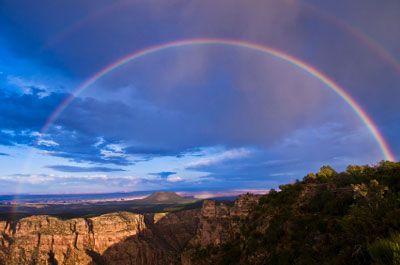 © iStockphoto.com/dgrilla
No collection of rainbow images would be complete without a colorful arc poised above the Grand Canyon. Note its faint twin above. Next, beauty amidst disaster.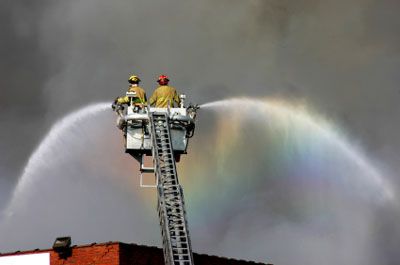 © iStockphoto.com/jkinsey3291
As two firefighters work to put out a fire, they also create a small rainbow with their water spray.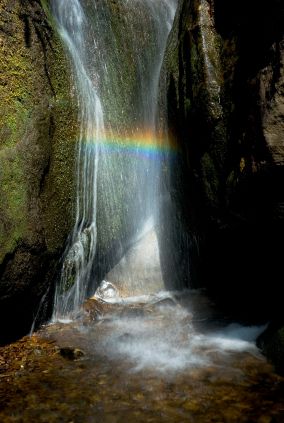 A small line of color graces a short waterfall. Next, a honeymoon hotspot where rainbows can sometimes be found.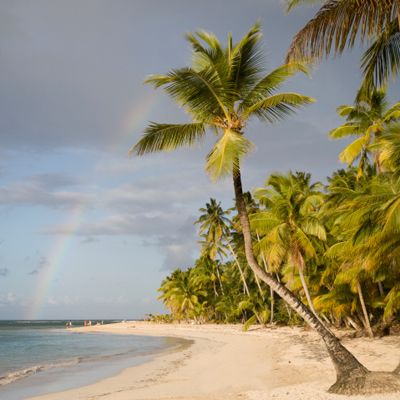 Angelo Cavalli/Getty Images
A beautiful rainbow bends over palm trees in Puerto Plata of the Dominican Republic. Next, travel to California.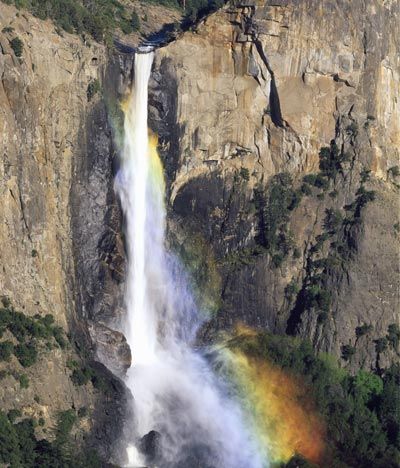 Jeff Foott/Discovery Channel Images/Getty Images
A rainbow mingles with the cascading waters of Bridal Veil Falls during the spring runoff -- just one of the splendors of Yosemite National Park in California. See another waterfall graced by a rainbow on the next page.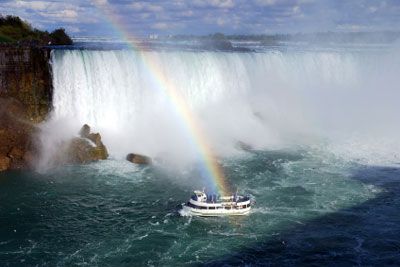 © iStockphoto.com/mathieukor
In Greek mythology, Iris was both a messenger and goddess of the rainbow. Could Zeus and Hera have a message for someone aboard this boat? Next, see a rainbow against a foreboding sky.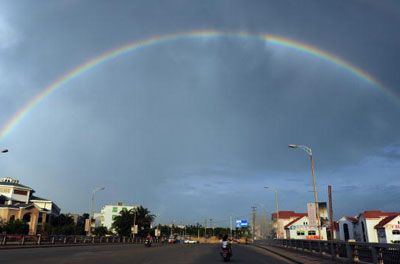 ChinaFotoPress/Getty Images
In Qionghai, Hainan Province of China, a cheerful rainbow appears in the sky just before heavier rains from Typhoon Conson darken the region.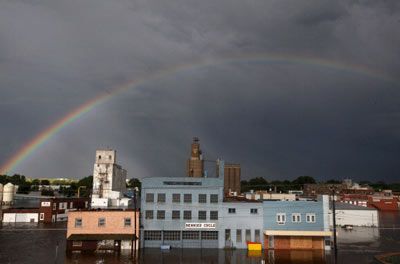 A sign of hope, this rainbow arcs above a flooded section of Minot, N.D., where residents scrambled to fight back rising water from the Souris River. Next, see another U.S. city ravaged by flooding.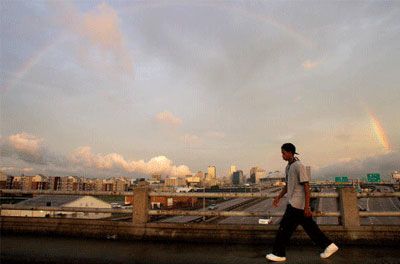 Sean Gardner/Getty Images
A rainbow appears in the sky in downtown New Orleans during the fifth anniversary of Hurricane Katrina. Next, see a pair of rainbows for a pair of airships.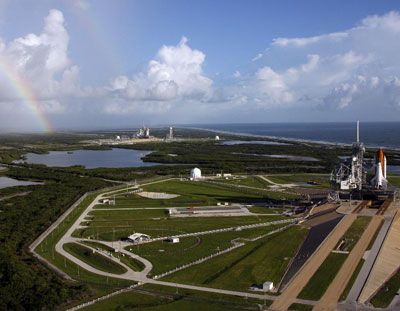 In this photograph from September 2008, a double rainbow graces the sky as the space shuttles Atlantis and Endeavour await launch at Cape Canaveral, Fla.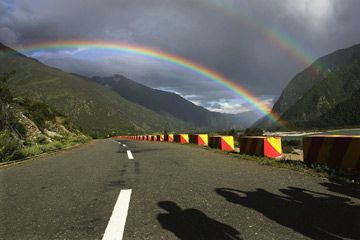 Photo by China Photos/Getty Images
Tourists take pictures of a rainbow by a highway in Nyingchi County in central Tibet.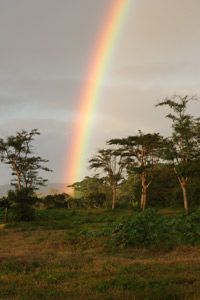 Monty Brinton/CBS Photo Archive/Getty Images
A rainbow cascades across the sky over the Republic of Vanuatu in the South Pacific Ocean.
Don Smith/Photodisc/Getty Images
Rainbows are amazing natural occurrences, but do you know how they work? Learn more about rainbows.