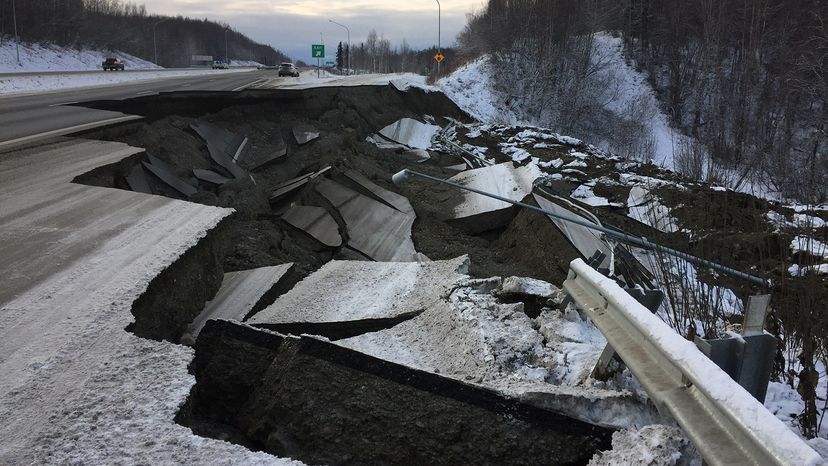 Several major roadways crumbled after the 7.0 earthquake rocked Anchorage on Nov. 30, 2018. However, most buildings stood strong.
Flickr/Alaska DOT/PF
At the first shudder, a few seconds after 8:29 on the morning of Nov. 30, 2018, John Thornley was sitting quietly at his desk in his office in Anchorage.
This being Alaska, and Thornley being a geotechnical engineer, it was almost instantly clear to him what was happening — it was an earthquake. In that initial "ping" of realization, the question wasn't what was happening, but how big it was.
Some 90 seconds or so later, when Thornley saw (from underneath his desk) that everything around him had stopped shaking — way before the questions about property damage and injuries and recovery began to creep into people's minds — his first question already was answered.
That was a big one. A really big one.
In Alaska, a Way of Life
In Alaska in 2018, more than 48,000 earthquakes have been recorded, according to the Alaska Earthquake Center at the University of Alaska Fairbanks. That's more, on average, than one every 15 minutes. The one on the last day of November, though, stuck out for few reasons.
First, it registered 7.0 on the Richter scale — substantial by anyone's measure. For all the earthquakes in Alaska, it was just the 15th 6.0 earthquake or stronger within 93 miles (150 kilometers) of Anchorage in the past century, according to the United States Geological Survey (USGS).
Second, the earthquake lasted, at least in the part of Anchorage where Thornley was, for about 90 seconds, longer than the average quake. According to seismic monitors, the quake was centered in an area about 7 miles (11.2 kilometers) north of the city, across a waterway known as Knik Arm.
The Nov. 30 quake is now listed, in USGS shake maps, as strong to very strong to bordering on severe. Buildings cracked. Major roads crumbled. A tsunami warning was issued (though none struck). About 2,600 individual assistance applications, for damages to homes, were made in the first 10 days after the quake to the Alaska Division of Homeland Security and Emergency Management.
But no injuries or deaths have been reported. Everyday life in Alaska, almost amazingly, goes on. (For comparison, the 1989 San Francisco-Oakland earthquake in October, 1989 was a magnitude 6.9, and killed 67 people and caused more than $5 billion in damages.)
"I was really impressed. Going to the grocery store the day after, I could get practically anything I wanted," Thornley says. He's the chair of the Municipality of Anchorage's Geotechnical Advisory Committee, the committee provides professional advice on mitigating risk from natural hazards like earthquakes. "There were no crazy lines out the door. I could fill up my gas tank. There were things the day after this event that were amazing, that showed the resiliency, I guess if you will, of the community.
"I think it's important for people not to get complacent, though," he continues. "It could have been a lot worse."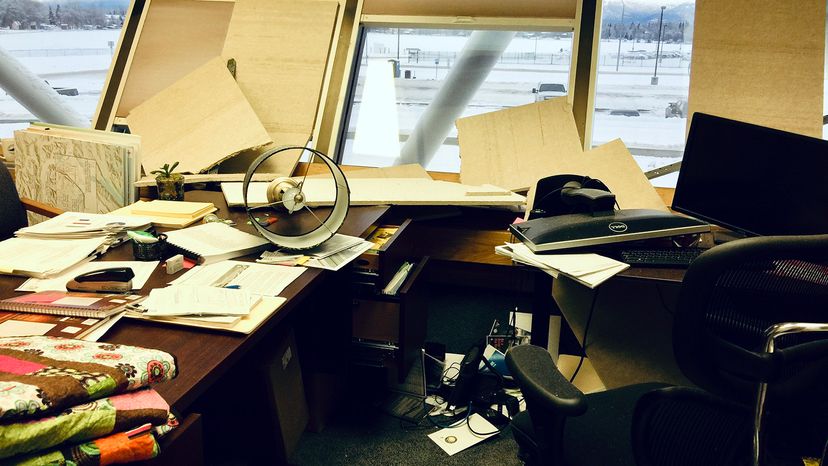 Contents inside buildings in Anchorage were tossed around after the earthquake, but most structures themselves seemed to withstand major damage.
Flickr/Alaska DOT/PF
Building Strong Buildings
One of the reasons damage from the quake wasn't as bad as it could have been is the strict building codes that have been in place since the Great Alaska Earthquake of 1964. That quake was a magnitude 9.2, and is still the second-strongest on record of any earthquake in the world. It lasted more than four minutes, spawned the second-largest tsunami ever, which was responsible for many of the 131 deaths attributed to the Good Friday event and caused billions of dollars in damages.
Since then, the municipality of Anchorage has adopted the International Building Code and mapped out ground-failure zones — they're like flood maps in areas prone to floods — to keep earthquake damage to a minimum. The building codes aren't universally enforced throughout the area because it can get expensive and is time-consuming. But structures built to withstand shaking, using materials that flex (like timber instead of steel) and realizing where soils and clay may liquify during an earthquake, is critical in this part of the world.
"One of the regular arguments is that you know, the 1964 earthquake, some geologists and seismologists will say, 'It happens every 500 to 700 years. Why do I need to worry about it for a building that's going to be here for 50 years? Why do I need to do all those things?'," Thornley says. "There's always that belief that it's not money seen as well-invested, and they feel like it's extra work. But I think people are kind of taking pause on that viewpoint and appreciating [the codes] a little bit more."
Shaking it Off
Especially impressive to many around the world has been how people in Anchorage, long familiar with how to deal with quakes, put their emergency plans into action almost immediately, even as thousands of aftershocks continue to pummel the area. Major roads and bridges that collapsed are already under repair; some already are at least temporarily fixed. From The Verge:
"Our asphalt plants were all shut down for the winter," [Alaska Department of Transportation and Public Facilities spokesperson Shannon] McCarthy says. Thick and tarry, asphalt needs to be heated up from a solid form before it can be spread out in a thick layer to make a road. But Alaska in late fall is bitterly cold, and frozen asphalt can take a week or longer to melt into a sticky, pliable material. Soon after the earthquake struck, owners of asphalt plants switched on their heaters. "We were fortunate that they did that." McCarthy says. "By the time we'd finished the earthworks, the asphalt plants were ready to go."
Some businesses have used the quake to their advantage. The Anchorage Daily News reports that a local marijuana shop, realizing that the earthquake may have damaged bongs all over the area, held a sale the next day and brought in almost as much money as they did on Black Friday. The local Tastee-Freez offered 15 percent off all shakes.
Inspectors, meanwhile, continue to fan out around town to check on damages, looking at foundations and determining which structures are fixable and which must be torn down. Federal assistance, once the new Congress is in session, may not be far behind.
And Alaskans, because they've been there before — and know they will be again — already are planning ahead.
"We really haven't tested everything," Thornley says. "Not just the structures but the lifelines, the utilities, all these things, we can probably improve, looking at our response and what we'll do when a real big one hits us."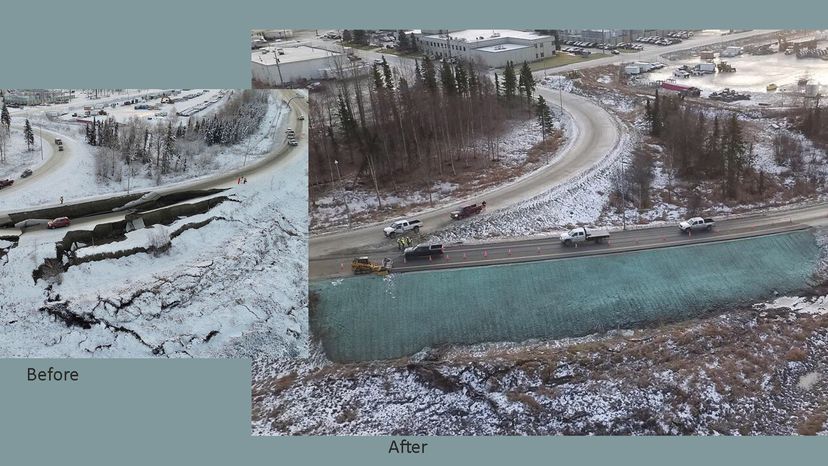 The Alaska DOT was able to make fast repairs to many of the damaged roadways, including the northbound off-ramp of Minnesota Boulevard near Ted Stevens Anchorage International Airport.
Flickr/Alaska DOT/PF