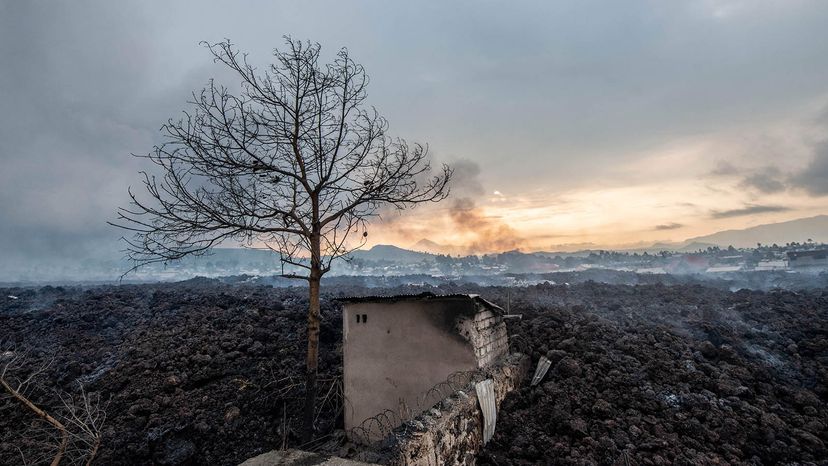 Seismologists in the Democratic Republic of Congo (DRC) were still reporting earthquakes around the Mount Nyiragongo volcano a week after it erupted. The original eruption killed at least 32 people and tens of thousands had to flee the area. The Conversation Africa's Moina Spooner asked earth scientist Paolo Papale to explain the particular conditions in the Virunga volcanic chain, and what makes it particularly dangerous.
Mount Nyiragongo is part of the Virunga volcanic chain, and owes its existence to the activity of the African Great Rift. The rift is constantly extending and opening. In a few tens of million years it will have led to the creation of a new ocean separating the bulk of the African continent from its present eastern portion.
We can see what the future would look like by observing present-day Madagascar, which was once attached to continental Africa.
The peculiar location of Mount Nyiragongo on a highly active segment of the African rift favours quick ascent of magma (molten material) from about 100 km beneath the Earth's surface, and extreme fluidity of lava. That is one major reason of concern, as the lava flowing on the upper volcano flanks can be extremely fast and impossible to escape.
The eruption of 2002 was caused by a sudden episode of rift opening. Estimates were that 100 people had died and up to hundreds of thousands were forced to flee from the town of Goma and from the villages on the upper volcano flanks.
About 16 km of fractures formed from the summit towards Goma and lava poured out from several locations along it, including from the outskirts of Goma. The Nyiragongo lava flowing from vents at lower altitude tends to be more viscous and slower. It gives people time to escape, but its stickiness is also more destructive to buildings in its path.
This time the fractures and vents weren't at such a low altitude. The lava hasn't reached the city yet.
Other dangers associated with rifting, and volcano activity in the region, are:
the earthquakes accompanying rifting episodes, which can themselves cause significant damage.

explosions when the hot lava reaches Lake Kivu waters causing its sudden boiling;

the release of carbon-rich gases, particularly methane, during rifting and eruption, leading to explosions;

the potential for carbon-rich gas accumulation at the bottom of lake Kivu, which may cause surface water to sink, releasing lethal gases threatening Goma.