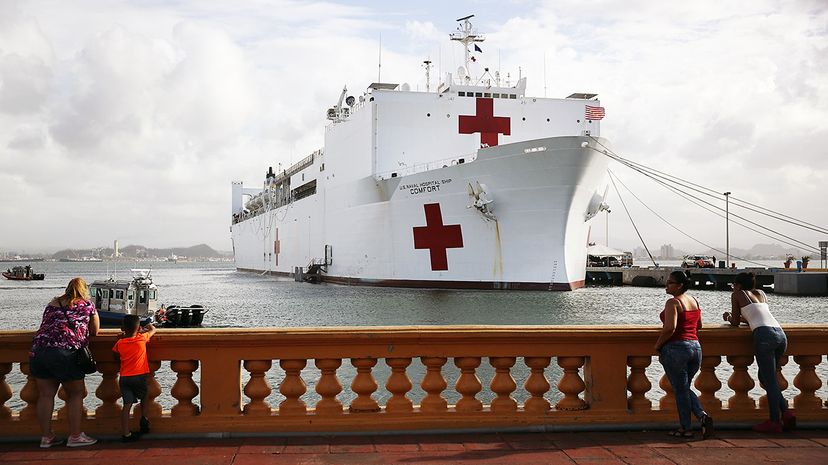 The U.S. Naval Hospital Ship Comfort is seen in the Port of San Juan as it arrives to help after Hurricane Maria swept through the island on Oct. 3, 2017 in San Juan, Puerto Rico.
Joe Raedle/Getty Images
As President Donald Trump implied, hurricane relief is more difficult on an island. Fortunately, the U.S. military is prepared to offer medical help and other emergency assistance when those in need are located in the middle of "a very big ocean." Oftentimes that assistance comes in the form of one of the United States' two largest hospital ships: the USNS Comfort, which arrived in Puerto Rico on Oct. 3, 2017, and its sister ship, the USNS Mercy.
Mercy is stationed in San Diego and typically serves missions in the Pacific and Indian Oceans. Comfort, which is stationed in Norfolk, Virginia, (and therefore closer to Puerto Rico), often serves that region. But the priority of both ships is the same: to provide medical care in times of war. When they're not needed to care for military forces, they are deployed to aid in disaster relief — like the Comfort's current mission to Puerto Rico — and other humanitarian assignments.
It takes about five days for each ship to get fully staffed and ready for a deployment. That's because the ships carry a lot of people and equipment. Each one is equipped to provide full hospital services and includes 12 fully functioning operating rooms, two oxygen-producing facilities, digital radiology and CAT-scan services, a medical laboratory, an optometry lab, a full pharmacy and 1,000 hospital beds. The ships are staffed with crews of 1,215 medical personnel and 65 mariners.
How USNS Comfort Can Help
Before the Comfort was deployed, about half of Puerto Rico's residents had no access to drinking water, and the electrical system was knocked completely offline after being decimated by Category 5 Hurricane Maria on Sept. 20, 2017. There are 69 hospitals on the island, but only 21 of them were able to provide any services at all. That means access to medical treatment was limited to those with the most critical needs, and then, only if the necessary tools or medicines were available.
And almost immediately after arriving, the ship began receiving patients. On Oct. 4, five critical patients from Ryder Memorial Hospital in Humacao, Puerto Rico were medevaced by the Navy's Sea Knights Helicopter Sea Combat Squadron and Army Black Hawk helicopters after the hospital's generator failed.
"Working with the Army and the hospital, we were able to reduce transport times for critically ill patients," Lt. Cmdr. Christopher "Harm" Perry, said in a statement. Perry is an emergency physician and naval aviator aboard the Comfort and helped with the patients. "This is the mission we have all been training for."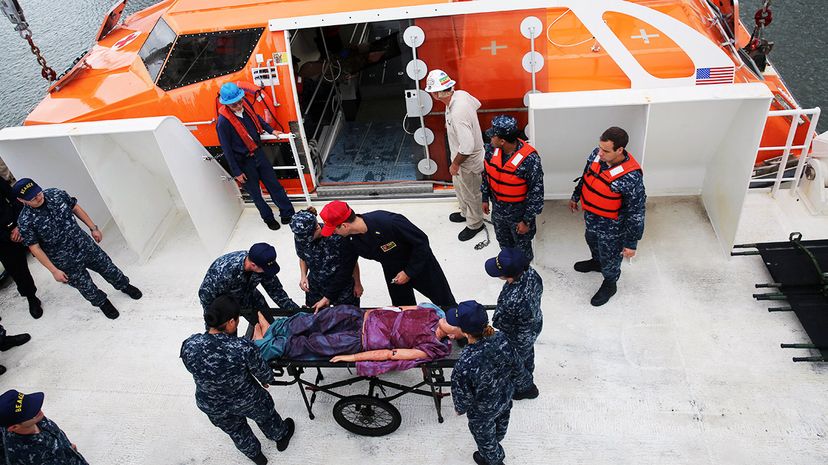 U.S. Navy Sailors on the Comfort prepare to move a simulated battle casualty onto a gurney during a mass casualty drill as part of the ship's weeklong Comfort Exercise (COMFEX) in 2016.
U.S. Navy photograph by Bill Mesta
The decision to deploy the Comfort to Puerto Rico was made near the end of September, about a week after Hurricane Maria passed through the region. One of the ship's biggest benefits — its size — ultimately became a drawback. A Pentagon spokesperson told The Washington Post that the ship wasn't sent sooner because of concerns that it was too big for the Puerto Rico's ports, which were heavily damaged in the storm. The Comfort has already demonstrated its value in disaster relief numerous times, including visits to New Orleans in 2005 after Hurricane Katrina, and Haiti after the 2010 earthquake.
The time it takes these massive ships to deploy can be a big problem, too, but in many ways, they do provide the best options for transporting emergency medical services and equipment that needs to be unloaded in the aftermath of major catastrophes. The arrival of the Comfort in Puerto Rica means that those most in need of medical assistance now have access to highly trained medical personnel, necessary equipment and a sterile working environment for safe treatment.
Who Else Is on Board?
Joe Messere is a Navy veteran and an administrator at Team Rubicon, a non-governmental organization (NGO) of veterans that provides disaster relief. He says during deployments like the Comfort ship's mission to Puerto Rico, the hospital staff consists entirely of active duty U.S. Navy doctors, nurses and corpsmen, and the ship's crew is all full-time government employees of Military Sealift Command (MSC).
In addition to the Comfort, government agencies and nonprofits have been working together to help Puerto Rico since Hurricane Maria. The Navy, Coast Guard and U.S. Maritime Service had already deployed ships full of personnel and supplies; and Army Black Hawk helicopters and Air Force jets were able to get there even more quickly. The Federal Emergency Management Agency (FEMA) is there to coordinate the disaster response and lend a hand.
Civilians groups also contribute to the relief efforts by working with NGOs like Team Rubicon, which specializes in disaster mitigation and recovery. Team Rubicon currently has volunteers assisting with Hurricane Maria (though not aboard the Comfort).