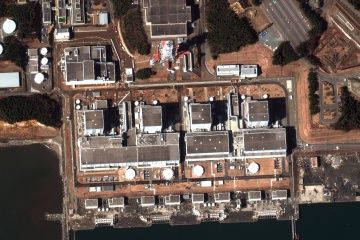 An aerial shot shows the Fukushima Daini Nuclear Power Plant. This plant, located near the ill-fated Fukushima Daiichi Nuclear Power Plant, did not lose power following the earthquake and tsunami that struck Japan on March 11, 2011, and the reactors were cooled off with relatively few complications.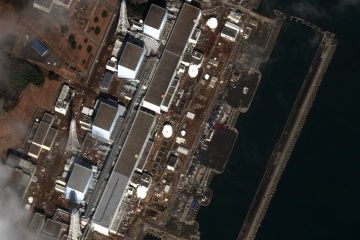 Early in the day on March 12 , all still looked well from above at the Fukushima Daiichi Nuclear Power Plant. The reactors had shut off automatically when the earthquake first struck.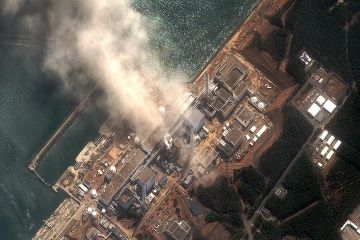 The roof of the containment building housing reactor 1 (shown on the left) was the first to blow on March 12. Two days later, the building housing reactor 3 (center) blew as well.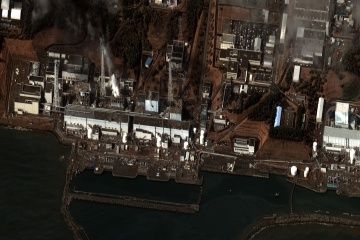 On March 15, an explosion occurred within the containment building enclosing reactor 2, and since then, there have been problems with fires at the site of reactor 4 as well.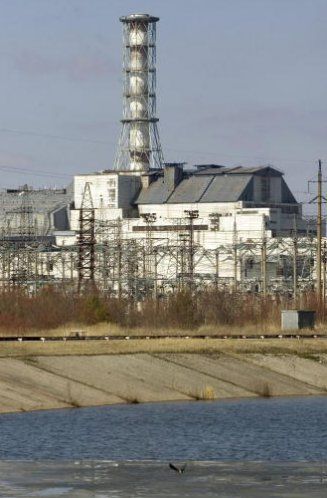 Dmitry Chebotayev/Pressphotos/Getty Images
In the first days after the tsunami, levels of radiation escaping Fukushima Daiichi Nuclear Power Plant were quite low compared to the amount of radiation that poured out of Chernobyl, pictured here. When one of its reactors blew on April 26, 1986, the results were devastating. The Japanese reactors were built with containment structures and multiple failsafes that were completely absent at Chernobyl.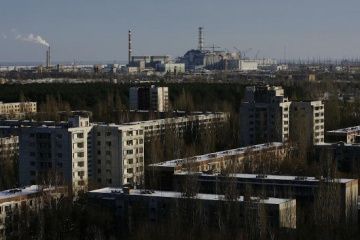 Daniel Berehulak/Getty Images
The city of Pripyat was evacuated following the accident at Chernobyl. It now stands starkly abandoned, encompassed in the 18-mile (30-kilometer) Exclusion Zone that surrounds the former nuclear power plant. The area is still largely considered too contaminated for fulltime residents, even 25 years later.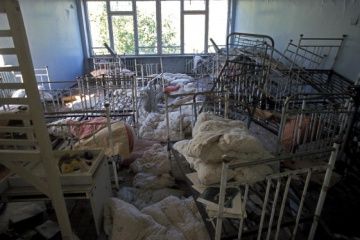 Patrick Landmann/Getty Images
Somewhere around 200,000 people were evacuated following the Chernobyl accident -- close to 50,000 of them from Pripyat alone, which is located less than 2 miles (3 kilometers) from the plant. As seen here, many possessions and pieces of furniture were simply left behind in a jumble.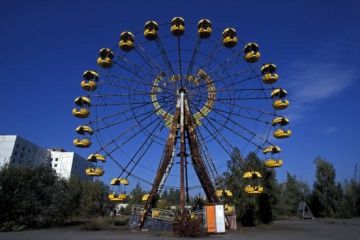 Patrick Landmann/Getty Images
Prior to their hurried evacuation on April 27, 1986, after the nuclear meltdown at Chernobyl, the people of Pripyat used to enjoy family attractions like this Ferris wheel -- which probably hasn't spun in more than two decades and likely never will again.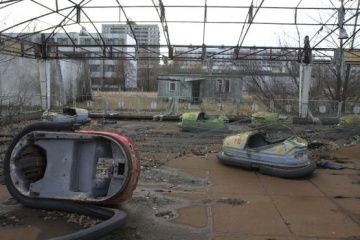 Scott Peterson/Liaison/Getty Images
Another desolate and disconcerting sight: Bumper cars left abandoned by children yanked from their play to evacuate the city. Residents expected to be allowed to return to their homes in just a few days.
Scott Peterson/Liaison/Getty Images
Instead, workers quickly covered the melted reactor core with concrete and steel. The structure -- now nearing obsolescence -- is often referred to as the reactor's sarcophagus.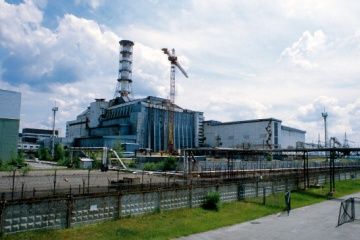 Enzo Signorelli/Getty Images
Seen here from a different angle, reactor 4's disastrous meltdown and colossal radiation leak didn't signal a halt to work at the plant as a whole. Amazingly, operations actually continued at the three other nuclear reactors that rounded out the Chernobyl set. The last one wasn't shut down until December of 2000. Now all the reactors at Chernobyl are in the early stages of a long decommissioning effort.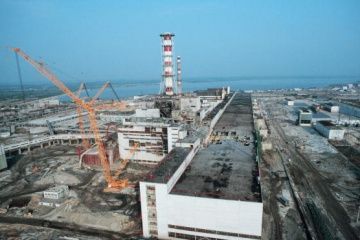 This photo was snapped just days after the 1986 explosion, deemed the worst nuclear disaster of all time.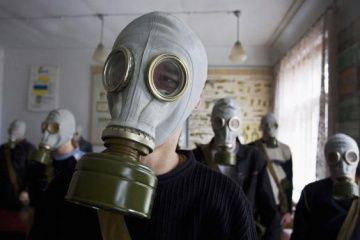 Dmitry Chebotayev/Pressphotos/Getty Images
In 2006, students in Perschetravinskaya, Ukraine commemorated the accident at Chernobyl by participating in a radioactive pollution drill. Their town is located close to where the blast happened and should have been evacuated at the time, although that didn't happen. Fallout from the disaster was particularly severe in northern Ukraine and the western portions of Russia and Belarus.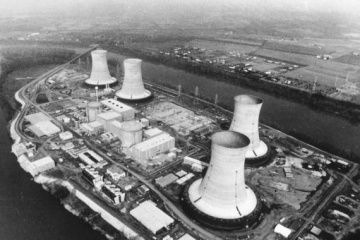 This vintage photograph, which portrays the Three Mile Island Nuclear Plant, was taken just months before a reactor at that facility triggered one of the worst disasters in nuclear power to date on March 28, 1979.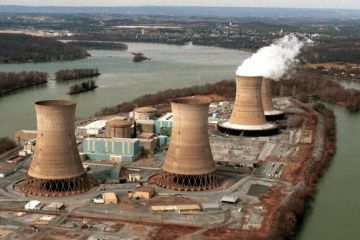 John S. Zeedick/Getty Images
This more modern look at Three Mile Island (near Middleton, Penn.) shows reactor 2, the one that caused the nuclear meltdown disaster, in the foreground.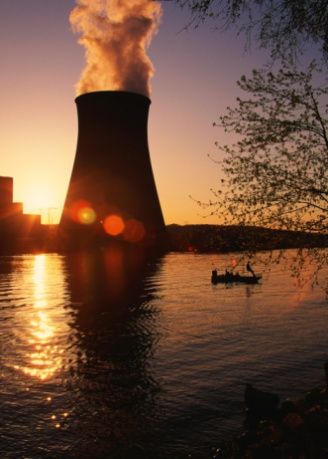 VisionsofAmerica/Joe Sohm/Digital Vision/Getty
So what exactly is a nuclear meltdown? These next few images (which are not of actual disasters) will come with an ongoing explanation of what happens during nuclear meltdowns.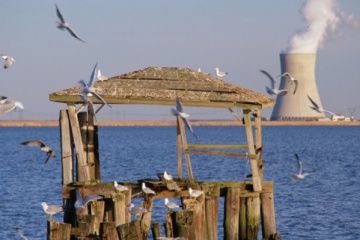 VisionsofAmerica/Joe Sohm/Digital Vision/Getty
In modern nuclear reactors, control rods can be placed in between regular fuel rods to stop nuclear reactions in the event of an emergency. That process was accomplished successfully in the Japanese Fukushima Daiichi nuclear reactors, but the problems occurring there come from a catch: Even though nuclear reactions have stopped, there's still an awful lot of heat, and subsequently, radioactive gasses, that need to be safely dissipated.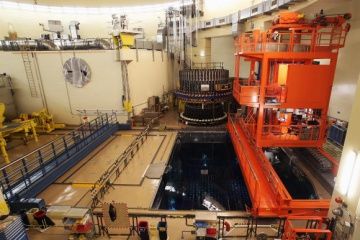 Alexandra Beier/Getty Images
In the event of this sort of emergency, water is typically pumped inside the reactors to deal with heat dissipation, but at Fukushima Daiichi, the normal power supplies running those cooling systems were destroyed by the tsunami. Plant operators attempted to pump water and other coolants in manually, but the additions were boiling away too quickly. If hot fuel rods are exposed to air, they can overheat and start to melt their many layers of casing.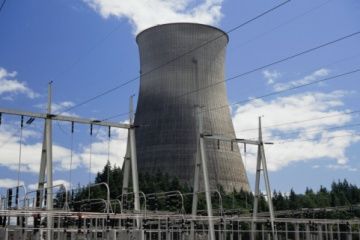 Russell Illig/Photodisc/Getty Images
A partial meltdown occurs when core materials, namely uranium fuel pellets, begin to melt through their containment barriers. In a worst case scenario (full meltdown as opposed to partial) superheated radioactive materials may burn clear through all containment structures and contaminate the environment.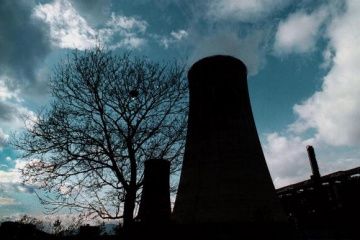 Workers worked round the clock to help mitigate meltdown-related disasters at the Japanese plants. To learn more about what went wrong at the Fukushima Daiichi Nuclear Power Plant, read How Japan's Nuclear Crisis Works.