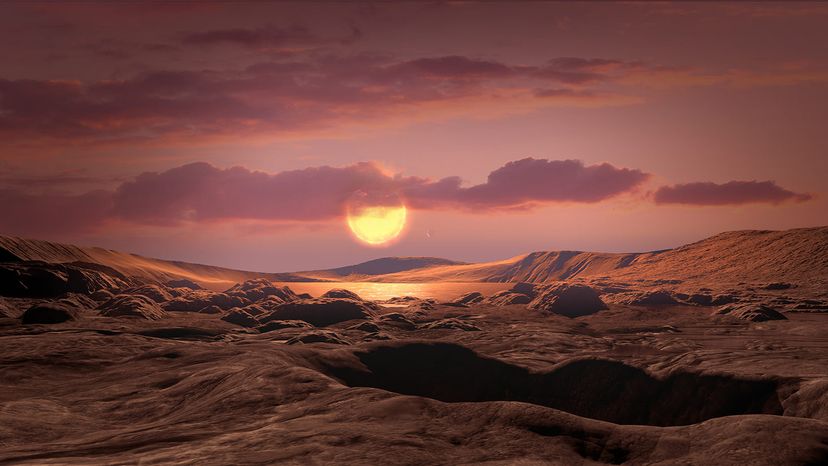 You stand in a perpetual sunset, beneath an eerie, reddish-orange sky laced with thin clouds. At the edge of a vast sea, solid ground rises slowly from the water, giving way to lowlands covered in vegetation. The plants bask in temperatures reaching 40 degrees Fahrenheit (4 degrees Celsius), but their leaves aren't green — they're black and spread open wide to absorb the scant energy washing across the landscape.
You've come to this paradise from your permanent home, an outpost located on the dark, frozen side of the planet. You hike down the lowland hills to the water's edge. As you gaze at the horizon, you vow that, next year, you'll bring the whole family so they can enjoy the color and heat and light. Then you realize that next year is just 37 days away, and you feel suddenly small and insignificant in a vast, overwhelming universe.
This could be your future Earth. No, really. That was an artistic representation of a planet called Gliese 581g, which was big news in 2010, but that scientists now doubt exists.
Still, that hasn't stopped them from looking for other Earth-like planets. Thanks to advanced planet-hunting techniques and some serious equipment, astronomers are locating thousands of candidates outside our solar systems. These are planets orbiting other sun-like stars — called exoplanets — and scientists are coming to a sobering, almost frightening realization: The universe may be filled with billions of planets, some of which most certainly resemble Earth. At least superficially. But what does it really mean for a planet to resemble Earth?