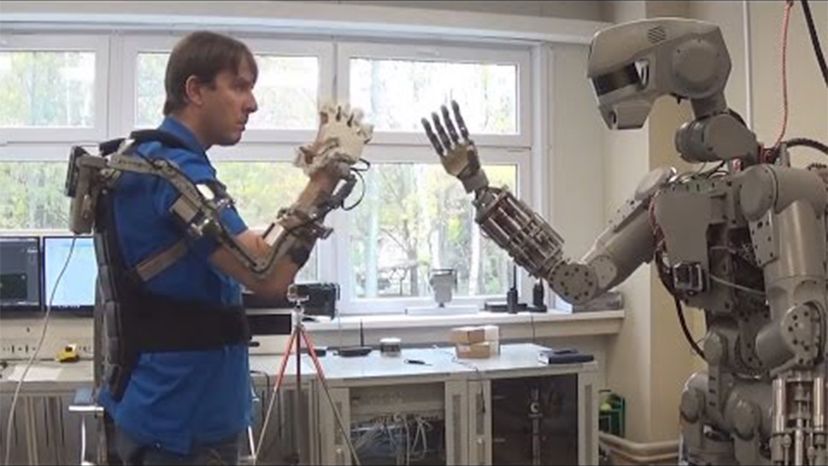 FEDOR, the Russian anthropomorphic robot, already has gotten a lot of attention by demonstrating its ability to fire handguns, do push-ups and even drive a car.
Now, the Russians apparently are preparing to send FEDOR into space. Russian news outlet RIA Novosti reported on July 20 that two FEDOR robots will be flown to the International Space Station next year, citing an unnamed rocket and space industry source.
The Russian news agency TASS subsequently reported on July 23 that a version of the robot, whose name stands for Final Experimental Demonstration Object Research, will be the sole occupant on the first launch of the new Russian spacecraft Federatsiya in 2022. The Federatsiya, which will replace Russia's Soyuz-MS space vehicles, is envisioned as a vehicle for delivering humans and cargo to near-earth orbit and to the moon.
The Russian media reports didn't detail what FEDOR actually might do in space, and Russia's state space corporation, Roscosmos, has had no comment either. But robotics and space exploration experts in the west envision such androids as helpers who would handle simple tasks, freeing astronauts to do more complex work. Additionally, they imagine robots taking on jobs that are hazardous or physically grueling, such as venturing outside the spacecraft on extravehicular activity, or EVA, to perform repairs or deploy equipment. Eventually, such machines also could be useful on lunar or Mars colonization missions, though that may require adapting their form from human-like to something more resembling a four-legged animal.