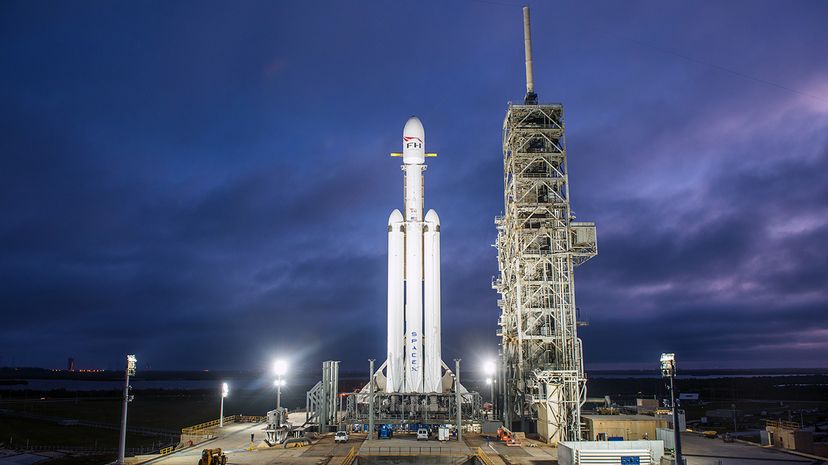 When the Falcon Heavy rocket successfully rumbled off its Florida launching pad at NASA's Kennedy Space Center Tuesday, Feb. 6, 2018, it heralded a new era of audaciousness, both in humanity's quest to conquer space and for the man who hatched the latest space dream, businessman/brainiac/audacious dreamer Elon Musk.
The trick for Musk and his rocket ship company, SpaceX, was making sure that "when" happened. Though the launch's original 1:30 EST was pushed back to 3:45 EST due to upper atmosphere winds being 20 percent above the maximum allowable load, the launch auto-sequence was initiated.
The Falcon Heavy lifted off Tuesday at 3:45 EST, and was livestreamed at spacex.com/webcast. It reached the outer atmosphere of Earth, immediately earning the distinction of becoming the world's most powerful rocket to do so. Plus, it now paves the way for lifting bigger, more powerful (and more profitable) cargo into space. And, it becomes a tangible next step for one of Musk's most mind-blowing pet projects — getting humans to Mars.
The hedging on Tuesday's launch wasn't so much doubting Musk, who despite his problems delivering on his wild dreams on time, mostly delivers. SpaceX is coming off an awesomely successful year. Tesla, his electric car company, has turned the transportation industry inside out and is the darling of millions of investors (even if that Model 3 isn't quite in everybody's garage who wants one just yet). He just sold 20,000 flamethrowers, for heaven's sakes.
The doubts surrounding the Falcon Heavy, instead, were acknowledgments of what a technological bear this space business is. Musk is the first to admit it.
"I want to make sure to set expectations accordingly," Musk said of the Falcon Heavy at the International Space Station Research and Development Conference last summer. "I hope it makes it far enough beyond the pad so that it does not cause pad damage. I would consider even that a win, to be honest."
The Falcon Heavy — it and other SpaceX rockets are named for the Millennium Falcon, the rebel ship in the "Star Wars" films piloted by Han Solo — has 27 engines in its first stage. They all had to fire at once to create the more than 5 million pounds (2,267 metric tons) of thrust to get this 230-foot (70-meter), 3 million-pound (1,360-metric ton) baby off the ground.