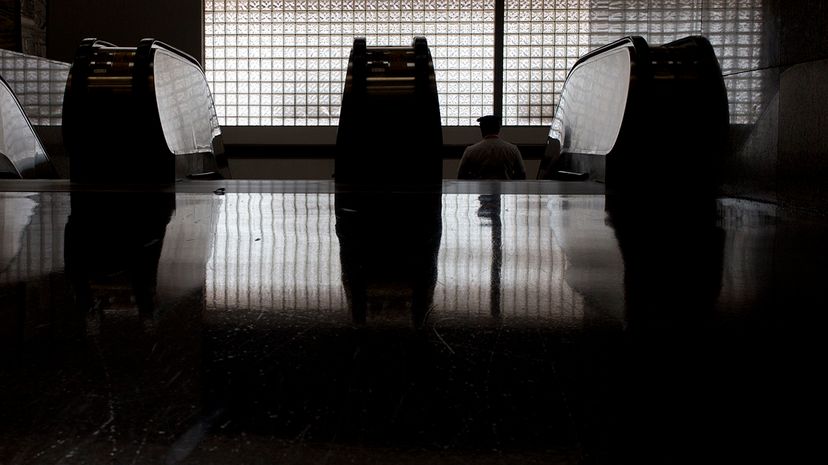 Thousands of passengers were stranded in the dark at Hartsfield-Jackson Atlanta airport when the power went out for 11 hours.
ullstein bild/Getty Images
When the lights went out at Hartsfield-Jackson Atlanta International Airport on Sunday, Dec. 20, 2017, darkness fell quickly over the world of commercial aviation. It was more than just scary. It was crippling.
In Atlanta alone, more than 1,500 flights were canceled over the following two days. Thousands of travelers found themselves stranded in darkened terminals and stuck on grounded planes at the self-proclaimed "world's busiest airport." Vacations were scrapped, reunions missed. Millions of dollars in revenue lost.
The fear, the frustration and outright anger weren't limited to Atlanta, either. Across the nation — indeed, throughout the world — travel plans were severely disrupted or blown altogether.
The apparent cause? A piece of electrical equipment failed, causing a subsequent fire and disaster of unprecedented proportions at Hartsfield-Jackson. That singular hiccup also prompted a single unavoidable question: How can a city-sized airport with seven concourses that caters to 280,000 passengers on 2,500 arrivals and departures daily be completely crippled by a small fire? Seriously: The water fountains didn't even work.
Was there not an electrical backup plan?
What Happened?
Although Georgia Power has yet to finish its investigation, the official story from Atlanta is that a piece of switchgear equipment failed, starting a fire in an underground area that houses electrical systems. The area also is adjacent to "redundant circuit cables and switching mechanisms" and when those cables were damaged by the fire, there was a "loss of redundant service methods."
In real-world speak, the backup plan went up in flames, too. Literally.
"In the 40 years or so the airport has been here," airport communications director Reese McCranie told the Atlanta Journal-Constitution, "we've never had anything like this happen."
That's no excuse, tweeted, Anthony Foxx, the former mayor of Charlotte and the U.S. Secretary of Transportation from 2013-2017, who was one of the passengers stranded on a Delta jet in Atlanta when the airport lost power. He tweeted for all those stuck on the tarmac and in the spooky-dark terminals, and for all who watched.
If that one piece of overheated equipment is indeed what caused the latest calamitous fire in Atlanta — the airport fire already is, in fact, more famous than this Atlanta conflagration that also crippled transportation in March of this year — another question arises: "Why?"
Why was the backup system located right next to the main electrical system in the first place?
Location, Location, Location
"I think that [problem] was kind of highlighted in this instance. [Backup systems] often are located in the same spot," says Iris Tien, a professor at Georgia Tech who earned her doctorate in civil systems engineering from the University of California, Berkeley. "This just showed this might not be the best design system."
The backup system — or at least the "redundant circuit cables" part of it that Georgia Power mentions — may have been located in the same area as the main system for a simple reason, Tien suggests. Rather than finding or building a new, safe spot in the sprawling Atlanta complex away from the main electrical system, rather than laying the requisite cables and buying all the equipment that would enable it to run on its own, the architects of the system went, instead, with the easier and, yes, cheaper route, never envisioning a fire of this magnitude.
The people who built the system at Hartsfield-Jackson airport — which has many of the same characteristics of airport systems throughout the world — evidently separated the connectivity part of the system correctly, so that each part (main and backup) could operate independently, says Tien. They just didn't separate the parts of the system enough geographically.
And cost, always a factor, might well have been the reason.
The Problem with Aging Infrastructure
The Hartsfield-Jackson blackout illustrates what many people — from presidents past and present to doomsday predictors — have been harping on for years. This U.S. infrastructure, from its bridges and highways to its electrical grid and, yes, its airports, needs work. Some say a lot of work. Now.
"I would say that, looking beyond just airports, which are kind of known to be aging, there hasn't been sufficient investment [in infrastructure]," Tien says. "For airports in particular, that's also the case."
According to a report released in March by the Airports Council International - North America, U.S. airports need some $100 billion in infrastructure upgrades over the next five years. That's a 32 percent increase in what they needed just two years ago. That highlights 1) Just how quickly existing infrastructure is aging and, 2) just how quickly it must be upgraded to stay in good repair, make way for growth and new technology and to stay competitive with other countries.
"The longer we delay, America's airports will fall behind and our infrastructure needs become more expensive to fix," Kevin Burke, the ACI-NA's president and CEO, says in the report. "Time is of the essence."
At least some of those needed fixes have become apparent in Atlanta and, presumably, are on their way to being remedied. Meanwhile, airport officials around the nation do what they can to avoid becoming the next Atlanta and cope with a familiar and too-scary reality.
There is no easy fix.