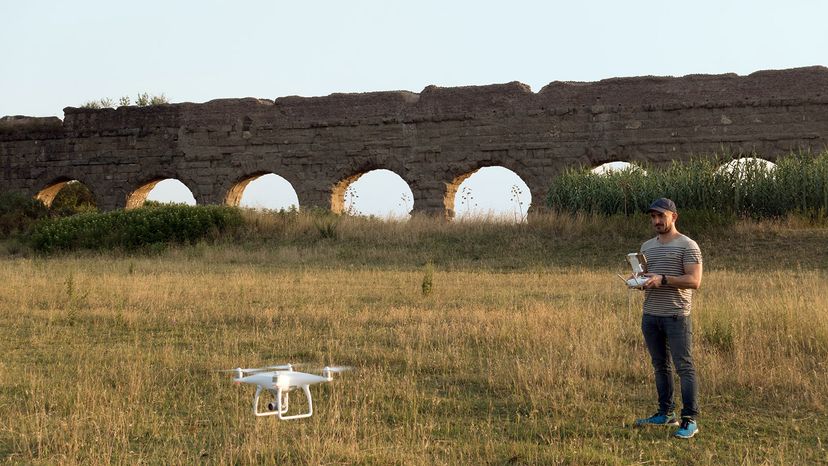 You've watched drones race through obstacle courses. You've seen aerial drone photography that blows your mind. You've got a digital camera and a dream, and all you need is a drone to make it come true. Aerial freedom is yours. And your drone's.
Not so fast. Hate to break it to you, but there are rules for drones. Like, serious rules from the Federal Aviation Administration (FAA). What we call drones, the FAA calls "unmanned aircraft systems," or UAS. It is, according to the definition, "an aircraft that is operated without the possibility of direct human intervention from within or on the aircraft." So if it flies and you've got a remote control, it's a UAS.
There are two kinds of drone operators according to the FAA: people who do it recreationally (the actual definitions is "refreshment of strength and spirits after work; a means of refreshment and diversion"), and people who do it for work, like to film nature documentaries from above or to cover a breaking story for the local news.
Most hobbyists with small drones (those that weigh less than 55 pounds [25 kilograms]) can fly under the radar — literally — by registering their UAS with the FAA and, well, just being polite. Basically, keep the drone out of the way of airplanes and emergency services, and let airports within 5 miles (8 kilometers) know that you've got a drone in the area. The special rule for model aircraft is mostly common sense; no spying on the neighbors or flying over prison yards.
Once you start getting into drones, you'll probably hear about Part 107. This is the "small UAS rule" that dictates how drones are to be used. It's a quick list:
Drones must weigh less than 55 pounds (25 kilograms), including payload, at takeoff

Drones must be in the operator's line of sight

Drones can fly no higher than 400 feet (121 meters) and no faster than 100 mph (160 kph)

Drones can only fly during daylight or twilight

Drones cannot fly directly over people

Drones cannot be operated from a moving vehicle, unless you're in the middle of nowhere
If you want to step up your drone game, you can get a remote pilot certification. You need to be at least 16 years old, pass a TSA security screening and take a test at an FAA-approved location.
There are real consequences to not following these rules — other than being the most annoying person in your neighborhood. The FAA can fine operators up to $27,500 for civil penalties, and if you venture into criminal territory with your drone, the penalty goes up to $250,000.
Now that you have a list of rules and regulations—and know there are hefty fines attached for violating them — go out there and have fun with your drone! Definitely don't be anxious about if you're doing it wrong and violating federal airspace regulations!