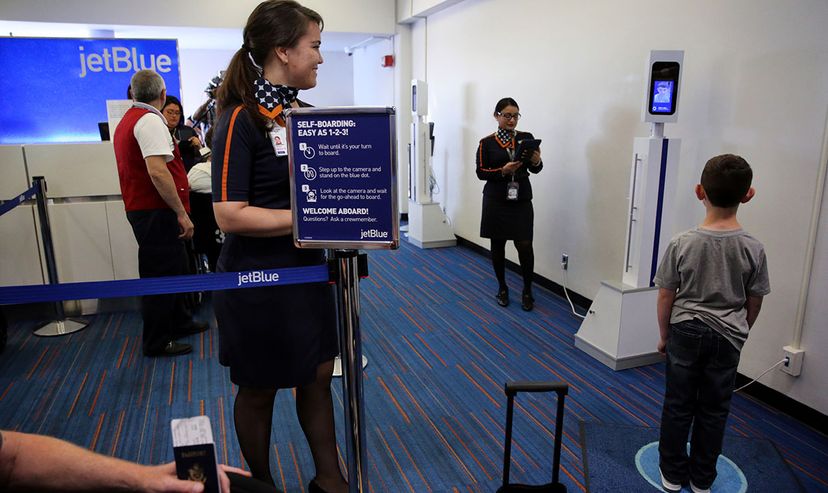 Toss out your paper boarding pass and put away your phone. JetBlue is testing a new verification process that allows travelers booked on international flights to board using only their faces. At the gate, passengers step in front of a camera kiosk and face-recognition technology confirms their identity in less time than it takes to scan a bar code. The airline company wants to increase the speed and convenience of boarding, while improving security on flights exiting the U.S.
"What we're trying to do here is demonstrate a way of having biometric capture on exit, but at the same time doing it in a way that improves the passenger experience," says Sean Farrell, portfolio director for government security at SITA, a global provider of IT, communications and border security technology for airlines.
SITA is collaborating with JetBlue and U.S. Customs and Border Protection to implement the biometric system, which is part of a larger Department of Homeland of Security (DHS) initiative to better verify the identity of people leaving from U.S. airports. Currently, airlines collect passport information, which contains a photograph and fingerprints, from travelers entering the country from outside U.S. borders, but U.S. Customs and Border Protection doesn't have the ability to confirm whether a person leaving the country is the legitimate owner of the passport, says Farrell.
"That creates a security loophole," he says.
One of the main concerns the U.S. government has is foreign visitors overextending the amount of time they've been given to stay in the country. Depending on the country of origin, some foreign visitors may be able to stay a couple of months. Foreign students may get a few years. There are a lot of variables. But knowing who is coming or going is an important component of national security.
A DHS report found that of the 50,437,278 foreigners who visited the United States legally in 2016, 739,478 people overstayed their visas. Having biometric security at the borders can help security officials prioritize investigations of individuals who may pose a threat to U.S. citizens.