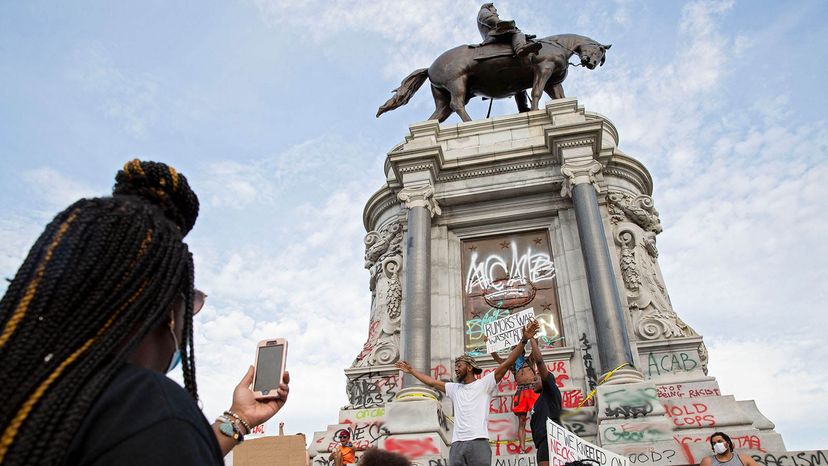 In Richmond, Virginia, in June 2020, during protests against police brutality and racism, demonstrators spray-painted the base of a statue of Confederate General Robert E. Lee with epithets and slogans like "Black Lives Matter", "Blood On Your Hands" and "Stop White Supremacy." These were sparked by the May 2020, death of George Floyd while in police custody. The city's mayor agreed to take down this and other Confederate monuments by July 1, 2020, saying "Richmond is no longer the capital of the Confederacy. It is filled with diversity and love for all, and we need to demonstrate that," according to The Guardian.
The movement to pull down public Confederate monuments, which began in 2017, has been picking up steam. In the spring and summer of 2017, construction crews hired by the cities of Baltimore, Maryland and New Orleans wrapped heavy straps around the bronze chests of towering sculptures of confederate icons Lee, Confederate States President Jefferson Davis, Lt. Gen. Stonewall Jackson and Gen. P.G.T. Beauregard.
Working under the cover of darkness to avoid crowds of protesters (there were death threats), the crews used cranes to lift the monuments from their pedestals and load them onto flatbed trucks. The statues were shipped off to warehouses, where they would remain out of sight until the cities could find appropriate places — if any — to resettle them.
Taking down public monuments like these is no small decision. In these cases, the removal of the Confederate monuments was sparked by the June 2015 murder of nine black parishioners at the Emanuel African Methodist Episcopal Church in Charleston, South Carolina, by an avowed white supremacist claiming allegiance to the Confederate battle flag.
Immediately following the Charleston attack, former New Orleans Mayor Mitch Landrieu called for the city council to convene a task force on the removal of the city's Confederate monuments [source: Wendland]. The same thing happened in Baltimore, where former Mayor Stephanie Rawlings-Blake assembled a panel of historians and activists to decide the fate of its monuments [source: Campbell].
In both cases, the city councils voted to remove the Confederate statues, ruling that they were offensive to the two cities' majority African-American residents and flashpoints for violence.
But many monuments to the Confederacy still stand in American cities. According to the Southern Poverty Law Center, there are more than 1,700 statues, flags, plaques, city and county names, street names, holidays and even military bases named for Confederate generals, or otherwise dedicated to honoring and celebrating the Confederate cause. Some 780 of these are monuments. Only 114 Confederate symbols have been removed since the Charleston attack.
Supporters of these Confederate monuments argue that removing them is akin to erasing or rewriting history, and wonder which other historical figures will fall victim to modern readings of morality. Founding Father and third POTUS Thomas Jefferson kept slaves at Monticello. Christopher Columbus' "discovery" of the Americas led to savage oppression of the New World's native inhabitants.
The decision of whether or not to remove a public monument is really a question of what public monuments represent. Are they bygone products of a distant time and place, or timeless reminders of our core values and beliefs? When our values change, should our public monuments change with them? Are monuments an important way of chronicling a nation's history, both the good and the regrettable? Or do they chiefly serve to chronicle only the history that a small group of people — typically the wealthy and powerful — want to preserve?
Before we dive into the history and controversies surrounding the removal of public monuments, let's take a swing at that first question — what do public monuments really represent?