Legal Arguments for Removing Confederate Monuments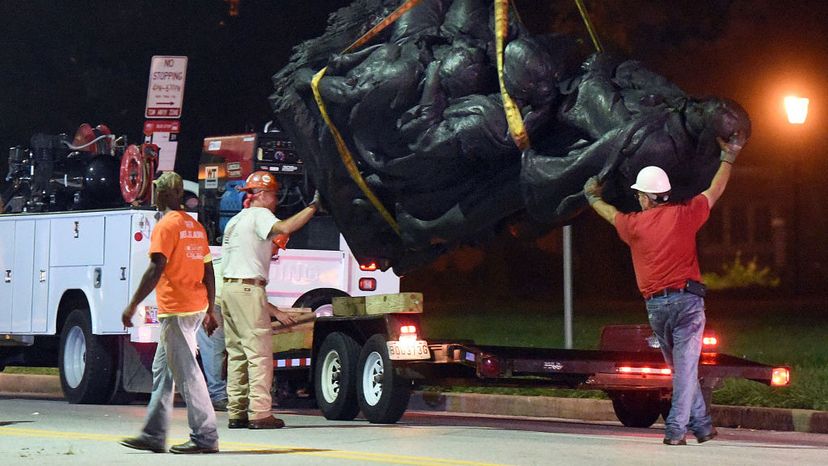 Workers remove a monument dedicated to the Confederate Women of Maryland in Baltimore in August 2017.
Jerry Jackson/Baltimore Sun/TNS via Getty Images
From Florida to Maryland to Montana, public monuments to the Confederacy were removed by cities large and small across America in 2017. But in a handful of states (Alabama, Georgia, Mississippi, North Carolina, South Carolina and Virginia) it remains illegal to remove or alter any statue or plaque or street name dedicated to Confederate generals, soldiers or political leaders. This is significant because more than 300 of the 780 monuments and statues to the Confederacy in the U.S. are found in Georgia, North Carolina and Virginia alone [source: SPLC].
Civil rights groups believe that there are some legal arguments that could override the state bans. One of the most promising legal tactics is to claim that Confederate monuments on public land are a violation of the Equal Protection clause in the 14th Amendment to the Constitution. In essence, the constitutional argument against Confederate monuments is that they were erected as expressions of white supremacy, and that their continued existence is a form of state-supported racism. Confederate monuments on public land make black people feel unequal in the eyes of the state, that they are second-class citizens.
The 14th Amendment was ratified in 1868 to grant citizenship and equal rights to former slaves, but has never successfully been used to remove a Confederate monument. There have been some high-profile rulings related to religious monuments on public land like the Ten Commandments or Nativity displays. In those cases, the monuments have been removed on the grounds that they violate the Establishment clause of the First Amendment, which prohibits state-sponsored religion, not the Equal Protection clause.
The Equal Protection argument for removing Confederate monuments hinges on the prosecution's ability to argue that the intended message of Confederate statues is one of white supremacy. Extensive research by the Southern Poverty Law Center has shown that the majority of Confederate monuments were erected in two distinct periods: the early Jim Crow era (1890s to 1920s) and the heart of the Civil Rights era (1955 to 1965) [source: SPLC].
During the Jim Crow era, the hard-won rights afforded to black Southerners during the Reconstruction period — voting, land ownership, integrated schools — were repealed and segregation became the law of the land in the South. Historians argue that Confederate monuments erected during that period were meant to impress upon black southerners that no matter outcome of the Civil War, they were still under white control. Same for monuments erected during the Civil Rights era, when activists were fighting to end Jim Crow for good.
To defend Confederate monuments, supporters turn to something called the "Lost Cause" narrative. The Civil War, in the minds of some Southerners, was really the "War of Northern Aggression." The men who fought and died on the side of the Confederacy weren't fighting for slavery, but merely protecting their families' freedom and their rights to independence from an overreaching central government. Groups like the United Daughters of the Confederacy have commissioned monuments of fallen Confederate soldiers and their weeping wives to promote this cause.
To make the Equal Protection argument stick, prosecutors would have to convince a judge that the Lost Cause narrative is a myth and that the "states' rights" that noble Southerners were fighting to protect was namely the right to own slaves. In this light, all monuments honoring or celebrating the Confederacy are honoring and celebrating a disastrous effort to enslave a race of people.
Originally Published: Jan 8, 2018
Author's Note: How Removing Public Monuments Works
Researching this story, I spoke with Paul Farber at the Monument Lab in Philadelphia. Farber has commissioned a diverse panel of artists to reimagine what public monuments should look like in 2017. Their prototype monuments include an oversized afro pick stuck into a Philadelphia sidewalk, and two opposing pedestals inscribed with the word "Me" that passers-by can ascend and face off. Historical monuments have their place, but there are also new chapters of history to write and new voices to hear.
Related Articles
More Great Links
Sources
Astor, Maggie. "Protesters in Durham Topple a Confederate Monument." The New York Times. Aug. 14, 2017 (Nov. 27, 2017) https://www.nytimes.com/2017/08/14/us/protesters-in-durham-topple-a-confederate-monument.html

Brumfield, Ben. "S.C. governor signs bill to remove Confederate flag from Capitol grounds." CNN. July 10, 2015 (Nov. 27, 2017) http://edition.cnn.com/2015/07/09/us/south-carolina-confederate-battle-flag/index.html

Campbell, Colin; Broadwater, Luke. "Citing 'safety and security,' Pugh has Baltimore Confederate monuments taken down." The Baltimore Sun. Aug. 16, 2017 (Nov. 27, 2017) http://www.baltimoresun.com/news/maryland/baltimore-city/bs-md-ci-monuments-removed-20170816-story.html

Crossette, Barbara. "Taliban Explains Buddha Demolition." The New York Times. March 19, 2001 (Nov. 27, 2017) https://www.nytimes.com/2016/10/21/nyregion/toppled-statue-of-king-george-iii-to-ride-again.html

Dinielli, David, deputy legal director of the Southern Poverty Law Center. Telephone interview. Nov. 15, 2017

Dunlap, David. "Long-Toppled Statue of King George III to Ride Again, From a Brooklyn Studio." The New York Times. Oct. 20, 2016 (Nov. 27, 2017) https://www.nytimes.com/2016/10/21/nyregion/toppled-statue-of-king-george-iii-to-ride-again.html

Farber, Paul, director of the Monument Lab. Telephone interview. Nov. 16, 2017

Fortin, Jacey. "Toppling Monuments, a Visual History." The New York Times. Aug. 17, 2017 (Nov. 27, 2017) https://www.nytimes.com/2017/08/17/world/controversial-statues-monuments-destroyed.html?_r=0

Russell, Jon D.; Bostrom, Aaron. "Federalism, Dillon Rule and Home Rule." American City County Exchange. January 2016 (Nov. 27, 2017) http://www.acce.us/app/uploads/2016/06/2016-ACCE-White-Paper-Dillon-House-Rule-Final.pdf

Schragger, Rich, professor at the University of Virginia School of Law. Telephone interview. Nov. 15, 2017

Southern Poverty Law Center. "Whose Heritage? Public Symbols of the Confederacy." April 21, 2016 (Nov. 27, 2017) https://www.splcenter.org/20160421/whose-heritage-public-symbols-confederacy

Sterling, Joe. "A new Alabama law makes sure Confederate monuments are here to stay." CNN. May 26, 2017 (Nov. 27, 2017) http://edition.cnn.com/2017/05/26/us/alabama-confederate-monuments-bill-trnd/index.html

The Hollywood Reporter. "New Lucille Ball Statue Replacing 'Scary Lucy' to Be Unveiled Saturday." Aug. 2, 2016 (Nov. 27, 2017) https://www.hollywoodreporter.com/news/new-lucille-ball-statue-replacing-scary-lucy-916473

Wendland, Tegan. "With Lee's Statue Removal, Another Battle of New Orleans Comes to a Close." NPR. May 20, 2017 (Nov. 27, 2017) https://www.npr.org/2017/05/20/529232823/with-lee-statues-removal-another-battle-of-new-orleans-comes-to-a-close