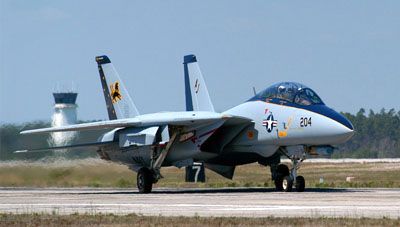 Jets are one of the best tools that a military has at its disposal. They are fast, fierce and effective. From reconnaissance to target engagement, these aircraft are sophisticated assets. Next, see a jet that had an illustrious history.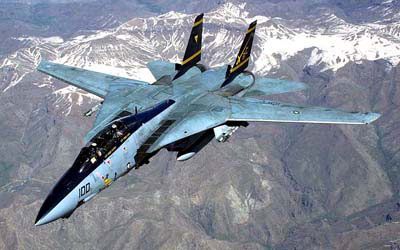 The Grumman F-14 Tomcat is a supersonic jet fighter that has a unique feature: variable-sweep wings that can be manipulated to offer the best lift-to-drag ratio. The plane was retired from active duty in 2006 after more than three decades of service. See what weaponry a fighter jet might carry, next.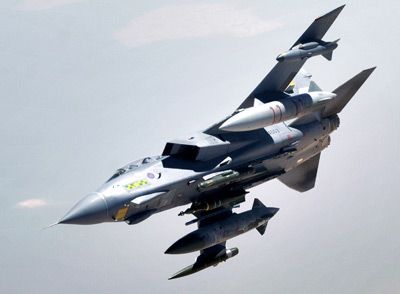 From missiles to bombs to high-powered machine guns, a jet fighter can carry a variety of ordinance, depending on the mission. Next, see a U.S. Navy jet getting prepared for takeoff.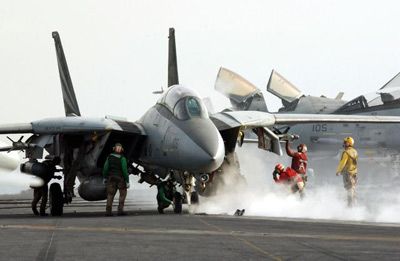 This Navy F-14 Tomcat is being prepared for a flight mission. These very versatile jets can take off from a land-based runway or an aircraft carrier. See this military jet leave the flight deck behind, next.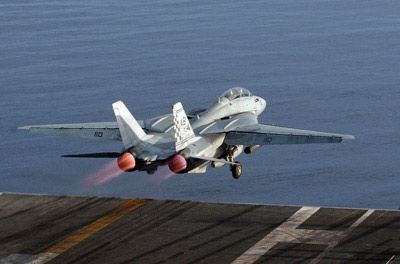 With the engines roaring at full blast, this fighter jet screams off the end of an aircraft carrier's flight deck. A steam-powered catapult is also used to help the jets attain takeoff speed. See a sneaky plane, next.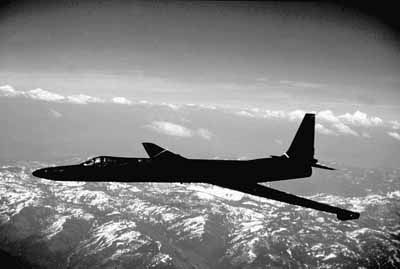 The Lockheed U-2 was designed to fly over the Soviet Union and determine exactly how advanced the country's bombers, missiles and other offensive weapons were. The U-2 was a difficult aircraft to fly, demanding extreme concentration and good technique. Next, see a stealth bomber.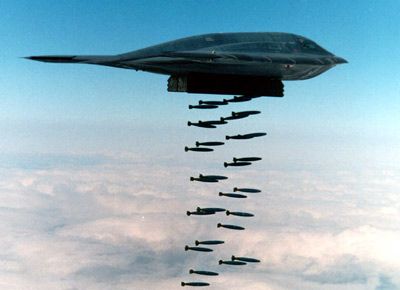 Some serious technology and ingenuity are involved in making a 172-foot- (52-meter-)wide, bomb-carrying aircraft disappear. This B-2 bomber is one of the stealthiest aircraft in the sky. Check out the unique shape of this jet, next.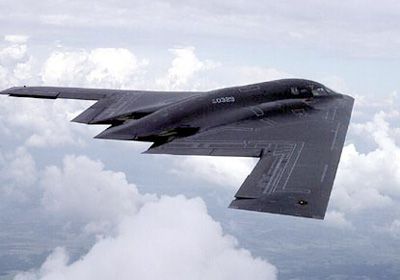 The B-2 bomber employs an array of acoustical, infrared, visual and radar technologies that make it difficult to track. Many aspects of the stealth bomber's technology still remain classified. Next, see a stealth fighter.
The Lockheed F-117 Nighthawk is a stealth ground attack airplane operated by the United States Air Force. Its unique diamond design helps to minimize its radar profile by using the theory of diffraction. See one in the air, next.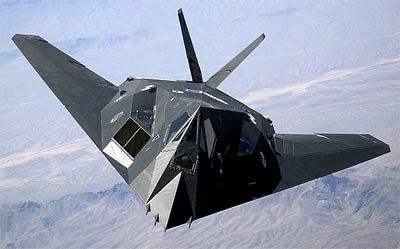 The F-117 is similar in size to other jet fighters, but the shape gives it a noticeable distinction. It uses two non-afterburning engines, which limit the aircraft to subsonic speeds. Take a look at a plane that has blazing speed, next.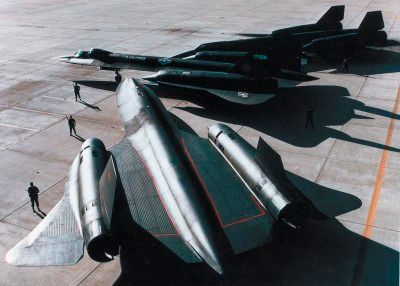 For as long as the SR-71 Blackbird was in operation, it was supported by Lockheed at Beale Air Force Base in California. There, the closely guarded planes were available to perform Mach 3, ultra high-altitude duty anywhere around the globe. Next, see the Blackbird in flight.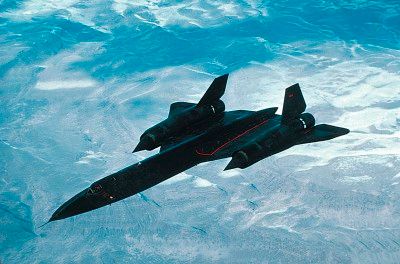 The Blackbird, so named for its heat-resistant, black paint, first flew in 1964 and was retired in 1998. Tanks in the inner wings and upper fuselage carried the 80,000 pounds (36,287 kilograms) of special, superheated fuel that propelled this aircraft through the air. Next, see the newest fighter in the U.S. Air Force.
As the newest fighter in the U.S. Air Force's aerial arsenal, the F-22A Raptor incorporates the latest stealth technology, along with a mind-boggling array of weapons and computer systems. Check them out in the air, next.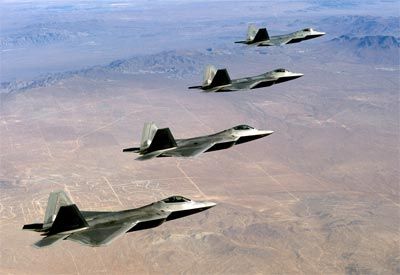 These four F-22A Raptors represent the latest in tactical aircraft design. These planes have an advanced avionics system and are incredibly nimble, letting them fly faster and higher than many other jet fighters. See one in action, next.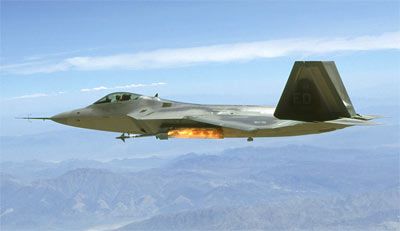 The F-22A Raptor is heralded as being an agile supersonic jet fighter with stealth capabilities. This unique blend of attributes makes it one of the most dominating aircraft in the skies. Next, check out how jets refuel in the air.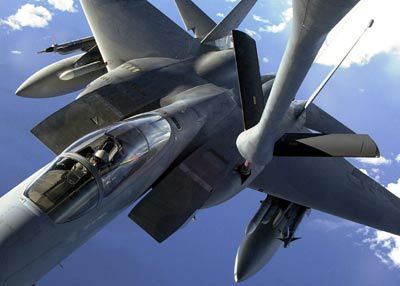 This F-15 fighter jet tops off its tanks during a mission. In-flight refueling is a common practice in air forces across the world as a means to extend the range of an aircraft without interrupting the mission objective. Do military jets come in different colors? Find out next.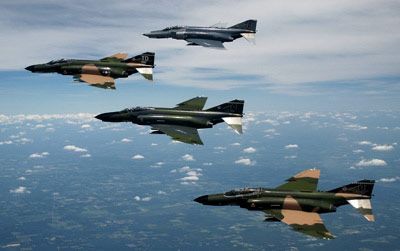 Military aircraft can be painted in a variety of combinations to camouflage them while in the air or on the ground. See a jet fighter that is nicknamed the "Hornet," next.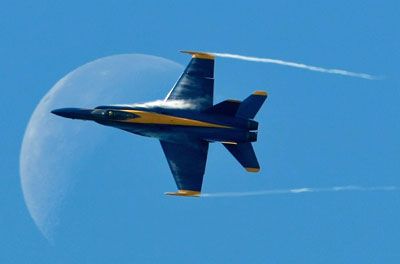 A U.S. Navy Blue Angels F/A-18 Hornet leaves condensation trails as it passes in front of the moon during a practice session. The Blue Angels are the United States Navy's flight demonstration squadron. To learn more about military aircraft, jet over to the Military Channel.