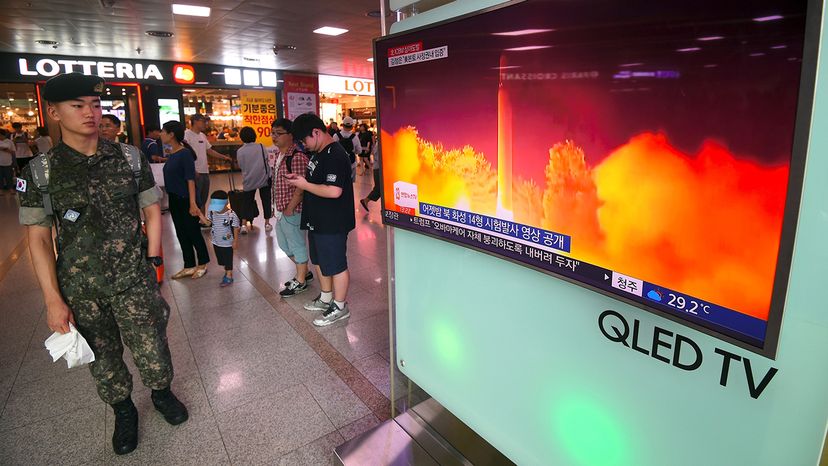 In August 2017, North Korea and Kim Jong Un brought the world to the brink of nuclear war when Kim threatened to attack the U.S. territory of Guam. At the time, former President Donald Trump answered the North Korean leader by saying he'd respond with "fire and fury like the world has never seen" if Kim continued to intimidate the United States and its allies.
Rhetoric between the two leaders lasted for days while citizens of Guam and other nations worried if Kim actually had the capability to launch a nuclear attack on its neighbors, let alone had a nuclear warhead small enough to fit on to a missile that could reach the United States.
But four years later, the United States has a new president — Joe Biden — and analysis completed in July 2017 by the U.S. Defense Intelligence Agency shows that North Korea has produced a miniaturized nuclear warhead that could fit inside its missiles. But do those missiles have the capability of reaching the United States? And is the rogue state on the verge of testing more missiles after being silent since Kim himself declared its nuclear mission a success in April 2018?
It's quite possible. "North Korea traditionally has done some kind of strongly provocative action early in both U.S. and South Korean new administrations," Bruce Klingner, senior research fellow at the Heritage Foundation, told CNN.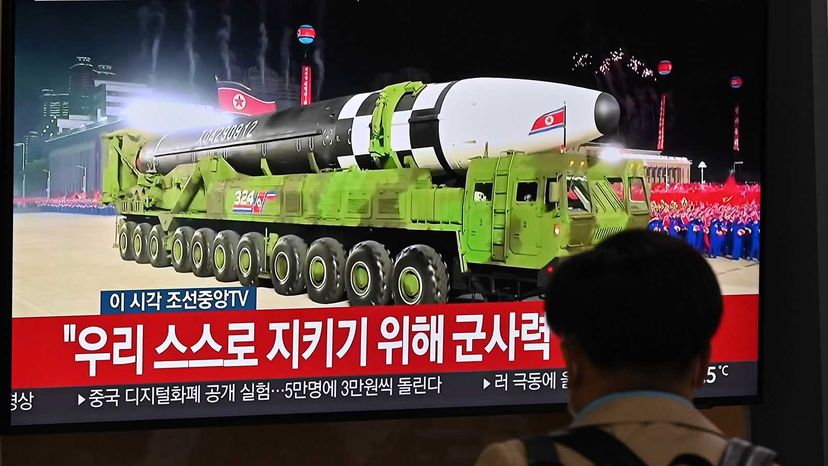 Bigger Solid-fuel ICBMs
What's more, North Korea also appears to have a much larger ICBM than ever before. "In October 2020, North Korea unveiled a new ICBM considerably larger and presumably more capable than the systems they tested in 2017, further increasing the threat posed to our homeland," Air Force General Glen VanHerck said in a statement before the Armed Services Committee March 16, 2021. "The North Korean regime has also indicated that it is no longer bound by the unilateral nuclear and ICBM testing moratorium announced in 2018, suggesting that Kim Jong Un may begin flight testing an improved ICBM design in the near future." The move, he said, would increase tensions between Pyongyang and Washington. The ICBM VanHerck is referring to is a solid-fuel ICBM North Korea displayed at a military parade in October 2020.
Since 2006, North Korea has tested nuclear explosive devices in 2006, 2009, 2013, twice in 2016 and once in 2017. According to the Nuclear Threat Initiative, the DPRK is also capable of enriching uranium and producing weapons-grade plutonium, and believed to possess biological and chemical weapons.
The regime also successfully tested three intercontinental ballistic missiles (ICBMs), two Hwasong-14s, and one Hwasong-15 that could potentially reach the United States. The first Hwasong-14 test was July 4, 2017, which North Korea's state media said flew 580 miles (933 kilometers), reached an altitude of 1,741 miles (2,801 kilometers) and was airborne for nearly 40 minutes.
The second Hwasong-14 was launched from Mupyong-ni on July 28, 2017, and traveled about 621 miles (1,000 kilometers) into the Sea of Japan, according to the U.S. Department of Defense. Then-U.S. Secretary of State Rex Tillerson released a statement condemning both ICBM launches and calling for the international community to stand strong against North Korea by maintaining and strengthening U.N. sanctions. "The United States strongly condemns North Korea's launch of an intercontinental ballistic missile, the second this month, in blatant violation of multiple United Nations Security Council resolutions that reflect the will of the international community," Secretary Tillerson said.
The Hwasong-15 ICBM was launched Nov. 29, 2017 from Sain Ni, North Korea. In a statement, the U.S. Department of Defense said it "detected and tracked the missiles that traveled about 1,000 kilometers [621 miles] before splashing down in the Sea of Japan. The North American Aerospace Defense Command (NORAD) determined the missile launch from North Korea did not pose a threat to North America, our territories or our allies."
Reports show that the Hwasong-15 reached a maximum altitude of 2,796 miles (4,500 kilometers) and that it flew for about 54 minutes. According to David Wright, physicist and co-director of the Union of Concerned Scientists Global Security Program, this missile would have a range of more than 8,100 miles (13,000 kilometers), a significantly longer range that previous missiles. It would also have more than enough range to reach Washington, D.C., and any part of the continental United States.
Earlier in September 2017, North Korea also conducted a test of what it claimed was a thermonuclear weapon. The test released 140 kilotons of TNT equivalent, according to The Diplomat, making it larger than all previous tests combined, though other analysts estimated it may have been as large as 250 kilotons.
North Korea has also continued to test its short-range rockets, including the submarine-launched ballistic missile SLBM-Polaris 1, which it launched in 2014 and 2015, as well as a failed test of the KN-11 SLBM in 2015. On March 24, 2016, it conducted tests of a solid-fueled rocket motor, and on April 23, 2016 a successful test of what experts believe was a genuine solid-fueled SLBM that flew about 18 miles (30 kilometers). But a few months later in August, North Korea launched a second solid-fueled SLBM, which traveled 310 miles (500 kilometers) landing in Japan's air defense identification zone.
So North Korea's clearly advancing its nuclear arsenal. What now? And what countries are most at risk?