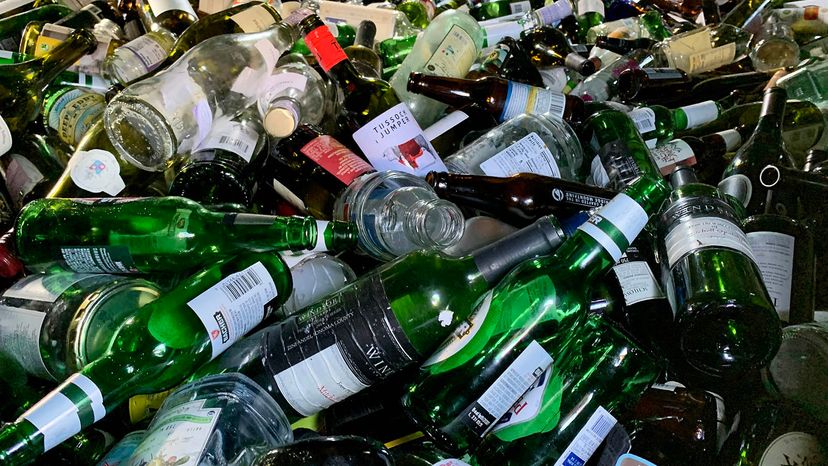 If you're one of the millions of Americans who dutifully puts your glass bottles out in a bin on the sidewalk in front of your house in an effort to help curb waste and keep it out of the landfills, you're probably going to be upset to read the rest of this.
But it's time to face facts, because glass recycling in the U.S. seems to be broken.
According to the U.S. Environmental Protection Agency, only 3,060,000 tons (2,776,000 metric tons) of the 12,250,000 tons (11,113,000 metric tons) of glass containers used by consumers in the U.S. was recycled in 2018, the most recent year for which data was available. And after growing gradually since the 1960s, the amount of glass being recycled pretty much stagnated over the last decade.
What happened to the glass that wasn't recycled? Some — 1,640,000 tons (1,488,000 metric tons) in 2018 — was combusted to produce energy. But most of it — 7,550,000 tons (6,850,000 metric tons) — ended up being buried in landfills.
Recycling about a quarter of our glass is a pretty unimpressive performance compared to other countries in the industrialized world. In Europe, for example, most countries recycle between 60 and 80 percent of their glass, and a few, such as Sweden and Denmark, recycle more than 90 percent of their glass, according to the European Container Glass Federation.
It's a shame that the U.S. doesn't do a better job of glass recycling, because glass containers for food and beverages are 100 percent recyclable, and can provide 95 percent of the materials needed to make new glass, according to the Glass Packaging Institute. Even more importantly, every 6 tons (5.44 metric tons) of recycled glass that's used in the manufacturing process eliminates a ton of carbon dioxide emissions.
"Glass bottles and jars are some of the most easily recyclable materials in the world — when recycled properly, they can be recycled infinitely without degrading the quality of the glass," says Mitch Hedlund via email. She's founder and executive director of Recycle Across America, a nonprofit organization that's trying to improve recycling in the U.S., and promotes the use of standardized printed labels on recycling bins to help people put their discards into the right place so it can be properly recycled.
In Hedlund's view, the system for collecting glass for recycling is poorly designed, which she ascribes to conflicts of interest in the recycling industry that allow landfill companies and plastics manufacturers to have too much influence over the rules.
One of the biggest problems is that 80 percent of communities across the U.S. now use a method called single-stream recycling, in which people put all of their recyclable waste in the same bin. Single-stream appeals to Americans, who as a 2018 Harris poll shows, tend not to recycle if it isn't easy and convenient. But for glass recycling, Hedlund says single-stream doesn't work very well. "The glass containers often break in the bin or truck, which often causes shards of glass being mixed with the paper, cardboard, aluminum and other recyclables," she explains.