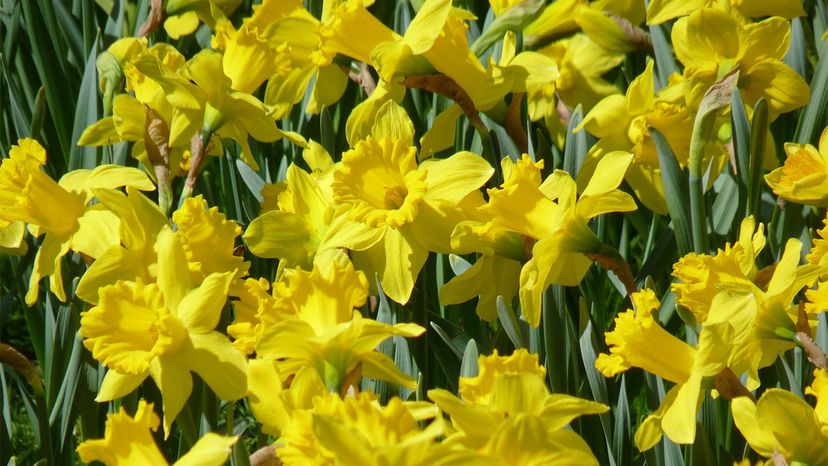 A symbol of rebirth and new beginnings, these perennial, trumpet-shaped flowers grown from bulbs are among the first to bloom each spring. The Latin or botanical name for daffodils is "narcissus" — a mythical word derived from the classical Greek myth of a beautiful youth who became so entranced with his own reflection that he would pine away for none other than himself. To punish him for his vanity, the gods turned him into this flower. Sometimes called jonquils, daffodils also are known as the "Lent Lily" in England due to their longtime association with the Christian fasting period.
Daffodils are recognized by a corona in the center that resembles a trumpet and a surrounding ring of petals. Often planted in large clusters, they typically can be found covering lawns and entire hillsides in bright yellow, but they also show up in other hues like white, cream, orange and pink. They exhibit several types of flower styles — including trumpets, doubles, split-cups, large-cups and jonquillas — and come in all sizes, from 5-inch (13-centimeter) blooms on 2-foot (0.6-meter) stems to half-inch (1.2 centimeter) flowers on 2-inch (5-centimeter) stems.
In fact, at least 25 daffodil species and up to 13,000 varieties of hybrids exist, according to The American Daffodil Society's Data Bank. "From single blooms, double, multiple flowers on a single stem, single flower per stem, fragrant, yellow, white, other pastel pink and peach colors, early spring, late spring ... the choices go on and on, also making them a beautiful choice for planting considering all the variety," says Amanda Bennett, the Atlanta Botanical Garden's vice president of horticulture and collections.