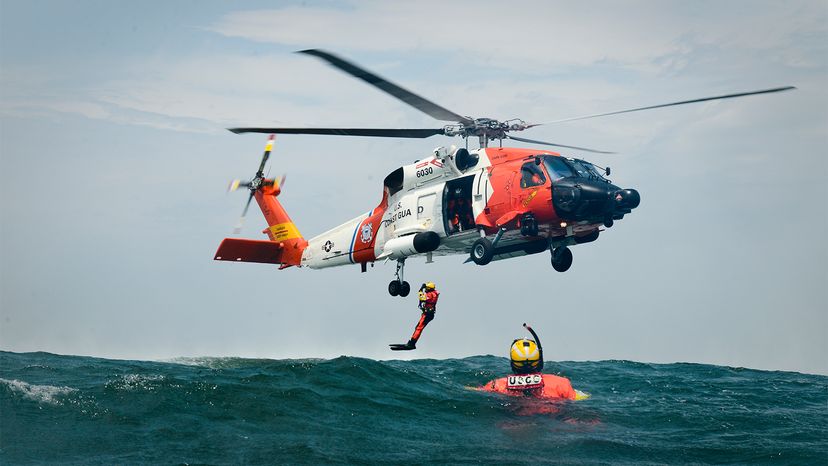 Former U.S. Coast Guard helicopter rescue swimmer Joseph "Butch" Flythe recalls one of his early rescues, in which he jumped out of a helicopter into the water 100 miles (161 kilometers) off North Carolina's Cape Hatteras to help two men whose sailboat had capsized in a squall. When it came time to help them get into the basket lift that the copter had lowered, the second man became alarmed by the copter's rotor wash. "He freaked out a bit," Flythe recalls. "I had to do a break on him, use pressure points, sort of like wrestling moves, to get him to calm down." Unlike a lifeguard in a pool, rescue swimmers can't let go of someone, no matter what. "If he gets away from me, it's easy to lose contact," Flythe explains.
Welcome to the hazardous, high-pressure world of Coast Guard rescue swimmers, who are trained to jump from helicopters into the water to save lives. As the service's website notes, they're key members in helicopter crews that rescue people from the most precarious of situations — "off cliff faces and rooftops, ice flows and glaciers, and from crashing surf and ocean caves."
As Flythe, a retired master chief petty officer, explains, "You have to be an element of calm in a world of chaos."
It's grueling work, even for specialists who are highly trained and in excellent physical condition, involving the constant threat of serious injury and even death. Amazingly, Flythe says the U.S. Coast Guard has yet to suffer a fatality in the water, but swimmers have dealt with broken bones, damaged spines and other serious injuries. "If you're doing a high hoist and they're putting you down into a vessel that's rocking back and forth, you can get slammed into the side," he explains. During a rescue involving a burning ship, "we had a guy dropped down into a diesel slick, and he got burns in his throat from inhaling it."
Flythe recalls another colleague who narrowly escaped being trapped in a cave, and had to exert himself so strenuously that he pushed his core body temperature up to 104 degrees F (40 degrees Celsius).