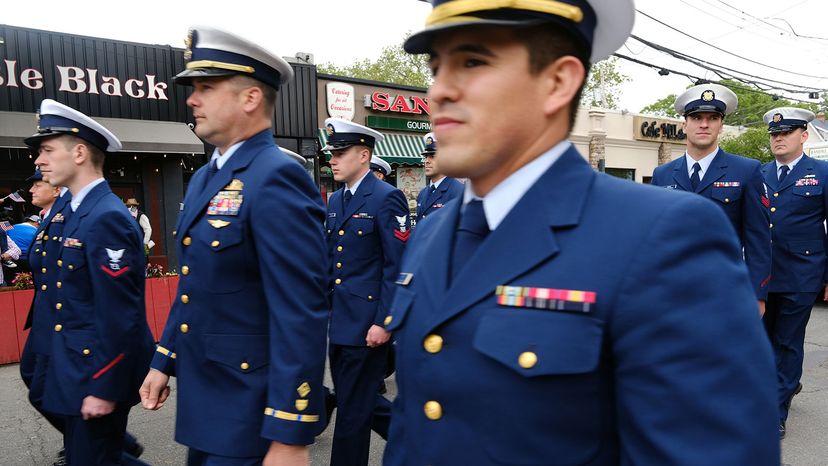 For over 230 years, the Coast Guard has been responsible for protecting the American people from all maritime threats while promoting national and border security. The Coast Guard has a patchwork of functions, tasks and responsibilities. More than 50,000 members serve as first responders, rescuing Americans and foreigners stranded at sea; securing America's coastlines from enemies; inspecting merchant vessels; looking for drug smugglers at sea and a host of other duties. Coast Guard members also serve in times of war or when directed by the president.
The Coast Guard's mishmash job description stems from the fact that the service itself is a conglomeration of other government agencies that have been incorporated over the centuries. Some of the Coast Guard's primary responsibilities include:
Preventing smuggling of illegal goods or untaxed goods into U.S. ports.

Making sure shipping companies pay all the appropriate tariffs and taxes on goods they ship into the United States. The Coast Guard facilitates movement of $15.6 billion worth of goods and commodities through the nation's Maritime Transportation System on an average day.

Preventing smugglers from bringing drugs into the United States. The Coast Guard seizes 1,253 pounds of cocaine and 172 pounds of marijuana on an average day.

Preventing the illegal dumping of chemicals, illegal fishing or hunting of marine life and otherwise enforcing marine environmental protection laws.

Searching for and rescuing anyone who needs help in a marine environment, including storm-wracked boats and ships, refugees and immigrants trying to float to the United States, and anyone else involved in an accident at sea. The Coast Guard conducts 42 search and rescue cases and saves 12 lives on an average day.

Preventing illegal immigration. The Coast Guard interdicts 18 illegal migrants on an average day.

Watching out for terrorist attacks and other hostile forces trying to attack the United States by sea. The Coast Guard screens 313 merchant vessels for potential security threats before arrival in U.S. ports on an average day.

Enforcing maritime laws, train civilians and commercial shipping crews in maritime safety, and ensure the speed, safety and reliability of transportation in United States coastal waters.
The Coast Guard has law enforcement powers within U.S. waters, which covers more than 95,000 miles of U.S. coastline and extends 200 miles from shore, and on international waters. Coast Guard authority supersedes that of the U.S. Navy in terms of law enforcement. A Coast Guard captain can halt, board and even seize any vessel without a warrant, court order or direct orders from a superior, including U.S. Navy vessels, although the latter is a very rare occurrence.
Next, we'll look at the Coast Guard hierarchy.