Robots come in all shapes and sizes. ASIMO, Honda's human-shaped robot that turned 10 in 2010, is just one example. In this collection, you'll see images of ASIMO and its robotic buddies and learn about their uses.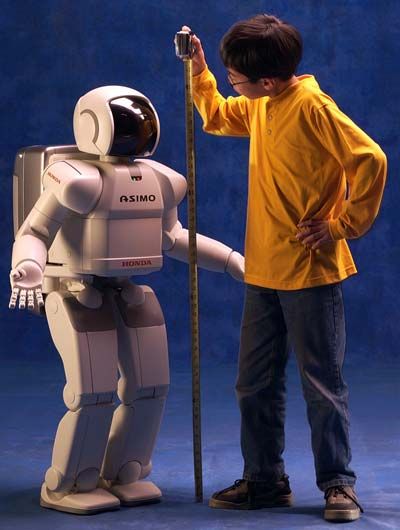 ASIMO is one of the most advanced humanoid robots in the world. It's designed to perform a wide variety of tasks, like flip on light switches and ...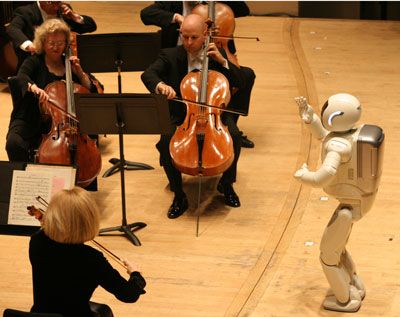 ... conduct the Detroit Symphony Orchestra. Although ASIMO is highly advanced, it's not the most humanlike robot. We'll peek at one next.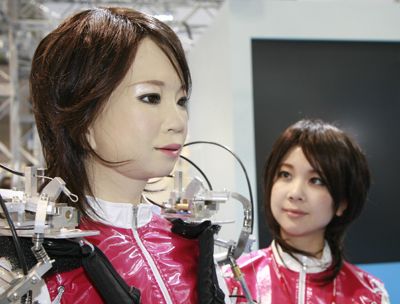 As robots become more lifelike, the challenges of integrating them into human society is expected to increase. Check out a picture of a robot performing a human task on the next page.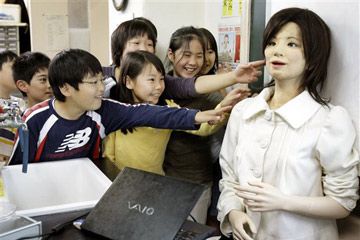 This robot serves as a teacher to human students, although we're not sure how much the kids are learning right there. See another unexpected robot application on the next page.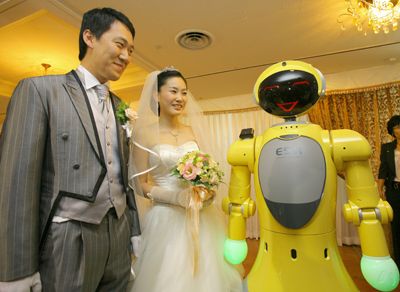 It's a robotic justice of the peace! This robot conducts a wedding ceremony. Learn more about the versatility of robots on the next few pages.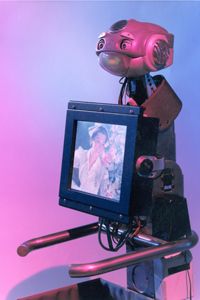 Nursebot was designed to assist the elderly with everyday tasks, such as reminding them to take medications. See a robot having fun on the next page.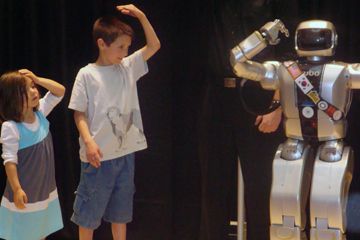 Jaemi, a humanoid robot, plays "Simon Says" with a group of children at his unveiling. Next, learn how robots' range of movement can be useful.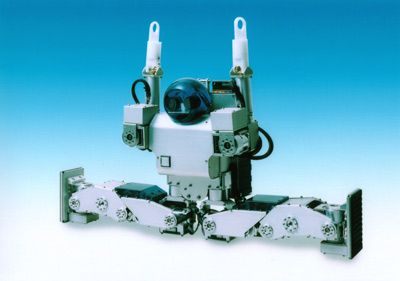 Mobile robots are used in everything from space exploration to landmine detection. Of course, robots aren't limited to a humanlike form. Check out some other types of robots on the following pages.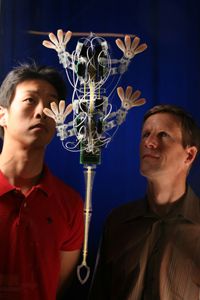 Inspired by the gecko, the Stickybot's feet are covered in tiny hairs made of silicone that allow it to climb glass walls. See another animal-inspired robot next.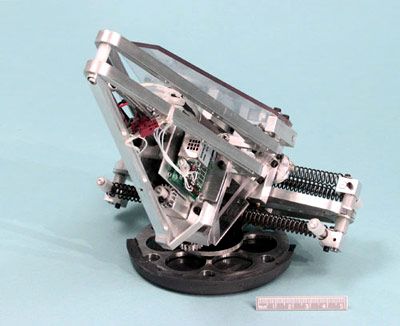 NASA's Frogbot uses springs, linkages and motors to hop from place to place. Robots aren't just useful on land. Next, see how robots can be used underwater.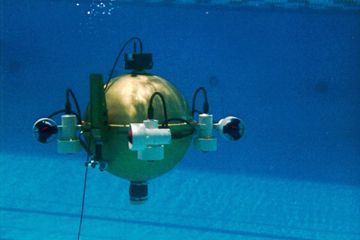 ODIN (Omni-Directional Intelligent Navigator) is an underwater robot that can instantly move in any direction. On the next page, see a shape-shifting robot.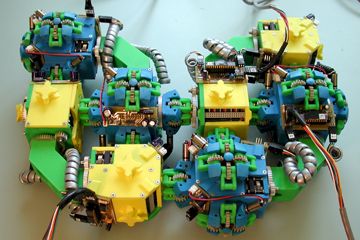 A self-reconfiguring robot is made up of several individual pieces, which it can use to manipulate its shape to fit the needs of the task at hand. Next, see some of the ways that robots earn their keep.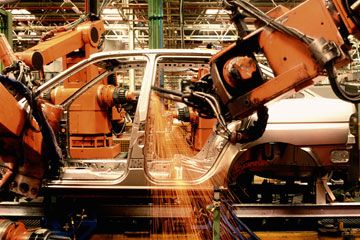 The robotic arm is one of the key developments in industrial robotics. This automated arm is helping to assemble a car. How else do we keep them busy?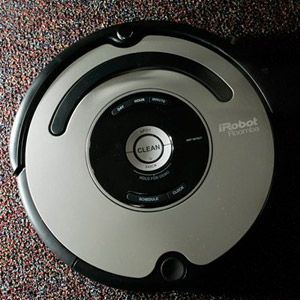 The Roomba is a robot that can vacuum your house all by itself. Hooray! Next, learn about other (non-dustball) ways mobile robots can be useful.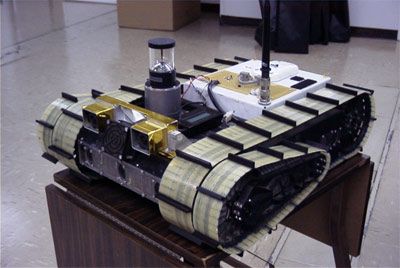 Some robots, such as the one pictured here, are designed to travel in rugged terrain. Check out the NASA rover on the next page.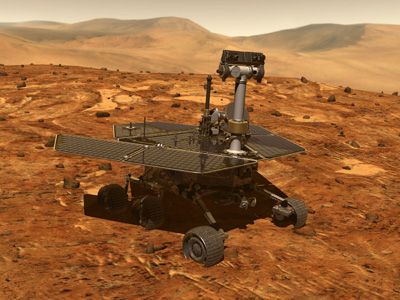 The second Mars Exploration mission rover, Opportunity, sends back breathtaking photos of the planet. On the next page, learn about Earthbound mobile robots.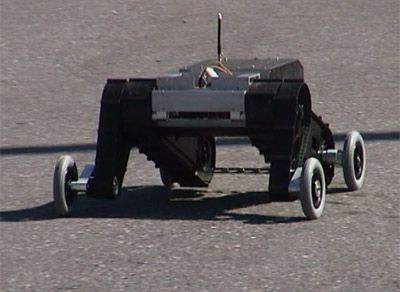 Mobile robots can do jobs that would otherwise put a human being in harm's way. We'll give you a few examples next.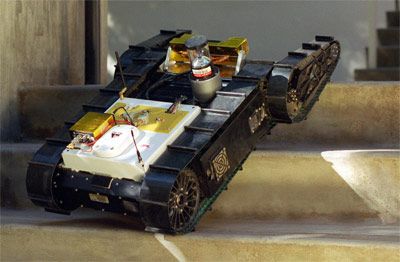 NASA's urban robot, Urbie, checks out areas that would pose potential risks to human investigators. The robot is designed for various urban operations, including military reconnaissance and rescue operations.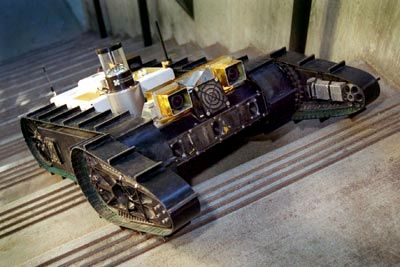 Urbie features software-controlled cameras and sensors that allow it to operate autonomously in many types of terrain. Next, learn about other robots that perform dangerous tasks on behalf of humans.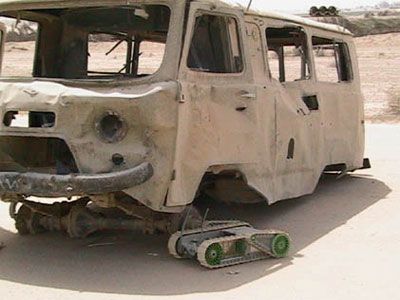 Soldiers face danger every day -- detecting landmines, deactivating unexploded bombs and scoping out hostile buildings are tasks that don't always require a human presence. That's where military robots come in. Next, more military bots.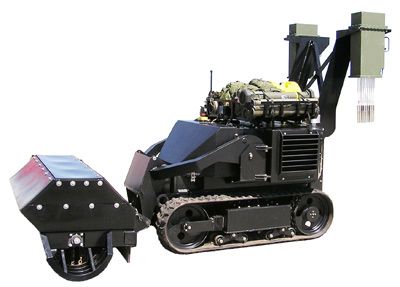 Military bots play an increasingly important role in war as robotic technology advances. Next, you can see a picture of a robot that is designed to deactivate bombs.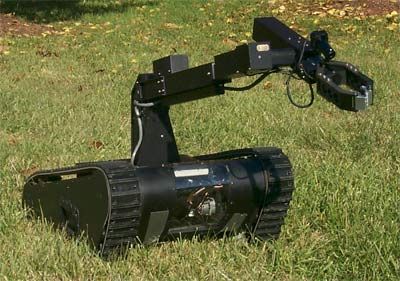 Deactivating bombs is an incredibly dangerous job. Robots help minimize the danger factor. Next, you can see an image of one of the most famous military robots.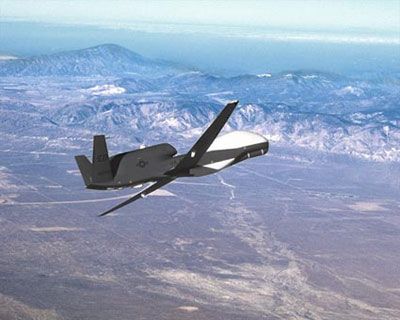 The UAV, or unmanned aerial vehicle, is one of the military's greatest technological achievements. It's a remote-controlled plane that pilots maneuver from the ground. Robots are also widely used by civilian forces. That's next.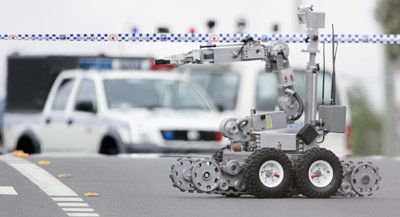 Police robots are typically figure in bomb and hostage situations. Check out more images of police robots next.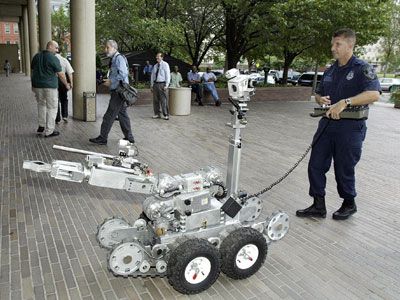 This bomb robot is equipped with a camera and an arm that allows it to manipulate a bomb. Check out another picture of a robot disarming a bomb on the next page.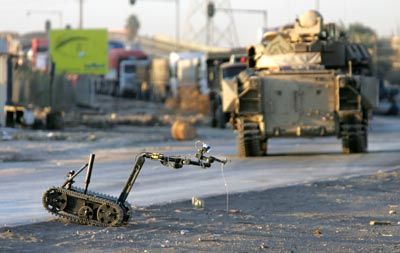 This robot is in the process of disarming a bomb. Robots also have uses in the medical field. Find out how robots are used to treat people next.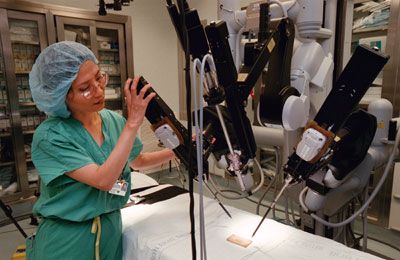 This robot is being prepped for heart surgery. Robotic surgery can help lower the overall cost of surgical procedures. Check out another surgical robot on the next page.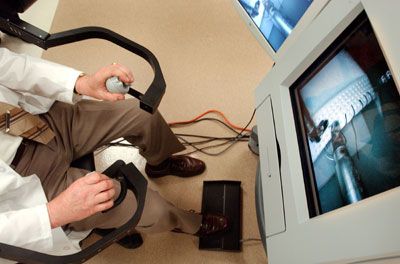 Dr. Scott J. Boley demonstrates a robotic surgery system at the Montefiore Institute for Minimally Invasive Surgery in New York City.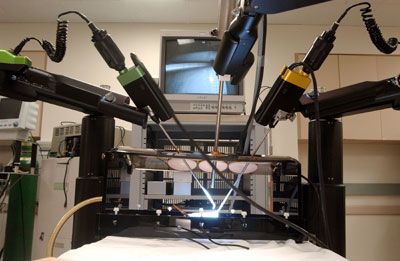 Robotic surgeons can be intimidating -- they don't have the best bedside manner. Learn more about robots and robotic surgery.