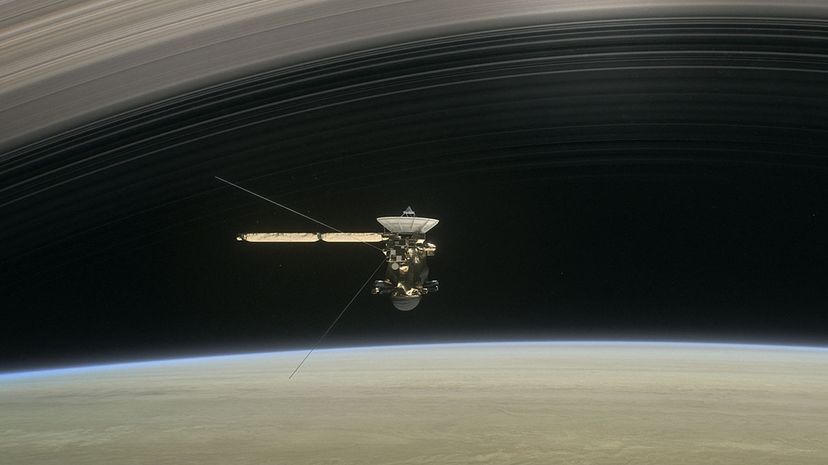 At precisely 4:55:46 a.m. PDT (7:55:46 a.m. EDT) on Sept. 15, NASA received the final transmission from the Cassini spacecraft. This meant only one thing: The groundbreaking Saturn mission had come to an end – the spacecraft had encountered the uppermost atmosphere of Saturn and, 45 seconds later, it burned up like an artificial meteor caused by the intense heat of hitting the atmosphere at 75,000 miles (120,700 kilometers) per hour.
"This is the final chapter of an amazing mission, but it's also a new beginning," said Thomas Zurbuchen, associate administrator for NASA's Science Mission Directorate at NASA headquarters in Washington, in a Sept. 15 statement. "Cassini's discovery of ocean worlds at Titan and Enceladus changed everything, shaking our views to the core about surprising places to search for potential life beyond Earth."
Having completed 22 daring dives through the approximately 1,200-mile (1,931-kilometer) gap between the planet and its innermost ring, Cassini's Grand Finale was able to do groundbreaking science in a region of space no spacecraft has ever been before. But the Grand Finale was just that – the final act of its 13 years of exploration at the Saturn system.
Cassini was running out of fuel, and mission managers wanted to get as much science out of the veteran probe while protecting Saturn's moons. The only way to truly protect them was to dispose of Cassini by flying it into Saturn, giving the trailblazing mission a fiery sendoff.
"This has been in the plan all along," says Linda J. Spilker, Cassini project scientist who works at NASA's Jet Propulsion Laboratory in Pasadena, California, and has worked with Cassini since its beginning. "We knew the mission had to end, and we carefully budgeted our fuel to last until Saturn's northern summer solstice in May 2017."
But what are scientists trying to protect these moons from? Basically, germs; bacteria from Earth that might be hitching a ride on the Cassini spacecraft.