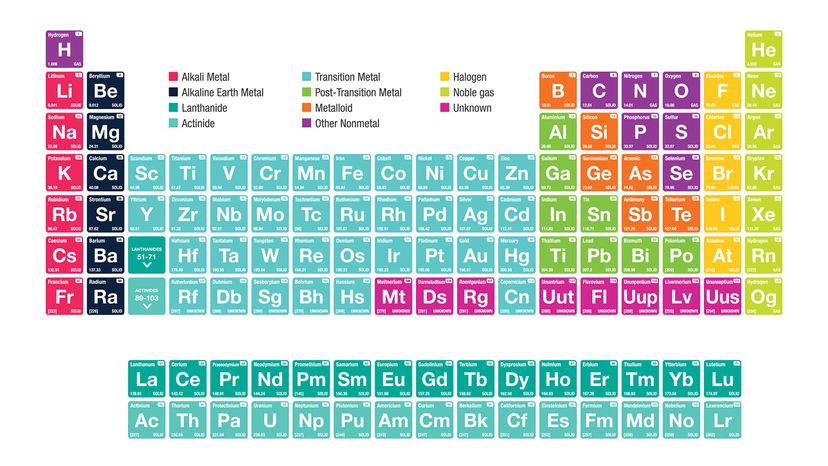 There are alkali metals all around you right now. Sodium is found in table salt, lithium in your phone battery and potassium in your bananas. Alkali metals make up six different elements found in the first column of the periodic table. These are:
lithium (Li),

sodium (Na),

potassium (K),

rubidium (Rb),

cesium (Cs)

francium (Fr)
They're part of the S-block of elements in the periodic table, that along with hydrogen, helium, calcium, and others, have their outermost electron in an S-orbital. The alkali metals are soft metals that are highly reactive with water and oxygen. They're so soft that you can cut them with a plastic knife. They also have a silver-like shine and are great conductors of heat and light.
Alkali metals are so-called because when they react with water, they create highly alkaline substances. Alkalinity refers to the pH of the substance, or the ability to neutralize acid. Substances that are highly alkaline can form strong bases able to neutralize acids and maintain a stable ph level.
Every element has a nucleus, made up of protons and neutrons, and alkali metals are no different. Surrounding the nucleus of atoms are electrons, which are particles with a negative charge. These electrons exist in energy shells around the nucleus of the atoms, each of which can hold a varying number of electrons. The first shell can hold up to two electrons, the second up to eight, the third, 18 and the fourth, 32. It's these shells of electrons and how alkali metals are structured that make them so reactive.
All atoms naturally want to have a completely full outermost shell of electrons. However, elements in that first column of the periodic table all have one electron in their outermost shell. This outermost shell is also called the valence shell, and the electrons that reside there are called valence electrons.
Having only one electron in the outermost shell makes it very easy for the atoms of alkali metals to reach points of stability – they just need to lose one electron! This willingness and ease of losing an electron to reach a state of equilibrium is known as high reactivity. In fact, reactivity in chemistry is defined by the number of electrons in the outermost shell. Noble gases (elements like neon and helium) are very unreactive because their outermost electron shells are full.
"Since the alkali metals only have one valence electron, they typically achieve this state by giving up that electron. In this process, the alkali metal is said to be oxidized, and whatever takes the electron from the alkali metal is reduced. All of the alkali metals like to give up their single valence electron," says Dr. Chip Nataro, chemistry professor at Lafayette College in Easton, Pennsylvania. "As electrons have a charge of -1, losing an electron causes the atom to have a charge of +1. When this happens, the atom is referred to as an ion and since it would have a positive charge, it is called a cation. So, all of the alkali metals like to make cations that have a charge of +1."
Since alkali metals are so reactive, they are usually found in conjunction with other metals in nature.
If an element is highly reactive, it's harder to find naturally.
"All of these elements were first discovered in compounds [and] some of the discoveries are hard to attribute due to the abundance and usage of the compounds," says Nataro. "As you go down the periodic table, the alkali metals become more inclined to lose their valence electron" and thus, "the amount of the element found in nature also decreases, [resulting in] later discovery dates."