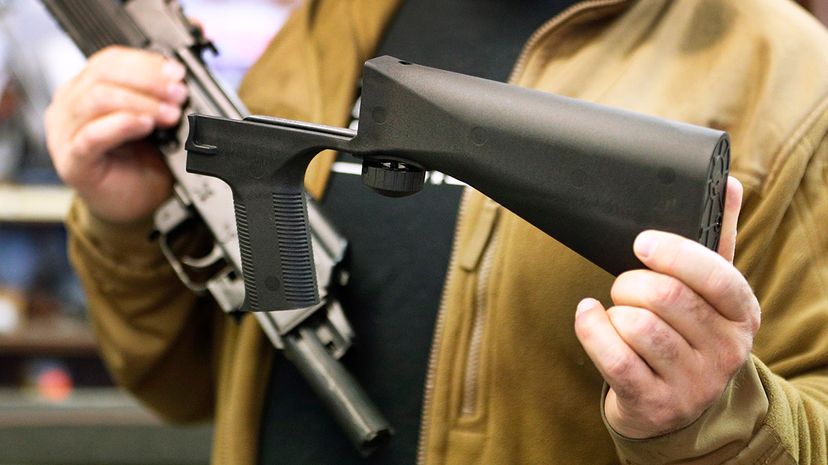 On Sunday, Oct. 1, 2017, a country music festival in Las Vegas became the scene of a mass killing when a gunman positioned in a high-rise hotel began shooting at concertgoers. At least 58 died, and more than 500 others were injured before the shooter took his own life, according to Las Vegas TV station KXNT. During the attack, the shooter, later identified as 64-year-old Stephen Paddock, at one point managed to fire nearly 90 rounds in just 10 seconds, according to a New York Times analysis of audio posted on social media.
The speed of that bullet barrage led some to assume that the killer used a fully automatic firearm, a type of gun that automatically reloads after a shot is fired, fires again, and repeats the process as long as the trigger remains depressed. With the Firearm Owners' Protection Act of 1986, Congress banned the sale of new fully automatic firearms, but ones produced before that date are still obtainable, after the purchaser goes through an FBI background check.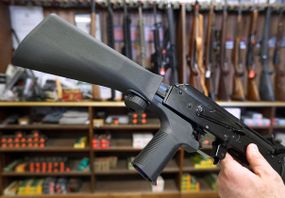 But the Las Vegas killer didn't need a fully automatic weapon to unleash his rapid-fire terror. In a Wednesday, Oct. 4, press conference, Jill Snider, Special Agent in Charge for the Bureau of Alcohol, Tobacco and Firearms (ATF) San Francisco office, said that when authorities reached the gunman's hotel room, they found an arsenal that included 12 semi-automatic rifles equipped with after-market attachments called bump fire stocks. As Snider explained, the devices are designed to simulate automatic fire, without mechanically altering the function of a rifle in a way that would make it illegal under current federal law.
As The Truth About Guns, a popular gun blog, explains, a bump fire stock basically replaces the rigid standard stock on a rifle. Unlike the standard stock, the bump fire stock has a small amount of space that allows the rest of the rifle to move back and forth. That way the recoil causes the gun to bump the trigger against the shooter's finger, increasing the speed of firing. As this discussion thread on the gun-enthusiasts website AR15.com explains, it's possible to get a similar effect by holding the rifle at waist level.
Though they increase the lethal potential of a gun and replicate a now illegal-to-possess firearm, the bump stocks themselves did not violate the law. A 2010 letter produced by the ATF explains that one bump-fire device that was evaluated was found to be a legal firearm part, and therefore not regulated under the act.
Sen. Dianne Feinstein, D-Calif., introduced a bill that would ban devices designed to allow a semiautomatic weapon to simulate full-auto speed. According to CNBC, some Republican members of Congress, generally reluctant to enact firearm regulation, were willing to consider such a ban in the wake of the Las Vegas shootings. Both the White House and the National Rifle Association have indicated an openness to considering more regulation. On Nov. 28, 2018, CNN reported that the Trump administration will announce a federal rule that will officially ban bump stocks.
Editor's note: This story was updated on Nov. 29, 2018, to reflect the Trump announcement on banning bump stocks.