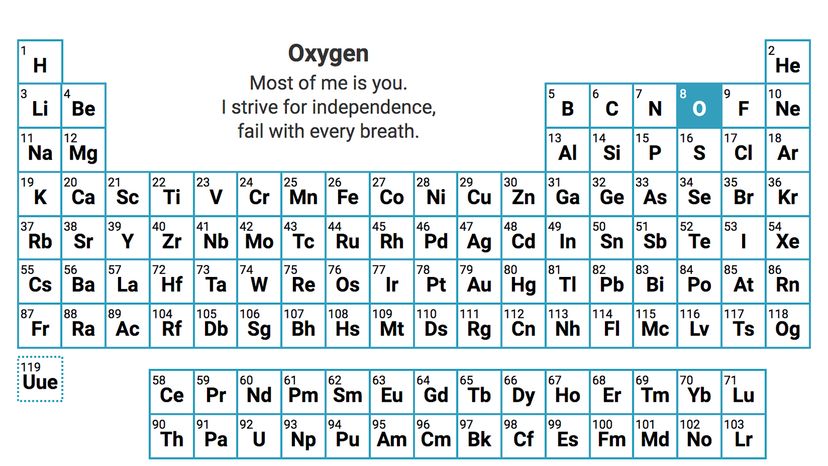 Maybe you're a smarty-pants chemistry major and know off the top of your head that the average adult human is comprised of seven octillion (7,000,000,000,000,000,000,000,000,000 — that's 27 zeroes) atoms. Or maybe you're a bushy-tailed English major and that big sciencey whiff of a vague, tormented memory from your periodic table days makes you want to do like a teensy bit of, um, chemical bonding alright.
Fact is, most of those seven octillion atoms in your body are made up of the element hydrogen, and for one award-winning poet and science fiction/fantasy writer with a background in math, computer science, astronautics and space engineering, that's the star stuff haiku is made of.
Check out this little three-liner about the first element, the one that makes up 75 per cent of all the mass in the universe:
Hydrogen, H
Your single proton
fundamental, essential.
Water. Life. Star fuel.
Meet Mary Soon Lee, British speculative fiction writer and creator of the interactive Elemental haiku, first published online in the August 4, 2017 issue of Science.
Her brilliant gem is composed of 118 science poems, one for each element in the periodic table, plus a closing haiku for element 119 (not yet synthesized). Drawing from the fields of astronomy, biology, chemistry, materials science, history, medicine and physics, Lee begins with hydrogen and works her way through the periodic table in order of increasing atomic number.
"I'd encountered science poetry by other poets," says Lee in an email, "and liked how it can offer its own viewpoint on science, one that can speak to both scientists and non-scientists."