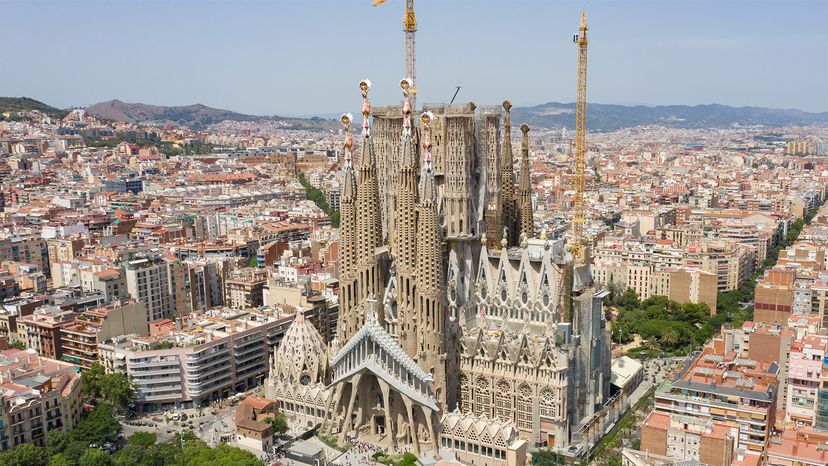 La Basílica de la Sagrada Familia ("The Basilica of the Holy Family") in Barcelona, Spain, is unlike any building in the world. The church's famous Nativity Facade looks from a distance like supersized drip sandcastle, but closer inspection reveals ornately sculpted towers that have been described as "the Bible written in stone."
The architect of the Sagrada Familia was the eccentric and deeply religious Catalan genius, Antoni Gaudí, who was struck and killed by a streetcar in 1926, when only the Nativity Facade of his masterwork had been completed. The rest of the ambitious structure existed only in Gaudí's complex architectural drawings and scale plaster models.
Tragically, Gaudí's priceless models and most of his drawings were destroyed by anarchist revolutionaries just 10 years after his death. And ever since, generations of architects and engineers have labored to piece together Gaudí's singular vision and finish his magnum opus.
As of this writing, the Sagrada Familia is 140 years old — the first stone was laid in 1882 — making it the longest-running active building project on Earth.
Incredibly, it wasn't until 2019 that the city of Barcelona officially granted Sagrada Familia a construction permit, even though Gaudí applied for one in 1885. The permit itself was the most expensive on record, a whopping $5.2 million (4.6 million euros) to complete the monumental project by 2026, the 100th anniversary of Gaudí's death. Due to the COVID-19 pandemic and the delays in construction it caused, as well as the drop in funding from fewer visitors, it's unclear what the completion date will be.