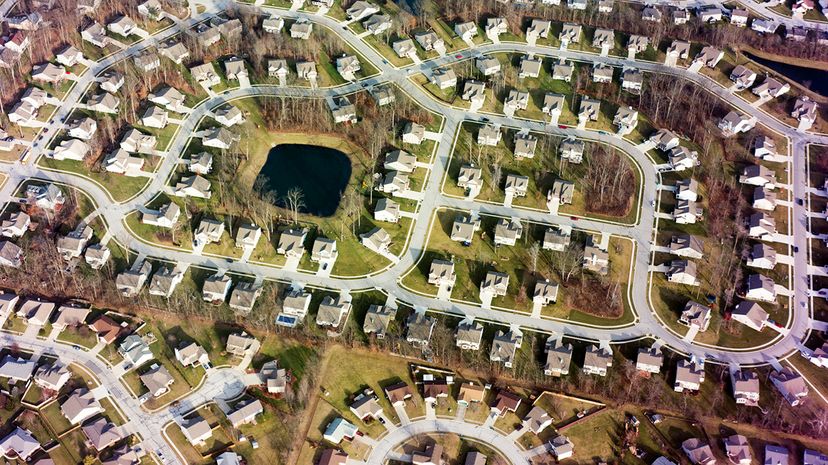 If you've ever driven through the sprawl of an American suburb, you know that the streets twist and turn — even in the absence of hills. Rarely are they set up like a grid. Take one wrong turn, and you could end up looping around a cul-de-sac. But how did these winding streets become so ubiquitous with the suburbs? The answer lies in the days following the Industrial Revolution of the 18th and 19th centuries.
Though the period led to improved transportation and banking, it also led to the worsening of living conditions for many city dwellers.
"Any time before the early 20th century, you really did not want to live in the cities, especially after the Industrial Revolution in places like London and New York," says Paul Knight, architectural and urban designer at Historical Concepts, an architecture and planning firm in Atlanta. "They were filthy. They were truly dangerous."
Along came British urban planner Ebenezer Howard. In 1898, he published the book "To-morrow: A Peaceful Path to Social Reform," which was reissued in 1902 as "Garden Cities of To-morrow."
"One of the ideas that came out of Ebenezer's work was this idea of living in the country and then working in the city so that you could get the best of both worlds," Knight says. Sound familiar?
Thus what we know today as the suburbs were born around the 19th century. But their early success depended on streetcars, which allowed many people to travel to their jobs in the cities. And Henry Ford automating the assembly line and introducing the Model T car really helped the suburbs boom. But the biggest move to suburbia came after World War II ended in 1945: Millions of American GIs returned from war with housing benefits, and the suburbs became the place to be for U.S. families.
So what does this have to do with curving streets today?