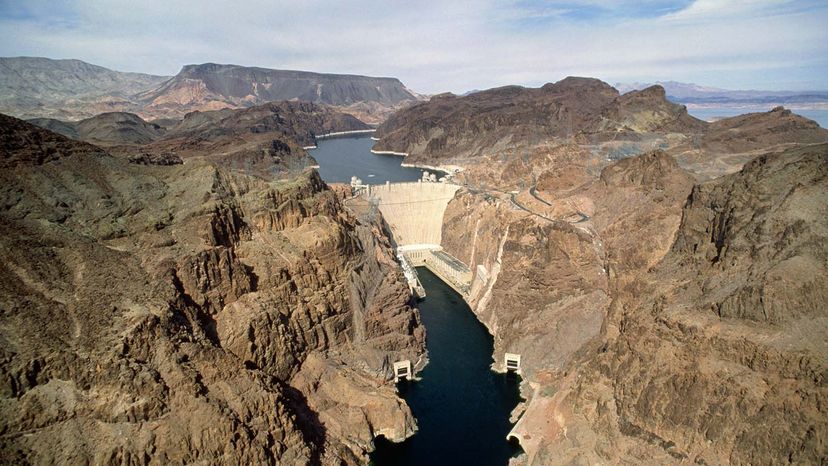 It might be the most impressive U.S. public works projects ever. We're talking about the Hoover Dam. It's located on the Colorado River on the border between Arizona and Nevada. In terms of sheer size, it's massive — standing 726.4 feet (221.4 meters) from foundation to the roadway at the top. That makes it more than 171 feet (52 meters) taller than the Washington Monument.
Shaped like a crescent wedge, the top of the dam is just 45 feet (13 meters) thick, but its base is 660 feet (221 meters) thick — the same distance as the length of two football fields measured end to end. And it's made of sturdy stuff. There is enough concrete in the Hoover Dam (4.5 million cubic yards) to build a two-lane road from Seattle to Miami. It needs every bit of that strength because it holds back 45,000 pounds per square foot of maximum water pressure at the base of the dam.
But have you ever wondered what would happen if the Hoover Dam broke? Granted, it's difficult to imagine what could cause such a break — a massive explosion of some type, a natural disaster of epic proportions or an equally epic human error. But the first thing that would happen is that the reservoir created by the dam, Lake Mead, would be breached.
At full pool, Lake Mead is, by volume, the largest reservoir in the United States. It has enough capacity to hold the entire average annual flow of the Colorado River for two years. As recently as 2016, Lake Mead held up to 9 trillion gallons (34 trillion liters) of water. But with drought conditions in the West, the lake currently holds about 3.5 trillion gallons (13.2 trillion liters) of water. Now, if 3.5 trillion gallons of water were suddenly set loose, it would certainly wreak havoc on everything in its path.