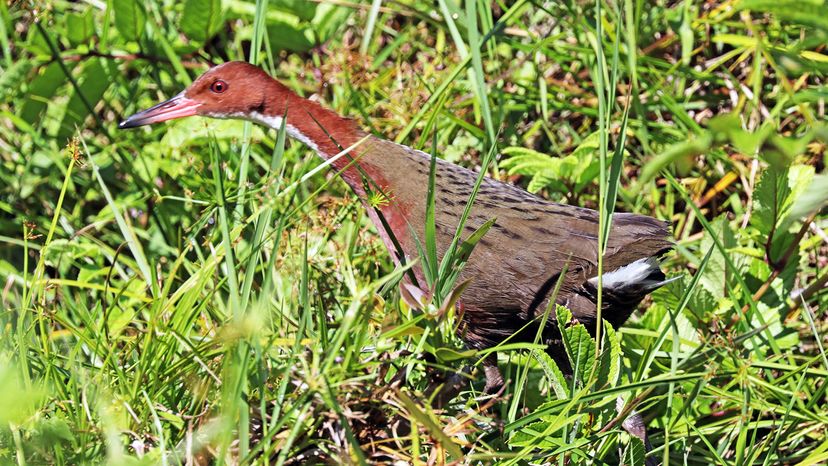 Out in the Indian Ocean, 248 miles (400 kilometers) to the northwest of Madagascar, there's a shallow lagoon encircled by a ring of islands. Those outcrops make up the Aldabra Atoll, a place where mangroves flourish and 100,000 giant tortoises roam free.
Recently, a different resident caught the world's attention. The Aldabra rail (Dryolimnas cuvieri aldabranus) is a chicken-sized bird found exclusively on the atoll. It's also the only remaining island bird in the Indian Ocean that happens to be flightless. Weak arm muscles and asymmetrical flight feathers keep the bird grounded.
Yet its ancestors could fly. The Aldabra rail evolved from the white-throated rail (Dryolimnas cuvieri), a still-living bird that often takes to the skies. White-throated rails inhabit Madagascar and neighboring islands. Thousands of years ago, a number of these birds flew out to the Aldabra Atoll.
Then, as now, large predators were rare on the atoll. With the threat of predation mostly gone, the birds' descendants gradually lost the ability to fly. That same thing happened to the dodo, another island-dwelling bird whose ancestors surrendered flight.
Flying is a high-energy activity. When there's no need to fly away from predators — and you can get food simply by walking around — why waste the energy? On the Aldabra Atoll, flight became unnecessary for short-term survival. So over many generations, the isolated rail population gave rise to the fully flightless birds we know today.
But wait! It turns out there's a startling plot twist. Apparently, the sequence of events we just described happened more than once. A 2019 study suggests that flighted, colonizing rails came to Aldabra and begat a nonflying subspecies on two different occasions. It's as if natural selection hit the "reset" button.
Scientists call the phenomenon iterative evolution. Today, we're going to explain what this process entails — and what it doesn't.