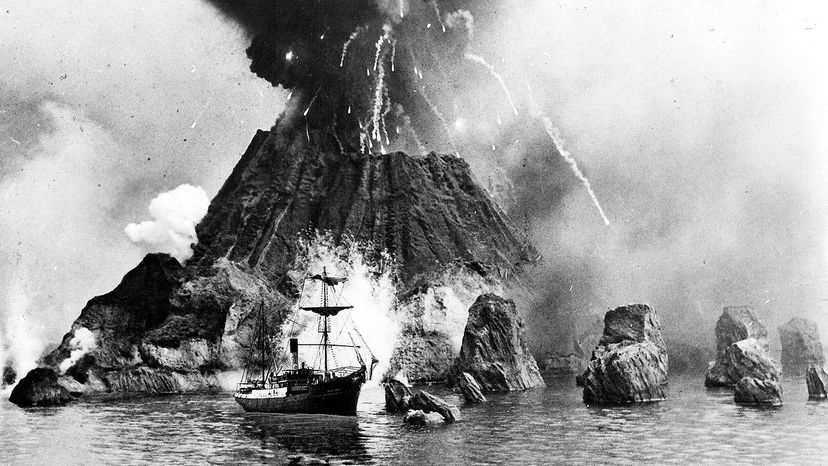 In May 1883, the captain of the German warship Elisabeth observed a column of smoke and ash that he estimated be 6.8 miles (1.97 kilometers) tall, rising into the sky over an uninhabited mountainous island in the Sunda Strait between Java and Sumatra in Indonesia. "Ash fell so thickly as to obscure the sun," according to a report later compiled by Great Britain's Royal Society. Over the next few months, according to the report, other ships noticed ominous rumblings from the island, whose Indonesian name was Krakatau, though it would later become famous — possibly due to a typographical error by someone transmitting a news dispatch — as Krakatoa.
Finally, on Aug. 27, 1883, all hell broke loose, as a colossal volcanic eruption demolished Krakatoa, causing two-thirds of it to collapse and fall into the sea, and generated massive lava, pumice and ash flows. The explosion also triggered immense tsunamis that inundated hundreds of coastal towns and villages, causing the deaths of an estimated 36,000 people, according to the National Oceanic and Atmospheric Administration (NOAA). Krakatoa, which scored a 6 on the Volcano Explosivity Index, was one of the biggest documented volcanic eruptions in the last 760,000 years of natural history.
Krakatoa became one of the most famous volcanoes ever, not just because of its fearsome power and effects, but because it was the first really gigantic volcano to blow in the era when humans had communications technology — telegraph lines and printed newspapers — to transmit accounts of what was happening, as well as scientific instruments to measure its effects. The legend gradually grew, and Krakatoa eventually became the veritable King Kong of volcanoes, even serving as the subject of a 1968 cinematic historical thriller, "Krakatoa, East of Java," starring Maximilian Schell, Diane Baker and Brian Keith, and the subject of a 2003 bestseller, "Krakatoa: The Day the World Exploded: August 27, 1883," by author Simon Winchester.