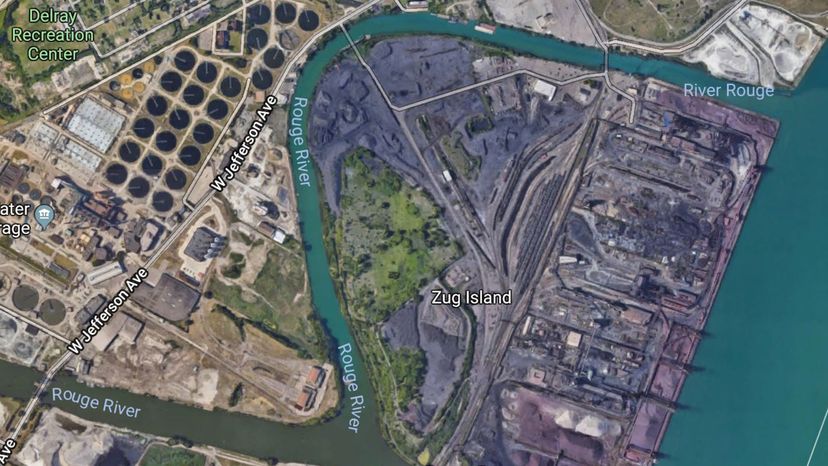 As conspiracy theories go, the Windsor Hum might not have the legs of, say, the gunman on the grassy knoll. But, like any good theory, it is a persistent little bugger.
You may know the backstory here: A disturbing noise, somewhere between a window-rattling bass and a brain-numbing deep thrum, is bugging the heck out of residents in the city of Windsor, Ontario, Canada, just across the Detroit River from Detroit.
After an investigation in 2013, scientists from the University of Windsor pinpointed the source of all that racket.
Zug Island.
If that's not a creepy name seemingly drawn up for just such a mini-mystery, nothing is.
Zug Island is a highly guarded, smoke- and steam-belching, fire-spewing wasteland that sits downriver from Detroit. It looks, by most accounts and by the photos online, exactly what you'd think a steel mill on the River Styx would look like. It's Hades, USA, run by U.S. Steel.
"It's pretty well known that the island is an environmental hazard and has been for decades," says Gregory A. Fournier, an author who grew up in Ypsilanti, Michigan, 30 miles (48 kilometers) west of Zug Island. "But the area is cleaned up some, and some of the industries that dealt with chemicals and so on have been shut down and taken out of there. So there's not quite as much overt pollution as there used to be."
Fournier spent some time working on Zug Island in the late 1960s, shoveling coal and doing other hard labor. Years later, Fournier wrote "Zug Island: A Detroit Riot Novel," framed around the race riots of the time in Detroit.